Report: Leafs among teams eyeing D Butcher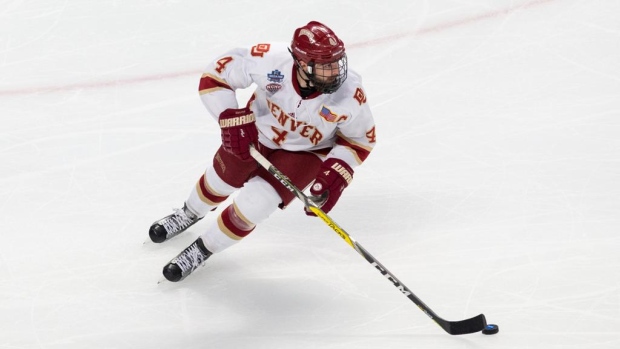 According to Ted Kulfan of the Detroit News, the Toronto Maple Leafs are the lone Canadian team linked to University of Denver standout Will Butcher.
Butcher became a free agent on Tuesday after failing to reach an entry-level deal with the Colorado Avalanche, who drafted him in the fifth round of the 2013 NHL Draft.
Kulfan lists the Pittsburgh Penguins, Chicago Blackhawks, Minnesota Wild, Buffalo Sabres, Toronto Maple Leafs and New Jersey Devils as teams who have been linked to Butcher. He notes the Red Wings are also interested but doesn't believe they will be able to land the college free agent due to their depth on defence and current cap situation.
Mike Chambers of the Denver Post reports the Vegas Golden Knights are also in the mix to sign Butcher.
Butcher was voted Hobey Baker winner as the NCAA's top Division I player en route to a national championship with the University of Denver. In 43 games last season, Butcher had seven goals and 30 assists with a plus-27 rating, ranking ninth in the nation. He is the first defenceman to win the award since Matt Gilroy in 2009.
The 23-year-old, who is slightly undersized for an NHL defenceman at 5-foot-10, was told by the Avalanche through a family advisor that they were not interested in signing him near the end of his junior year, according to the Denver Post. However, those feelings were reportedly held by then head coach and vice-president Patrick Roy who is no longer with the club.
"As soon as they're done, he'll have a contract offer," Sakic told the Denver Post during the college season. "We hope to sign him. He's had a tremendous year."
Butcher may draw comparisons to New York Rangers forward Jimmy Vesey. Vesey was selected by the Nashville Predators in 2012, but declined to sign with them and ended up signing with the New York Rangers last summer.
Butcher, 22, has spent four seasons with Denver, netting 28 career goals and dishing out 75 assists.