Mara 'very unhappy' with Beckham Jr.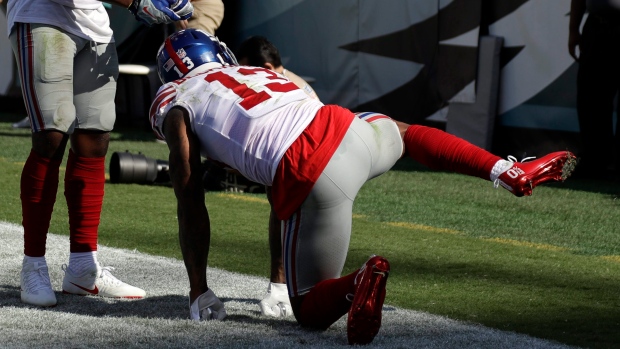 New York Giants co-owner John Mara said that he is "very unhappy" with Odell Beckham Jr.'s touchdown celebration Sunday and said they are dealing with it "internally," Mara told the New York Post.
"I do not want to get into a discussion about this, but I will say that I am very unhappy with Odell's behavior on Sunday and we intend to deal with it internally," Mara wrote in an email to the Post.
During the second half of the Giants' eventual 24-21 loss to the Philadelphia Eagles Sunday, Beckham Jr. mimicked the action of a dog urinating on the field following his first touchdown of the game. He was flagged for an unsportsmanlike penalty.
"I'm a dog, so I acted like a dog. I don't know if the rulebook said you can't hike your leg. He said I peed on somebody, so I was trying to find the imaginary ghost that I peed on. But I didn't see him," Beckham said after the game.
Head coach Ben McAdoo didn't comment on the matter other than expressing frustration over the yards it cost the team.
It didn't go unnoticed by the Philadelphia Eagles either.
"It's one of those things I think you just kind of file away in the back of your mind, and you just remember those things, and you move on," Eagles head coach Pederson told the Post.
Beckham replied to CNN's AJ Willingham with the hashtag "URRIGHTONPOINT" when she suggested Beckham's celebration could have to do with Donald Trump's recent comments on protesting the national anthem.
The Giants (0-3) are looking to get back on track on the road against the Tampa Bay Buccaneers.