Report: Grizzlies intend to take Morant No. 2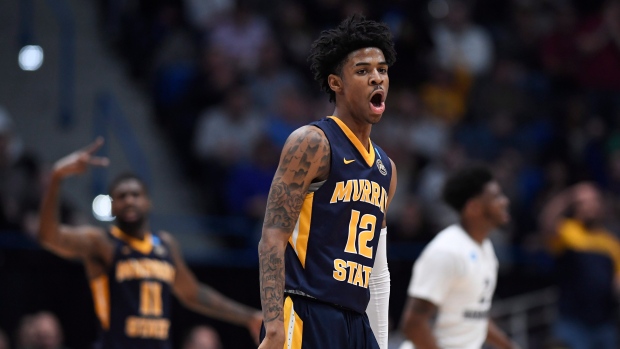 It's no secret the New Orleans Pelicans will likely select Zion Williamson first overall and it might not be a secret who the Memphis Grizzlies take at No. 2 either.
According to ESPN's Jonathan Givony, the Grizzlies have told interested parties at the NBA Draft combine in Chicago that they intend to select point guard Ja Morant provided Williamson goes first as widely expected.
The Grizzlies moved up eight spots at Tuesday's NBA Draft Lottery and according to Givony, members of their front office and and ownership group have already "let their intentions be known."
The Grizzlies currently have 12-year veteran Mike Conley at point guard but his time in Memphis could be coming to an end. He has two years remaining on his five-year, $140 million deal but Givony notes Memphis could move him for positive value given his high production from last season. Conley said last season that he has no interest in going through a rebuild.
Memphis could also pair the Murray State point guard with Conley in order to ease his transition into the NBA and look to deal Conley in-season, adds Givony. In 33 games for the Racers last season, Morant averaged 24.5 points per game wile dishing out 10.0 assists a night.
Should the first two selections go as expected, Givony notes this would clear the way for the New York Knicks to select Duke star RJ Barrett with the third selection. New York is also expected to do its due diligence in the trade market as well as work out other players who are projected to be taken in the top 10.
The NBA Draft goes June 20 from the Barclays Center in Brooklyn.