Report: Murray to attend NFL Combine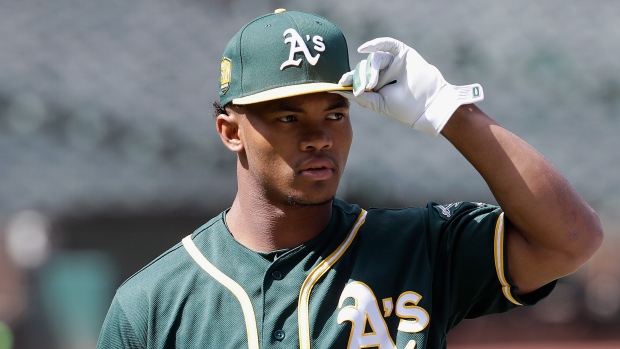 Heisman Trophy-winning quarterback Kyler Murray will attend the NFL Combine later this month, according to multiple reports.
The 21-year-old former Oklahoma Sooners standout will join other prospective draft candidates at the annual showcase to begin on February 26.
But Murray's participation has implications on the baseball field where Murray has already signed a guaranteed deal with the Oakland Athletics after having been taken with the ninth overall pick in 2018 MLB Draft.
As MLB.com's Jon Paul Morosi reported last month, attending the combine would potentially void guarantees in the $4.6 million deal he signed with the A's last year and the MLB would likely have to sign off on any changes in his contract that would allow for his participation.
Having declared for the draft ahead of the January 14 deadline, Murray has been coy about his future and noncommittal about his plans during a Super Bowl Media Week press tour.
If Murray were to commit to football, he would likely compete with Ohio State pivot Dwayne Haskins for being the first quarterback off the board and a high first-round selection.
Last month, team officials stated that the club believed that Murray would be attending Oakland's spring training camp.
"As we're sitting here right now we expect him to be in spring training," A's manager Bob Melvin said last month. "Now, look, he has opened up some doors for himself that the world is literally his oyster right now, and I will be for whatever he chooses to do. The football thing, you win the Heisman Trophy and you get drafted in the first round, how often does that happen? He is that type of athlete and he's going to have a great career in whatever he chooses to do, and we will support whatever he chooses to do. But at this point in time we haven't heard anything different and I'm expecting him to be in spring training. If something changes in the meantime then we deal with it."
Athletics camp is set to kick off next week in Mesa, Az.