Report: QB Gabbert to start for Cardinals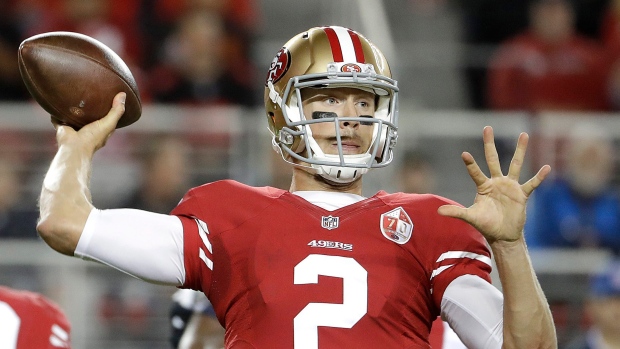 The Arizona Cardinals have reportedly decided to use their extended week off to make a quarterback change.
According to Mike Jurecki of Arizona Sports 98.7, the Cardinals will start Blaine Gabbert at quarterback when the team visits the Houston Texans on Sunday.
Gabbert will take over for Drew Stanton, who completed 24 of 47 passes for 273 yards and a touchdown in last Thursday's 22-16 loss to the Seattle Seahawks.
Stanton sprained his knee in the loss and, though he took part in practice, Cardinals head coach Bruce Arians said Tuesday he'd be comfortable starting Gabbert against the Texans.
"If he's our guy, then I'm extremely comfortable," Arians said of Gabbert.
Stanton took over as the team's starter in Week 9 after Carson Palmer broke his arm on Oct. 22 against the Los Angeles Rams.
Gabbert., a first-round pick of the Jacksonville Jaguars in 2011, last played on Dec. 4, 2016 while with the San Francisco 49ers. In six games last season, he completed 56.9 per cent of his passes for 925 yards and five touchdowns to six interceptions.