Odor suspended eight games, Bautista one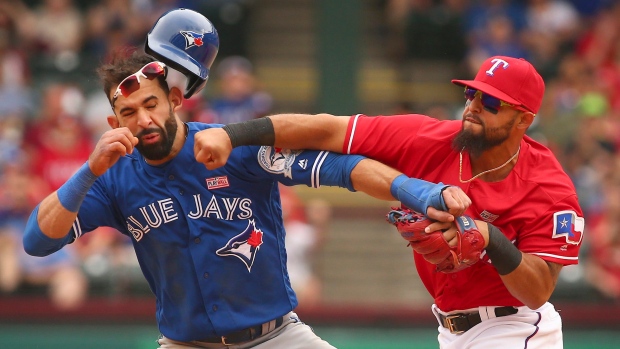 TORONTO — Texas second baseman Rougned Odor was given an eight-game suspension Tuesday while, Jose Bautista was banned one game for their actions in a weekend game between the Rangers and Blue Jays.
Toronto manager John Gibbons and pitcher Jesse Chavez each received three-game bans
A total of 14 players and staff members from the two teams were disciplined, Major League Baseball said in a statement Tuesday evening.
"I thought that was a little excessive but what are you going to do?" said Gibbons on the length of his suspension. "I've got enough issues to worry about."
Odor, who delivered a punch to the jaw of Blue Jays slugger Jose Bautista, was suspended for fighting in the top of the eighth inning in Sunday's game. The incident started a bench-clearing melee at Globe Life Park in Arlington.
"I can't worry about him (Odor)," said Gibbons. "I've got to worry about myself."
Chavez was disciplined for intentionally throwing at Prince Fielder in the bottom of the inning with warnings in place for both sides.
Rangers shortstop Elvis Andrus was given a one-game suspension for "aggressive actions" during the incident while Bautista was given a one-game ban for his on-field actions and for his post-game comments.
Bautista had no comment as he left the field at Rogers Centre following batting practice ahead of Toronto's game with the Tampa Bay Rays. A Blue Jays spokesperson said Bautista wouldn't speak to reporters until he had heard directly from MLB's chief baseball officer Joe Torre.
Gibbons, who returned to the field after being ejected earlier in the game, confirmed that he was also fined US$5,000. Toronto first base coach Tim Leiper received a one-game suspension and received an undisclosed fine. According to MLB rules managers and coaches can't appeal their punishments.
"That's your team out there," said Gibbons. "It makes sense to me that you should go out there and try to keep things under control, but that's not the rules so you've got to live with that."
Five Texas players were fined including pitcher Matt Bush (intentional throw at Bautista), pitcher Sam Dyson (aggressive actions), pitcher A.J. Griffin (being on the field while on the DL), catcher Robinson Chirinos (being on the field while on the DL) and bench coach Steve Buechele (aggressive actions).
Toronto third baseman Josh Donaldson was fined (aggressive actions) along with outfielder Kevin Pillar (aggressive actions) and bench coach DeMarlo Hale. Hale was serving as acting manager at the time of the incident and received standard discipline for the intentional actions of Chavez while warnings were in effect, MLB said.
Donaldson said "Nope, I'm good," when asked by reporters to comment on Sunday's incident.
The reigning AL MVP was terse, mainly giving one-word answers, but also said he thought the rivalry was over and that he wasn't expecting to be suspended for his role in the brawl.
Hale will serve as Blue Jays manager for the duration of Gibbons's suspension. Assistant hitting coach Eric Owens served as Toronto's first-base coach on Tuesday night.
"If he goes 3-0, we'll switch jobs," said Gibbons of Hale serving as interim manager. "Maybe even 2-1."
Gibbons added he might watch the Toronto Raptors play the Cleveland Cavaliers in Game 1 of the NBA Eastern Conference final since he'd be in the press box at Rogers Centre instead of in the Blue Jays dugout.
Andrus has elected not to appeal and will miss Tuesday night's game at Oakland. Odor, Bautista and Chavez have elected to appeal and will be able to play until the process is complete.