Report: 'Selfish' Wentz 'complicated' Eagles' offence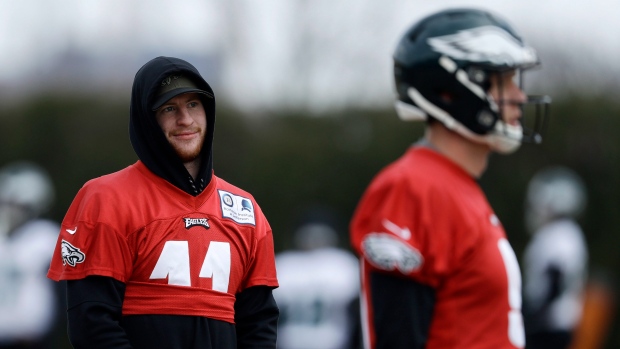 An explosive report from PhillyVoice citing unnamed sources, including more than a half-dozen players, suggests that quarterback Carson Wentz was a source of discord in the Philadelphia Eagles' locker room this season and served to disrupt the team's offence and new offensive coordinator Mike Groh.
"Carson Wentz's biggest enemy is Carson Wentz," a source told Joseph Santoliquito. "He's had his ass kissed his whole life, and sometimes acts like he's won 10 Super Bowls, when he hasn't played in, let alone won, a playoff game yet. Everyone around him wants good things for him. He did more thinking on the field than he did playing (in 2018). You don't have to be a brain surgeon or a football expert to see how differently this team plays and reacts with one guy as opposed to the other."
The second overall pick in the 2016 NFL Draft out of North Dakota State, Wentz experienced a significant injury for a second consecutive season that forced the Eagles to turn to backup Nick Foles. Wentz was shutdown with a back injury during Week 16 after having missed the first two games of the season recuperating from the ACL tear that prematurely ended his 2017 campaign. In both cases, Foles excelled in Wentz's absence, leading the Eagles to a first-ever Super Bowl victory last year and a 4-1 record this season, as well as a win over the favoured Chicago Bears in the NFC wild-card round.
With offensive coordinator Frank Reich leaving the team to become the Indianapolis Colts' head coach and quarterbacks coach John DeFilippo taking the OC role with the Minnesota Vikings, the offence struggled under Groh, who was promoted from wide receivers coach. Sources tell Santoloquito that Wentz "bullied" Groh and any issues with the offence should "lie with Wentz." While Foles is "universally loved" by his teammates, Wentz, though "incredibly hard working," is seen as "egotistical" and "not a team guy." It was Wentz who "complicated" the offence and was the type of person who could "complicate 2+2."
With head coach Doug Pederson announcing last week that Wentz would once again be his starter going forward, a source told Santoliquito that the 26-year-old Raleigh, NC native needs to go back to what made him successful in the first place.
"He has to return to who 'Carson Wentz' is," the source said. "That comes with relaxing and not forcing things. It also comes with being able to take constructive criticism. He has to learn that it's not always about him and that's partly what hurt this team this year. We know what type of player he can be, and who he normally is. He needs to realize it's the Philadelphia Eagles not the Philadelphia Carsons."
Since the report emerged, some of Wentz's Eagles teammates have denied its substance.
"Reading through this Carson Wentz thing and as a leader on this team, none of that is true," wrote defensive tackle Fletcher Cox. "Carson is a great teammate and great player, we are all behind him 100%. He's our teammate and will come back and prove the world wrong. If you got a problem, feel free to @ me. I'll respond."
"Don't believe everything you read!" tweeted tight end Zach Ertz. "Carson has been nothing but a GREAT person, GREAT teammate and GREAT leader since Day 1. Our locker room stands behind him all the way. We can't wait to get to work and be the best team we can be in 2019!"
Neither the Eagles nor Wentz has commented on the report.