Report: Trout could be in Phillies' long-term plans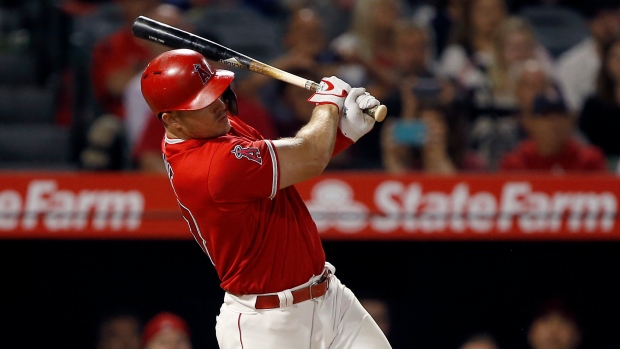 The Philadelphia Phillies are playing both the short and the long game. If it works out the way they hope, the rest of baseball could be in serious trouble.
A source told Sports Illustrated's Tom Verducci that the Phillies have enough money to sign both Bryce Harper and Manny Machado this off-season, but would only like to sign one in order to leave room in the budget in case Mike Trout reaches free agency after the 2020 season.
Trout is a native of – and still lives in – nearby Millville N.J., located about 72 kilometres from Philadelphia. Verducci notes that 2019 is shaping up to be an "enormous" year for the Los Angeles Angels as teams traditionally push to extend players a year ahead of their walk year. This could heighten the sense of urgency for the Angels to make the playoffs in order to convince the 27-year-old to stay. Since he debuted in 2011, the Angels are one of only five teams never to win a postseason game. If things don't change in the coming season, L.A. could be in danger of losing their superstar.
Phillies owner John Middleton said early in the off-season the Phillies have "stupid money" to spend on this year's free agent class. They carried a payroll of $119 million last season and after signing former National League MVP Andrew McCutchen to a three-year $50 million deal, the figure now sits at around $130 million. It's still well below the Competitive Balance Tax threshold of $206 million, which Verducci describes as a "theoretical limit for several larger market clubs."
Verducci notes that the Phillies seem to carry a slight preference for Machado over Harper given they met with the infielder's camp long before they met with Harper's, but according to USA Today's Bob Nightengale, all signs point to Harper winding up in Philadelphia and Machado joining the Chicago White Sox before the off-season dust settles.
ESPN's Buster Olney reported Wednesday that the White Sox made a seven-year, $175 million offer to Machado earlier this off-season. His agent, Dan Lozano, called the figures inaccurate.
Whatever Harper or Machado end up signing for, Verducci notes that Trout will likely receive more if he reaches free agent.
Machado, 26, is coming off a season where he hit .297 with a career-best 37 home runs and 107 RBI. Harper, also 26, hit 34 longballs and drove in 100 runs while slashing .249/.393/.496.
Verducci writes that signing one of the superstars "would invigorate what for years has been a sleeping giant among Major League franchises."
Philadelphia has not had a winning season since 2011.