Report: Yankees expect Sabathia, Tanaka back soon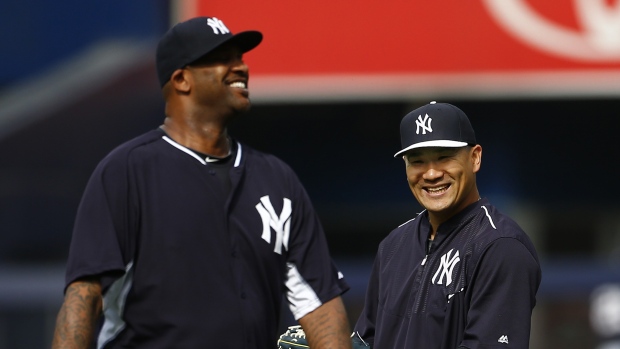 The New York Yankees have dealt with injuries to their starting rotation all year but it appears they may be starting to get healthy.
Left-hander C.C. Sabathia threw another bullpen session Wednesday and is expected back by the weekend according to the New York Post.
"I don't see [Sabathia] not starting Saturday unless there's some other unforeseen circumstance,'' manager Joe Girardi told the Post.
Sabathia has been on the 10-day disabled list since Aug. 11 with a right knee injury.
Meanwhile, righty starter Masahiro Tanaka's return could be on the horizon as well. He threw off flat gound Wednesday and is scheduled for a bullpen Thursday.
"It was very encouraging," Tanaka said through an interpreter. "I wouldn't have gone and [thrown] if I wasn't feeling good. I think I'm on the right track."
If things continue to go well, he could be back sometime next week.
It's been a bit of a struggle this year for Tanaka, posting an ERA of 4.92 in 23 starts. While he has fanned 141 batters over 133.2 innings, the long-ball has victimized him. He's already surrendered 28 so far this year.
The Yankees (64-55) will look to continue their three-game winning streak as the Subway Series continues from Citi Field. Luis Severino goes for the Yankees while Steven Matz counters for the New York Mets.