Researcher says tests for CTE in living patients could begin within a year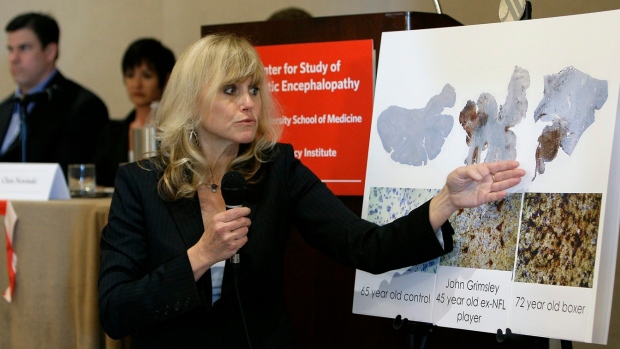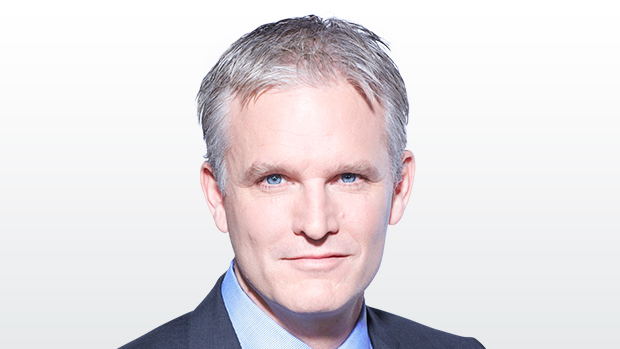 A Boston University researcher said clinical tests to determine whether living subjects have the neurodegenerative brain disease chronic traumatic encephalopathy (CTE) could begin within a year.
Neuropathologist Dr. Ann McKee also told TSN in a phone interview Tuesday that she is weeks away from completing the examination of a former NHL player's brain to determine if he had CTE, the brain-withering disease linked to repeated head trauma.
Dr. McKee said the results of the tests and identity of the former player would only be disclosed with his family's consent.
Dr. McKee has already diagnosed CTE in four former NHL players – Reggie Fleming, Rick Martin, Bob Probert and Derek Boogaard. Former NHL player Steve Montador also had CTE, according to researchers with the Canadian Sports Concussion Project in Toronto.
Boston University shook the sports world on Tuesday when it announced that Dr. McKee and her colleagues had published a study that revealed they had isolated a protein, or biomarker, that was present in the blood of deceased former athletes who had suffered from CTE.
The protein, called CCL11, was found in greater amounts in people who had more advanced cases of CTE, McKee said.
BU researchers examined the brains of 23 former college and pro football players and compared them to the brains of 50 non-athletes with Alzheimer 's disease and 18 non-athletes.
"[Researchers] observed that [biomarker] CCL11 levels were normal in the brains of the non-athlete controls and non-athletes with Alzheimer's disease, but were significantly elevated in the brains of individuals with CTE," BU wrote in a news release. "They then compared the degree of elevation of CCL11 to the number of years those individuals played football and found that there was a positive correlation between the CCL11 levels and the number of years played."
Dr. McKee said that the result could lay the groundwork for researchers to use blood tests in living patients to determine whether they have CTE. Currently, the disease can only be diagnosed after death.
"So far we've done this in port-mortem tissue," Dr. McKee said. "The next step is to see if we can detect the biomarker in blood. We'd like to start in high-risk subjects and that could happen within a year. It's not terribly far away."
In July, BU reported that its researchers found CTE in the brains of 110 out of 111 deceased former NFL players. Since then, the pace of brain donations and pledges for brain donations has increased, including from the hockey world.
"After the [July] paper we are getting brains like mad," Dr. McKee said. "We're trying to keep up. We do have more hockey players signed up. It's word of mouth. It's how we started with football. They came in one brain per month. Now we're getting enormous numbers. I think the same thing will happen in hockey. The large reason people don't donate is they aren't aware. Unless people have religious reasons, it's a way to contribute to people's lives and future generations."
An NHL spokesman did not respond to an email requesting comment.
Dr. McKee said she understands that some active pro athletes, including NHL players, would not want to undergo a test for CTE.
"This is a disease that starts slowly and advances slowly," she said. "The severity of CTE is related to the number of exposures to trauma and if someone tested positive if they were interested in a productive and successful life going forward they might consider retiring. But I know that most people are focused on the present and don't want to consider the future."
More than 100 former NHL players are suing the league in U.S. federal court in Minneapolis, alleging the league should have done more to protect them after they suffered head trauma and concussions.
In connection with that lawsuit, the NHL has hired Dr. Rudy Castellani, a neuropathologist and director of the Western Michigan University Center for Neuropathology.
Dr. Castellani denies that CTE exists and has challenged the work of Dr. Bennett Omalu, who made international headlines after he performed an autopsy in 2002 on former Pittsburgh Steelers player Mike Webster and diagnosed him with CTE.
"The NHL is really in the dark ages," Dr. McKee said. "It's denial, obfuscation and the usual tap dance. You ask any seven-year-old and they will tell you CTE is real. The NHL is being ridiculous. It's almost laughable."