Rick Nash tops TSN's Trade Bait board
More than 10 teams have reportedly inquired about the New York Rangers winger, while newcomers Derick Brassard and Max Domi join the list, TSN Senior Hockey Reporter Frank Seravalli writes.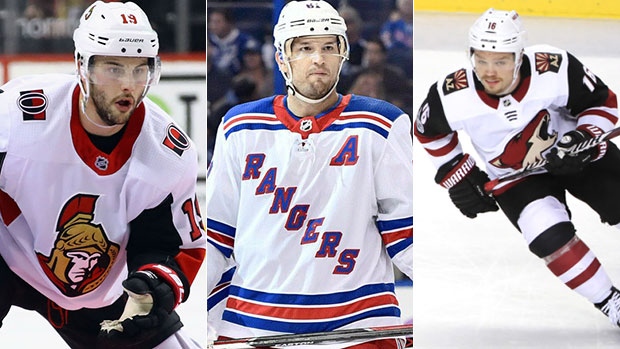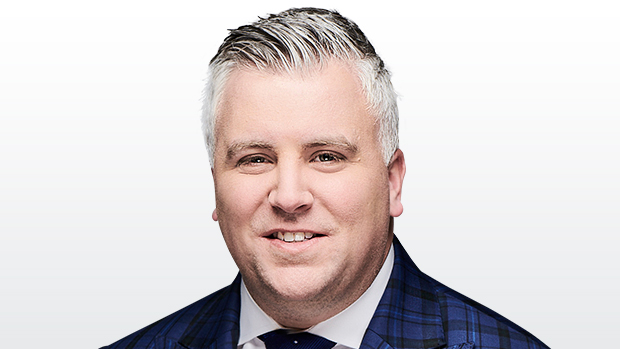 A new name resides atop TSN's Trade Bait board for the first time in 2018.

Rick Nash has knocked Buffalo's Evander Kane out of the top spot, with considerable interest building in the New York Rangers winger. More than 10 teams have reportedly inquired about Nash since the Rangers relayed their rebuilding message to the hockey world last week.

Kane fell to No. 6 on the board. Not only has GM Jason Botterill's asking price remained consistently high for Kane, he has also gone cold. Since debuting at No. 1 in early January, Kane has just two goals and three points in 15 games.

Four new names joined the list in Ottawa's Derick Brassard, Arizona's Max Domi, Ottawa's Bobby Ryan and Anaheim's Antoine Vermette. Four also departed – including James Neal and David Perron, two pending free agents who seem to be part of the Golden Knights' historic playoff plan - while Senators defenceman Dion Phaneuf was dealt on Tuesday to Los Angeles. Buffalo's Sam Reinhart seems unlikely to move before the deadline.

Brassard debuts at No. 4 after not residing in the Top 40 last week.

How does one player make such a drastic jump?

The Senators were leaning towards not dealing Brassard. He was at one point considered least likely to be moved among other forwards Mike Hoffman, Zack Smith and Jean-Gabriel Pageau.

But the Senators perhaps see an opportunity with Brassard being the premier centre available in a thin market down the middle. Before Brassard, the top-ranked centre was versatile Edmonton Oiler Mark Letestu, who now checks in at No. 8 and is likely to be on the move before the Feb. 26 deadline.
Ryan joins the list in Phaneuf's spot - and there is a parallel there. Like Phaneuf, Ryan's contract has been perceived as unmovable. Ryan, 30, has four years remaining at $7.25 million. If the Sens are willing to get creative and take another bad contract in return - as they did with Marian Gaborik - the potential exists for Ryan to move.
The situation around Domi is much more fluid. The Coyotes aren't "actively shopping" Domi, but as many as 20 teams are believed to have reached out to gauge his availability during a down season. Domi, 22, has just four goals this year.

Similarly, the Ducks are waffling between buyer and seller. If they decide to sell, Vermette would generate interest as the ninth full-time centre on the list.

At No. 24, Detroit's Petr Mrazek is the top-ranked goalie on the board. The Philadelphia Flyers recently lost starter Brian Elliott for a period of five-to-six weeks after core muscle surgery. Mrazek is an RFA at the end of the season and the Red Wings are not expected to qualify him at $4 million. That is the exact situation under which Philadelphia rescued and resuscitated Steve Mason's career from Columbus on Deadline Day in 2013.

The belief is the Red Wings are looking to move one of either Mrazek or Jimmy Howard before the deadline. Howard, 33, has one more season remaining at $5.3 million. A comparable either-or situation exists up front in Detroit. Gustav Nyquist ranks No. 27 on the list, but the Red Wings are also shopping two-time 20-goal scorer Tomas Tatar. The difference is Tatar is in the first season of a four-year, $21.2 million deal.

Pittsburgh defencemen Ian Cole and Minnesota centre Matt Cullen, who both helped the Penguins to two straight Stanley Cups, slid down the list because their recent uptick in play has made them more valuable components during their team's respective playoff pushes.

St. Louis Blues prospect Jordan Kyrou is one of three prospects on the board – along with Flames netminder Jon Gillies and Jets centre Nic Petan - but Kyrou is largely representative of the Blues' prospect cupboard. There is an arms race brewing in Central Division, with the Blues, Jets, Predators, Stars and maybe even Wild seeking to add an impact forward. In order to do that, the Blues may well have to part with one of their centre prospects such as Kyrou, Klim Kostin or Tage Thompson. Robert Thomas seems to be the one untouchable there. Teams have also inquired about injured forward Robby Fabbri.

Here is TSN Hockey's latest Top 40 Trade Bait, whose ranking always seeks to blend likelihood of a trade with prominence of the player:
The Top 40
Trend
Player
Pos
Age
Cap Hit
GP
G
PTS
Years
Clause
1.

Rick Nash

, NYR

LW

33

$7.8M

57

17

27

UFA

M-NTC

2.

Mike Green

, DET

RD

32

$6M

55

6

29

UFA

NTC

3.

Mike Hoffman

, OTT

LW

28

$5.19M

55

15

38

2

M-NTC

4.

Derick Brassard

, OTT

C

30

$5M

53

15

31

1

M-NTC

5.

Patrick Maroon

, EDM

LW

29

$1.5M

53

14

29

UFA

6.

Evander Kane

, BUF

LW

26

$5.25M

57

18

38

UFA

7.

Michael Grabner

, NYR

LW

30

$1.65M

56

23

29

UFA

8.

Mark Letestu

, EDM

C

32

$1.8M

54

8

18

UFA

9.

Jack Johnson

, CBJ

LD

31

$4.35M

57

3

8

UFA

10.

Max Pacioretty

, MTL

LW

29

$4.5M

56

16

33

1

11.

Max Domi

, ARI

C/LW

22

$1.36M

57

4

25

RFA

12.

Thomas Vanek

, VAN

LW

33

$2M

57

16

38

UFA

13.

Zack Smith

, OTT

C/LW

29

$3.25M

41

4

14

3

M-NTC

14.

Nick Holden

, NYR

LD

30

$1.65M

52

3

11

UFA

15.

Ryan McDonagh

, NYR

LD

28

$4.7M

49

2

26

1

M-NTC

16.

Tomas Plekanec

, MTL

C

35

$6M

56

5

20

UFA

17.

Derek Ryan

, CAR

C

31

$1.45M

55

11

26

UFA

18.

Jeff Skinner

, CAR

LW

25

$5.73M

57

18

35

1

NMC

19.

Alex Galchenyuk

, MTL

LW

23

$4.9M

56

12

32

2

20. J-G Pageau, OTT

C

25

$3.1M

51

7

18

4

21.

Boone Jenner

, CBJ

C

24

$2.9M

50

5

16

RFA

22.

Andrew Shaw

, MTL

C/RW

26

$3.9M

43

10

19

4

23.

Jordan Kyrou

, STL

C/RW

19

$894K

0

0

0

3

Slide

24.

Petr Mrazek

, DET

G

25

$4M

20

2.99

.906

RFA

25.

Johnny Oduya

, OTT

LD

36

$2M

46

3

7

UFA

M-NTC

26.

Antoine Vermette

, ANA

C

35

$1.75M

56

8

16

UFA

M-NTC

27.

Gustav Nyquist

, DET

RW

28

$4.75M

55

15

25

1

NTC

28.

Aaron Dell

, SJS

G

28

$625K

24

2.51

.917

UFA

29.

Jon Gillies

, CGY

G

24

$725K

1

5.14

.750

RFA

30.

Erik Gudbranson

, VAN

RD

26

$3.5M

39

2

4

UFA

31.

Ian Cole

, PIT

LD

28

$2.1M

44

3

12

UFA

32.

Josh Leivo

, TOR

LW

24

$613K

12

1

3

1

33.

Blake Comeau

, COL

RW

31

$2.4M

53

10

22

UFA

34.

Ben Hutton

, VAN

LD

24

$2.8M

50

0

6

1

35.

Matt Cullen

, MIN

C

41

$1.7M

54

5

13

UFA

36.

Nic Petan

, WPG

C

22

$863K

10

1

1

RFA

37.

Robin Lehner

, BUF

G

26

$4M

42

2.90

.910

RFA

38.

Frank Vatrano

, BOS
LW
23
$925K
25
2
2

RFA

39.

Bobby Ryan

, OTT

RW

30

$7.25M

39

7

20

4

M-NTC

40.

Tyson Barrie

, COL

RD

26

$5.5M

41

5

31

2