Riders acquire QB Adams from Als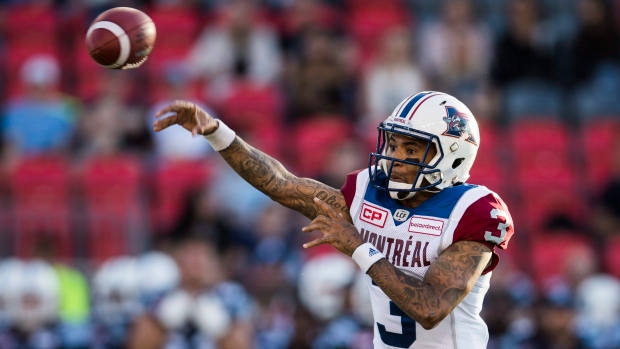 The Saskatchewan Roughriders have added some depth at quarterback in a deal with the Montreal Alouettes.
The team announced on Tuesday the acquisition of Vernon Adams from the Als in exchange for national defensive back Tevaughn Campbell, a third-round pick in 2018 and a fourth-round selection in 2019.
A standout at Oregon, the 24-year-old Adams is in his second Canadian Football League season. Acquired from the BC Lions in May of 2016, Adams started three games for the Als a year ago. He threw for 575 yards and four touchdowns on 42-for-75 passing.
This season, Adams has dressed as the Als' backup behind Darian Durant in all seven of the team's contests, picking up a touchdown and nine rushing yards on eight carries.
Campbell, a native of Scarborough, Ont., has appeared in 22 CFL contests with the Riders and Calgary Stampeders, amassing 19 defensive tackles, knocking down seven passes and recovering two fumbles (one for a touchdown).
"We are happy to have acquired a talented player like Campbell, even more so that we had a need for national players because of recent injuries, said Als general manager Kavis Reed in a statement. "Vernon was a true professional and we would like to thank him for all his work with our team and in our community. He always put in the work that was required and we are truly thankful for his commitment."
Adams joins Kevin Glenn, Brandon Bridge and Marquise Williams as pivots on the Roughriders' roster.
The move means that Drew Willy now slots in as the backup with the Als.