Riders, Eskimos chasing Stamps in CFL Power Rankings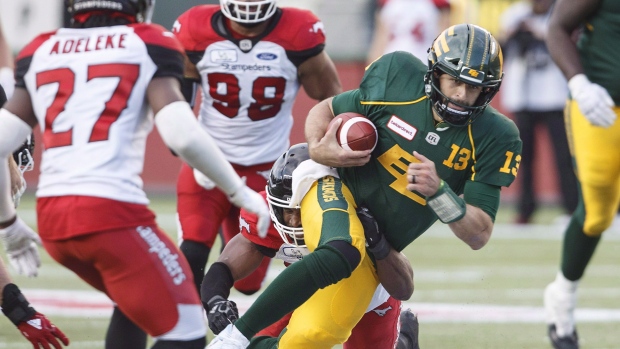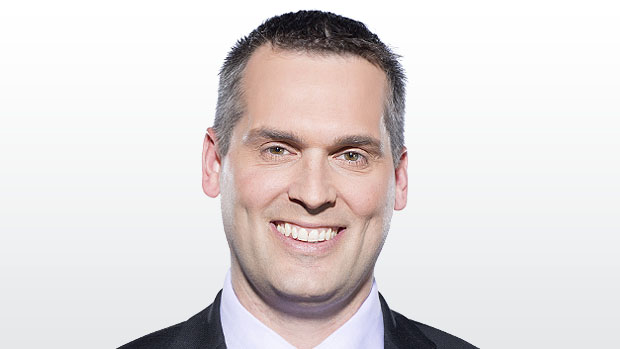 The Edmonton Eskimos earned a big win and join the Saskatchewan Roughriders in pushing the Calgary Stampeders at the top of the TSN.ca CFL Power Rankings.
CALGARY STAMPEDERS
RECORD: 9-2 THIS WEEK: 1 LAST WEEK: 1
The injury list is getting longer, and that might make the Stamps more vulnerable, but they didn't go quietly in a 48-42 loss at Edmonton, with QB Bo Levi Mitchell throwing for 491 yards and four touchdowns, while rookie runner Romar Morris scored four touchdowns on a dozen touches.
Key Injuries: WR Eric Rogers, DB Patrick Levels, DL Cordarro Law, WR Kamar Jorden, DB Ciante Evans, RB Don Jackson.
SASKATCHEWAN ROUGHRIDERS
RECORD: 7-4 THIS WEEK: 2 LAST WEEK: 2
Winning back-to-back games against the Bombers gives the Riders a four-game winning streak and strengthens their position in the secondary tier behind Calgary. Rookie RB Tre Mason busted out with 20 carries for 117 yards at Winnipeg.
Key Injuries: LB Derrick Moncrief, WR Caleb Holley.
EDMONTON ESKIMOS
RECORD: 7-5 THIS WEEK: 3 LAST WEEK: 3
There are advantages to having the league's best quarterback, and Mike Reilly put it on display against Calgary, throwing for 397 yards and three touchdowns, while adding three more rushing touchdowns on the ground. After losing a close one the week before, that rebound victory was needed.
Key Injuries: CB Johnny Adams, DB Neil King, WR Derel Walker.
HAMILTON TIGER-CATS
RECORD: 6-5 THIS WEEK:4 LAST WEEK: 4
Now that they can find the end zone, the Ticats are legitimately dangerous. QB Jeremiah Masoli has thrown seven touchdowns in the past two games, after throwing nine in nine games to start the year.
Key Injuries: WR Shamawd Chambers, WR Chris Williams, WR Jalen Saunders.
OTTAWA REDBLACKS
RECORD: 6-5 THIS WEEK: 5 LAST WEEK: 5
The Redblacks were looking good a couple of weeks ago, but after scoring a total of 25 points in back-to-back losses, they're not so steady as they head to Saskatchewan to face a Riders team that has won four straight.
Key Injuries: DL Avery Ellis, LB Kyries Hebert, DL Ettore Lattanzio, DB Jonathan Rose.
WINNIPEG BLUE BOMBERS
RECORD: 5-7 THIS WEEK: 6 LAST WEEK: 6
Losers of four straight, the Bombers are in free-fall, and they had better pull it out of it with a home game against Montreal this week, or else. QB Matt Nichols has thrown seven interceptions in the past three games, after throwing eight all of last season.
Key Injuries: WR Weston Dressler, DB Maurice Leggett, DE Jackson Jeffcoat.
B.C. LIONS
RECORD: 4-6 THIS WEEK: 7 LAST WEEK: 7
There's still some work to do, but the Lions could be moving in the right direction with a win over Ottawa and then signing WR DeVier Posey after he was cut by the Baltimore Ravens of the NFL. Posey's arrival should help a receiving corps trying to make up for the loss of Emmanuel Arceneaux.
Key Injuries: OL Charles Vaillancourt, LB Solomon Elmimian, WR Emmanuel Arceneaux, C Cody Husband.
TORONTO ARGONAUTS
RECORD: 3-8 THIS WEEK: 8 LAST WEEK: 8
The Argos have lost three straight, so thank the stars that they had back-to-back one-point wins prior to this streak. With a bye this week, they can figure out how to get WR Duron Carter involved in the offence.
Key Injuries: QB Ricky Ray, DB Johnny Sears Jr, LB Marcus Ball, DB Abdul Kanneh, DB Cassius Vaughn, DL Dylan Wynn.
MONTREAL ALOUETTES
RECORD: 3-8 THIS WEEK: 9 LAST WEEK: 9
Coming off a bye week preceded by back-to-back wins, the Alouettes have some reason for cautious optimism.
Key Injuries: DB Joe Burnett, QB Drew Willy, DB Mitchell White, RB Tyrell Sutton, RB William Stanback.
Scott Cullen can be reached at scott.cullen@bellmedia.ca