Robitaille confident Kings will keep Doughty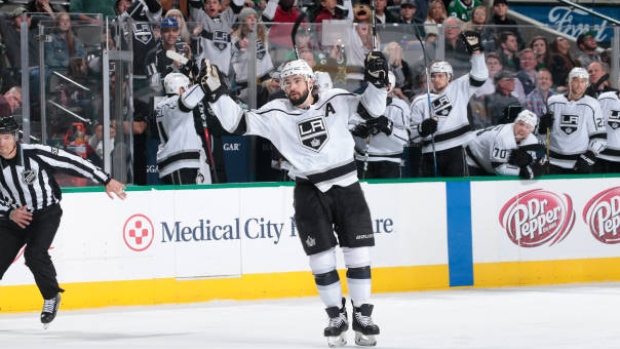 Los Angeles Kings president Luc Robitaille has no plans to lose defenceman Drew Doughty to free agency in 2019.
Robitaille told TSN Radio 1050 Toronto on Wednesday the team plans to make every effort to re-sign the 28-year-old, who has spent his entire career with the Kings.
"For us, we love Drew's play and we don't love his interview with you guys," Robitaille joked on Overdrive, refferring to an interview Doughty did with the station last summer when he said all Southern Ontario-born players would want to play for the Maple Leafs.
"No, there's never even a question in our mind – Drew's going to be a King and he's going to be with us. He's a very special player. He plays with an extreme amount of passion. He's one of those guys that he found a way that whether he gets a goal or not, he plays the game so well at both ends. He's definitely, for us, the best defenceman in the league in his own end, and I'm not even talking about what he does offensively.
"He's one of those very special players. We wouldn't be where we're at today without him and we know we can't have success without him. So in our mind, he's with us. He's going to stay with us. We'll figure out a way."
Doughty has eight goals and 40 points in 56 game with the Kings this season while averaging a league-high 26:57 of ice time per game.
A four-time All-Star, Doughty won the Norris Trophy in 2016 and is considered a top candidate for the award again this year.
In an interview with Craig Custance of The Athletic in November, Doughty said he'd like to stay in touch with Ottawa Senators defenceman Erik Karlsson - also a UFA in 2019 - ahead of signing his next contract so the two can gauge their value together. He added the duo already had a benchmark in mind.
"Right now, I guess we'd be gauging off what P.K. [Subban] makes. I think both of us deserve quite a bit more than that," Doughty told Custance.
Subban has the highest cap hit of any defenceman in the NHL at $9 million with the contract he signed with the Montreal Canadiens in 2014. Brent Burns owns the second highest cap hit among defencemen at $8 million. He signed an eight-year, $64 million extension with the San Jose Sharks last November.
Doughty owns a $7 million cap hit on the seven-year contract he signed with the Kings in 2011.