Rookies Domi, Duclair carrying Coyotes early
Former world junior linemates Max Domi and Anthony Duclair now working their magic at the NHL level for Arizona. As TSN Senior Hockey Reporter Frank Seravalli writes, the pair are the hottest thing in the desert.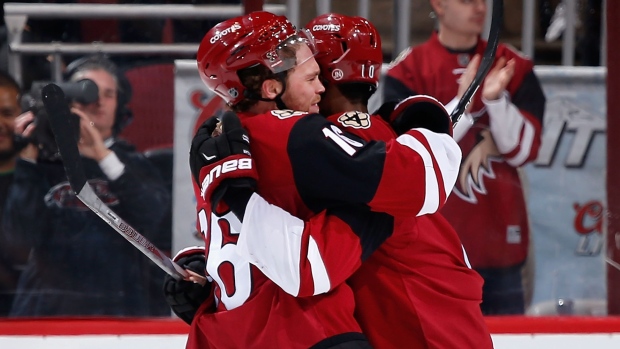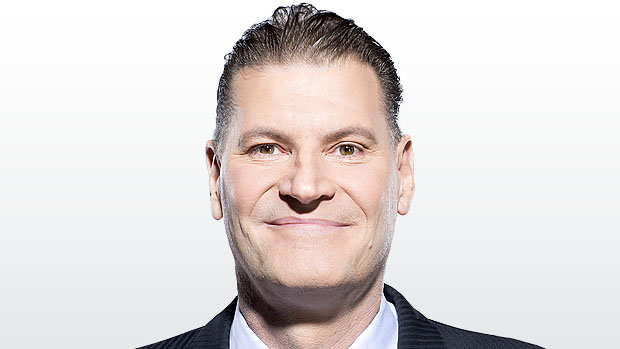 NEWARK, N.J. — In the days and months leading up to the NHL trade deadline last March, Coyotes general manager Don Maloney could not seem to find the right fit as he shopped for a new home for defenceman Keith Yandle.
That was until then-Rangers GM Glen Sather, Maloney's former boss, said he would consider parting with forward Anthony Duclair.
Maloney had not necessarily targeted Duclair, but he perked up when thinking about the magic Duclair and Coyotes first-round pick Max Domi made on a line together at the World Junior Championships two months earlier.
Domi and Duclair combined for 18 points in the seven-game tournament, helping Canada capture gold on home soil.
"That's when I said to Glen: 'Now we can get serious,' " Maloney said Wednesday, watching the Coyotes practice from a perch at Prudential Center.
Maloney pulled the trigger. The haul for Yandle and Chris Summers was Duclair, defenceman John Moore, a second-round pick (Oliver Kylington) and a first-round pick in 2016.
Duclair, 20, will make his return to Madison Square Garden Thursday, where he first caught Maloney's eye last fall when he made the Rangers out of training camp.
And for the first time this season, he will start the night on a line with Domi.
The chemistry between Domi and Duclair has already cooked up an unlikely shot in the arm for the seemingly lottery-bound Coyotes (3-2-1). In a year when all the hype was focused on Connor McDavid and Jack Eichel, it is Domi and Duclair who sit atop the rookie scoring race, each having collected seven points in their first six games.
The duo has only sporadically played together so far - mostly on the power play - yet Domi has fed Duclair for three of his team-leading five goals, including a game-tying, feathery soft saucer pass in the third period on Tuesday night against the Devils.
"They have brought exactly what we thought they could. They are quick, they're strong with the puck and they're extremely skilled," Maloney said. "To be honest, I'm not sure where we'd be right now without them."
Of course, Maloney cautioned that it's still ridiculously early in the season.
Domi and "The Duke" will no longer be catching teams by surprise, not after Duclair's hat trick against the Ducks. And Duclair's staggering five goals on nine shots - a staggering 55.6 shooting percentage - is unsustainable.
"I wish it was," Maloney said, laughing.
Maloney is most impressed by the fact that two 20-year-olds have not only "built some credibility" with Arizona's veterans, but that they've dragged a few of them along for the ride.
Martin Hanzal, the centre to Domi and Duclair, has eight assists already this season - nearly a quarter of the way to his career-high of 40 points. Tobias Rieder and Mikkel Boedker have improved, according to Maloney.
That pure speed is what Team Canada coach Benoit Groulx said Wednesday made him plug Domi and Duclair together in the first place last December. Groulx said they just needed a responsible centre in Sam Reinhart to make it work.
They might click, too, because Domi creates time and space with his poise, enabling him to feed Duclair, a pure finisher.
"The biggest thing is just our relationship off the ice," said Domi, who rooms with Duclair on the road. "That translates on the ice, too. It's fun. We understand each other. We understand each other's pros and strengths. When you're two young guys trying to make an impact on the game, our speed is huge."
Domi's work ethic and demeanor, polished by his father Tie's incessant prodding and advice, has rubbed off on Duclair. Domi, also 20, remembered Wednesday when his dad brought him to a hotel once to catch up with an old friend in Mark Messier.
"My dad said 'bring two sticks and a puck,'" Domi said. "And we worked on faceoffs."
There was a time last year, after Duclair was sent back to the QMJHL's Quebec Remparts, that Maloney might not have traded for Duclair. His body language was poor. He seemed disinterested.
Maloney used all of his available resources to research Duclair. He saw at least six games in-person. He quizzed the Rangers' trainers and staff, using his longtime relationships. He called upon his older brother, Dave, a former teammate and current Rangers broadcaster for insight.
"I totally understood it," Maloney said. "He went from the bright lights and the big stage of Manhattan back to a bus going to Chicoutimi. It's hard to get as excited for that."
Duclair said he was "definitely shocked" after the deal, but immediately "looked at the positives," the most obvious being the chance to play with Domi again. He won coach Dave Tippett over, beginning with a strong summer development camp - and Tippett said there have been no signs of any negativity so far.
Tippett mostly avoided pairing the two rookies for fear of their defensive vulnerability. Two weeks into the season, they are together now because Tippett likely realized they already give the Coyotes their best chance to win.
They are Arizona's bridge between present to future.
"We want to grow as an organization and these young players can help us grow," Tippett said. "The quicker we can get them up and going, the better off we'll be. They've been good so far."
Frank Seravalli can be reached at frank.seravalli@bellmedia.ca