Roy fortunate to choose own exit strategy
While the Colorado Avalanche experienced early success during the Patrick Roy era, Travis Yost writes that the underlying numbers indicate the Avs were destined for failure under Roy.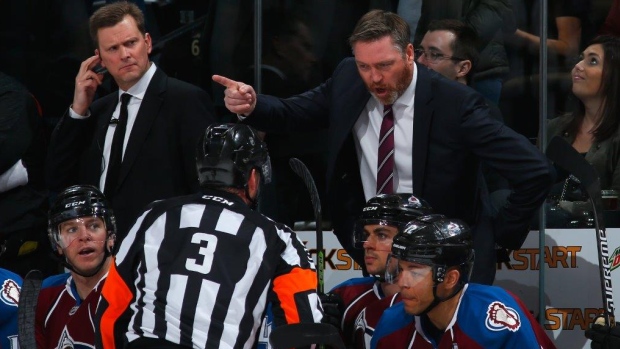 If there was one surprising aspect of Patrick Roy's exodus from the Colorado Avalanche last week, it was that it was Roy's decision to part ways.
Like a number of other head coaches in the modern era, Roy managed to stave off what should have been relentless scorn and scrutiny by way of one truly miraculous season; and miraculous really is the perfect word for what the Avalanche did in Year One of his reign. The 2013-2014 season has – along with the Randy Carlyle era Maple Leafs – become 'Exhibit A' in why front offices should pay just as much attention to key performance indicators and general underlying numbers as they do the wins and losses column.
Roy, it should be pointed out, was not expected to craft a winner in just his first year on the job. The standings certainly made it seem as though he did. But beneath the unsustainable top-five shooting and save percentages was really an exercise in getting speed bagged on a nightly basis. The Avs relied frequently on goaltender bail-outs and lightning-quick counterattacks to win the goal battle. And for some time, it worked.
The problem is that in today's NHL, those teams cannot sustain success. The talent margins are just too tight league-wide and teams that are frequently getting out-shot and playing sustained shifts in the defensive zone will generally lose long-term.
So, granted, most coaches need a bit of time on the job to iron out systemic issues and address bad player habits that have rolled over from prior coaching cycles. Despite Roy's inaugural season being the mirage of all mirages, it was more than fair to give him time to improve the state of the team.
But, those 82-games came and went…and then another 82-games..and then another 82-games. Nothing changed. The team frequently looked for explosive, Hail Mary-esque stretch passes out of the defensive zone. They played the puck off of the boards with an annoying frequency, with seemingly no target or strategy in mind. Offensively, they were often left to one-and-done attacks – their most threatening coming from counterattacks and odd-man rushes.
Roy might have a million reasons why he wanted to leave the Colorado organization. Many of them might be legitimate and fair; however the biggest indictment from an executive perspective is that he never built out a team that could frequently out-chance and out-shoot the opposition. Once the percentages dried up, Colorado became little more than a Western Conference punching bag.
I mentioned shot and scoring chance differential there because not only do I think their systems play lent itself to risk, it wasn't as if there was some separately paying dividend that created a higher percentage of 'Grade A' chances for the Avalanche. This was true in Year One as well as Year Two and Year Three.
Here's what the Roy era looked like on both fronts (data via Corsica):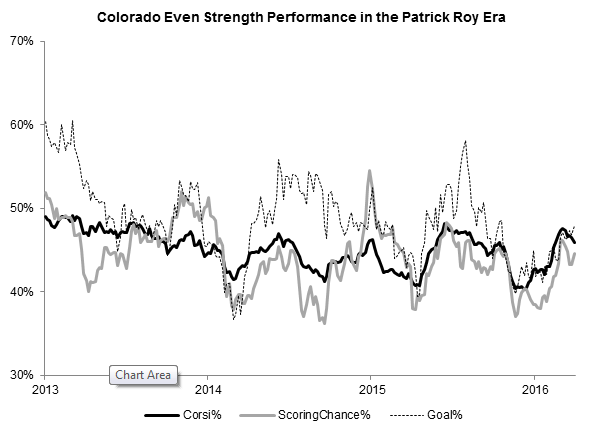 A decent team here would float around the 50% mark. A good team is about 52% or better. A poor team is usually about 48% or worse. Colorado was very much in the latter of that category for the entire Roy era. You can see that in most instances, the scoring chance differentials in the Patrick Roy era mirrored the shot differentials. Even further, in some cases – specifically during that stretch in 2014-2015 – the scoring chance numbers were actually less flattering than the shot numbers.
You can certainly try and apportion at least some of the team's developmental and progression woes on their player development and front office groups. Maybe Roy wasn't equipped with enough talented depth. Maybe Roy wasn't given every possible asset he needed to try and move this team up and over the hill.
But, at the end of the day, this was a roster that had plenty of individual scoring talent and the requisite level of goaltending competency you need to at least be competitive. The problem is, Roy, never took them beyond that. In some cases, he kept his team below the cut-line.
I mentioned earlier that the biggest surprise of this whole saga was that Roy left on his own terms. In other words: wasn't fired for three-years of underwhelming team play. Had Colorado opted to move on from Roy at the end of the season, they would've been in position to make a number of competitive offers to a name like Bruce Boudreau or Mike Yeo, two guys who have checked out as successful at the NHL level.
Still, assuming Colorado can land a competent coaching head, it will be worth keeping tabs on this group as they progress through next season. If coaching was truly having a dramatic and adverse impact on team performance, we could and should see this team take a step forward despite organizational turmoil.