Rules situation remains a heated one
A few awkward and costly rulings have made the new rule book the hottest topic in golf, Bob Weeks writes.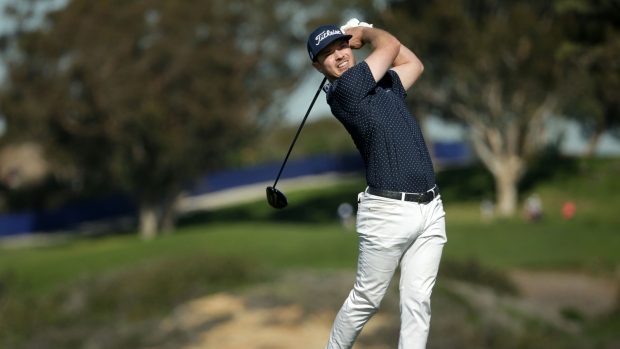 Complaints. Penalties. Allegations. Accusations. Name-calling. Finger-Pointing. Trolling. Mocking.
Welcome to the wonderful world of golf.
In the last few months, there have been enough spats concerning the Rules of Golf to fill a tour-sized golf bag. It's taken away from the game and pitted players against governing bodies in a battle that no one seems likely to win.
After five years of work by the United States Golf Association and the Royal and Ancient, the Rules of Golf were updated in January. The intent was to make them easier to understand, more logical and to allow for ease of play.
Golfers, both pro and amateur, have been adapting to the changes that include being able to tap down spike marks and leave the pin in while putting. But a few awkward and costly rulings have made the new rule book the hottest topic in golf.
Even the folks who are responsible for the new rules can't agree on how things are unfolding.
According to the USGA's Mike Davis, the implementation has been a "huge success." Martin Slumber of the R&A, however, said putting the new Rules into practice "hasn't gone as smoothly as I would have liked."
Several PGA Tour players have been vocal in their opposition to two of the rule changes in particular. The first concerns a caddie lining up a player by standing behind him.
The latest incident occurred during last week's Honda Classic where Adam Schenk was dinged two strokes after his caddie stood behind him as he prepared to play a bunker shot.
Even though the caddie wasn't aligning Schenk, his position behind the player fell under the interpretation of the new rules. The penalty cost him $60,000.
It's that type of punishment that has the golfers riled up. The rule should be about intent, they say, not location.
Dropping the ball from knee height is another change that has caused frustration for PGA Tour players.
At the World Golf Championship – Mexico Championship, Rickie Fowler was penalized a shot after he dropped his ball using the old method of shoulder height and then hit it before correcting the error. He was incensed enough that, a week later, he mocked the new drop method with the "poop-drop."
"It looks so bad," stated World No. 1 Dustin Johnson. "I think it's terrible. I would like to see them revise that one. The knee-high . . . when you watch it on TV, it looks awful."
Lots of players have spoken out about the rules in general or some in particular. Adam Scott said the rules issues are making golf "a laughing stock" while Bryson DeChambeau called the new drop method "a bit absurd."
But it was Justin Thomas who may have finally driven one of the governing bodies over the edge. "I think they're terrible," Thomas said in comments at the Honda.
That pushed the USGA's buttons and the association stunningly called Thomas out on Twitter, saying he'd cancelled meetings that had been set up and that the PGA Tour had been a part of the Rules-changing process.
The USGA later issued a correction – it wouldn't go so far as to apologize – about the tweet, saying Thomas had never missed any meetings, but the damage was already done.
The USGA trolling a player on Twitter? Has it really come to this? The player-USGA relationship has never really been a good one and this move certainly won't lead to détente.
Some golfers have gone so far as to call for the Tour to create its own rule book. That would be an extreme and unlikely move. One of golf's great attractions is a common set of rules no matter who is playing. But when you're teeing it up for a living, matters take on a different light.
At last week's tour stop, Bronson Burgoon broke his driver on the eighth hole. Under the previous Rules, he could have dispatched someone to get his spare out of his locker. But that's no longer the case in the new book. He played the last 10 holes without a driver.
For a weekend duffer who doesn't likely have a spare sitting in his locker or trunk, replacing a broken club doesn't matter. But for a guy trying to cash a cheque, it has consequences.
On its website, the USGA even explains the change by singling out players of high calibre, saying since the group is so small, why bother letting them put another club in play?
"Although there will be times when a damaged club is unusable and cannot be readily repaired on the course (such as when a driver head comes off)," the statement reads, "the practical ability to get a replacement club is seldom present other than at some elite levels of golf."
But it's precisely those elite levels where golfers are trying to make a living.
The USGA and R&A like to point out that the PGA Tour was heavily involved in creating the new rules, with a number of contributions. The players could have had their say, just like any regular golfer, during an open period prior to the adoption of the final set of rules.
Although there were a number of early season sessions held for the players detailing some of the issues they might face, a great many didn't attend and a great many of them still haven't read the new Rules of Golf.
But as one player pointed out to me, the Tour encourages – actually urges – them to bring in rules officials whenever a situation occurs just so it's handled correctly and doesn't end up being a costly mistake. Let the experts handle it, they say.
Any change takes time to accept and become comfortable. Some, such as the knee-high ball drop, might fall into that category. Others, such as the caddie alignment, may not (it's already received one small revision). The fewer incidents that occur, the calmer the landscape will likely become.
But right now, the hot-button issue of the Rules of Golf is taking up a lot of oxygen in PGA Tour locker rooms, among TV talking heads and on social media.
It's too bad because there's some great golf being played out there.