Rumour Mill: Time to shake up Sens again?
The Ottawa Senators have lost eight of their past nine games and Bruce Garrioch of the Ottawa Sun suspects that general manager Pierre Dorion is looking to make a move.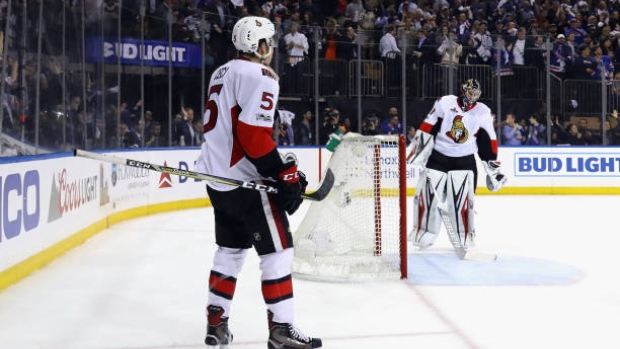 Keep up to date on the latest rumours and speculation around the NHL beat with TSN.ca's Rumour Mill.
Wake-Up Call
The Ottawa Senators have lost eight of their past nine games and Bruce Garrioch of the Ottawa Sun suspects that general manager Pierre Dorion is looking to make a move.
Garrioch believes Dorion is likely looking into AHL call-ups to make a change for the moment, but believes a trade is also a possible option even after acquiring Matt Duchene one month ago.
According to Garrioch, defenceman Cody Ceci is the Senators' "most tangible asset," but the Senators have been unwilling to move him. Garrioch adds that the Avalanche tried to acquire him as part of the Duchene deal, but Dorion included the Nashville Predators and Kyle Turris in the trade instead.
Ceci, 23, has two goals and five points in 25 games with the Senators this season.
The Senators, who lost 5-0 to the Winnipeg Jets on Sunday, return to the ice Wednesday night against the Anaheim Ducks.
---
On the Block?
Kyle Quincey and Matt Moulson are two veteran NHLers who find themselves without a spot on their team's respective 23-man roster - and on the trade block.
Quincey was waived by the Minnesota Wild last week and officially assigned to the AHL on Monday. Michael Russo of The Athletic reports the Wild are continuing to try to move the defenceman, who carries a cap hit of $1.25 million this season and counts for $225,000 against the cap while in the AHL.
The 32-year-old defenceman has appeared in 18 game with the Wild this season, posting three assists while averaging 14:17 of ice time.
Moulson was placed on waivers Monday by the Buffalo Sabres. According to TSN Hockey Insider Darren Dreger, Moulson was willing to add teams to his 12-team trade list and the Sabres were willing to eat salary to facilitate a trade, but no move could be found, leading the Sabres to place Moulson on waivers.
The 34-year-old is without a point a minus-9 in 14 games with the Sabres this season. He's three seasons removed from topping 20 goals while playing for three teams during the 2013-14 and has seemingly lost the scoring touch that allowed him to post three straight 30-goal campaigns from 2009-2012. Working against Moulson in any deal is $5 million cap hit, which he carries through next season.
---
Looking for a Trade?
The Philadelphia Flyers finally ended their losing skid at 10 games on Monday night, and while they're glad to have the drought behind them, Dreger believes head coach Dave Hakstol's job was never in jeopardy.
Dreger (and TSN Hockey Bob McKenzie in last week's Insider Trading) said before Monday's win that Flyers general manager Ron Hextall still believes in Hakstol for the long-term and might instead look to make a trade to try to his spark his slumping roster.
"I think that he'd prefer to be patient and wait, but how much longer can he wait," Dreger told Edmonton's TSN Radio 1260. "I don't get the sense that Dave Hakstol is target No. 1. Again, because he was handpicked by Ron Hextall, I think that Hextall, unless he was pressured from above – and I don't think that would go well with Hexy – I think he's a pretty loyal individual. He'd have to see first-hand that the coach is the problem, and I don't again get the sense that is the case.
"So then you're left with making a trade. And it depends on the pieces that he's willing to part with. If he were ever willing to trade Wayne Simmonds, well, there would be people lining up to acquire Wayne Simmonds. But beyond that, it gets a little more complicated because anyone looking at the Philadelphia Flyers would be trying to pick his pocket, and would want some of his younger guys.
"So I suspect he's going to try to do something trade-wise; but as hard as we've been digging on that front, no names that are significant or that would catch the attention of anyone out there have surfaced just yet."
Simmonds name has surfaced this season as a possible trade candidate. The 29-year-old has another season left on his current contract at a cap hit of $3.975 million and has eight goals and 15 points in 27 games. Dreger notes that if Simmonds were to become available, the list of suitors would be long but the price tag would also be high.
According to CapFriendly, Simmonds owns a 12-team no-trade clause.
---
Find the Fix
Edmonton Oilers general manager Peter Chiarelli is working the phones to acquire a stopgap in Cam Talbot's absence, TSN Senior Hockey Reporter Frank Seravalli writes. Seravalli listed five options for the team on Monday, in Chad Johnson, Michael Hutchinson, Michal Neuvirth, Calvin Pickard and Petr Mrazek. Watch the video below as Seravalli explains which goaltender he believes would best fit in Edmonton.