Russia, Saudi Arabia open FIFA World Cup™ on TSN and CTV
TSN is your one-stop shop for all things 2018 FIFA World Cup™, which begins Thursday morning with host nation Russia taking on Saudi Arabia at 10am et on TSN4, TSN5, CTV, and streaming on TSN.ca. Here is a guide to all that TSN is offering throughout the tournament.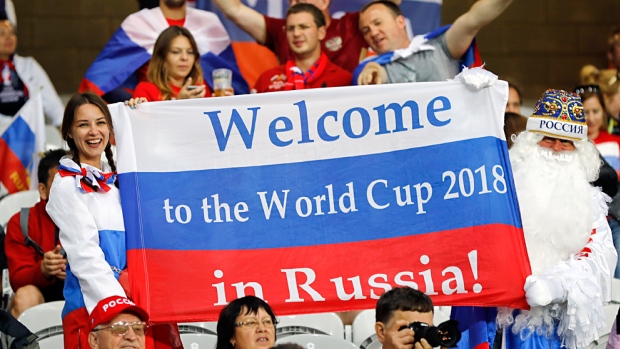 It's been a long wait.
After almost four years and nearly 1,500 days, the FIFA World Cup™ is back, and TSN and CTV are the places to be for comprehensive coverage of soccer's most prestigious tournament.
Every game will be broadcast LIVE on the TSN Network alongside top notch-radio, online and social media coverage. Breaking news, must-see moments, and analysis will be available across all TSN platforms.
Anchored by TSN's industry-leading soccer panel, viewers will hear from Luke Wileman, Steven Caldwell and Kristian Jack throughout the entire tournament, with Andi Petrillo hosting the nightly recap show. TSN Radio's coverage features Gareth Wheeler and Terry Dunfield as hosts of pre-game, halftime and post-game coverage, as well as a nightly recap show. TSN.ca is the premier destination for streaming, highlights, analysis, must-see moments, recaps and everything else World Cup.
Things kick off Thursday morning at 10am ET on TSN4, TSN5, TSN.ca, CTV and on TSN Direct with the 2018 FIFA World Cup™ pre-game show. The tournament officially gets underway with the host side Russia taking on Saudi Arabia at Luzhniki Stadium in Moscow.
The Russians were handed an automatic berth as the host nation, while Saudi Arabia qualified for their fifth World Cup. Russia heads into the tournament in the midst of a slide, having won just five of their past 26 matches. But maybe the energy of opening the World Cup on home soil will help lift them past a Saudi Arabian squad that hasn't had much success in pre-tournament play either.
History has shown that opening matchups are vital. Under the current format – the last five World Cups – of the 60 teams that have won their opening matches, 51 of them went on to the knockout stage, while only seven of the 60 losers bounced back to advance. Spain in 2010 was the only team to capture the title after dropping their first game.
On Friday, Egypt and Uruguay kick off the day in Group A action with coverage getting underway at 7am et from Central Stadium in Yekaterinburg LIVE on TSN1, TSN4, TSN5, TSN.ca and TSN Direct.
Here is TSN's full broadcast schedule for the 2018 FIFA World Cup™.