Sabres GM: Ristolainen's return unlikely to sway talks
Buffalo Sabres general manager Tim Murray tells The Associated Press he doesn't believe defenceman Rasmus Ristolainen's decision to join the team for practice without a contract will have any effect on thawing negotiations.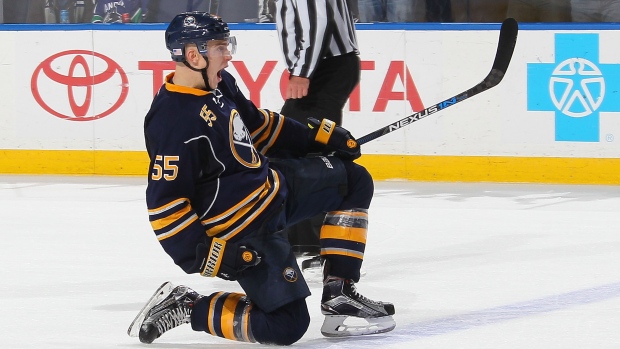 BUFFALO, N.Y. — Sabres general manager Tim Murray is fine with defenceman Rasmus Ristolainen's decision to practice with the team even though he's not under contract.
That doesn't mean Murray believes the Sabres top defenceman's presence in Buffalo will have any effect on negotiations.
"No," Murray told The Associated Press while breaking into a laugh on Friday. "Unless you ask him that when he got here that he got all lovey-dovey and wants to play for what we want to pay him."
Though Murray said the two sides are still negotiating, he wouldn't say whether progress is being made with the restricted free agent two weeks before the Sabres open the regular season.
Ristolainen is a restricted free agent whose rights were retained by the Sabres in June. After representing Finland in the World Cup of Hockey, Ristolainen reported to Buffalo on Thursday in what was regarded as a sign of good faith.
Though he's not allowed to play because he's not under contract, Ristolainen is practicing with the team and also taking part in meetings.
Ristolainen is not making himself available to reporters, and messages left with his agent, Mike Liut, were not returned.
Murray said he was somewhat surprised by Ristolainen's request to practice with the team. That's a switch from other restricted free agents such as Winnipeg defenceman Jacob Trouba, who has requested to be traded.
Murray didn't see anything wrong with allowing Ristolainen to practice, saying he'd rather the player be in Buffalo than working out elsewhere.
Ristolainen was selected by Buffalo in the first round of the 2013 draft and has played three seasons with the Sabres. Last year, Ristolainen led the team in averaging more than 25 minutes of ice time per game, and led Buffalo defencemen with 41 points (nine goals, 32 assists).
In saying he has no control over contract talks, coach Dan Bylsma took a diplomatic approach addressing Ristolainen's situation.
"I think it shows a lot from both the player that he wants to be here practicing with his team, and it shows a lot from us, a lot from Tim, that we want him here as well," Bylsma said. "The contract will take care of itself."