Sabres name Botterill general manager
Jason Botterill has no second thoughts over leaving the defending champion Pittsburgh Penguins while they are in the midst of yet another playoff run.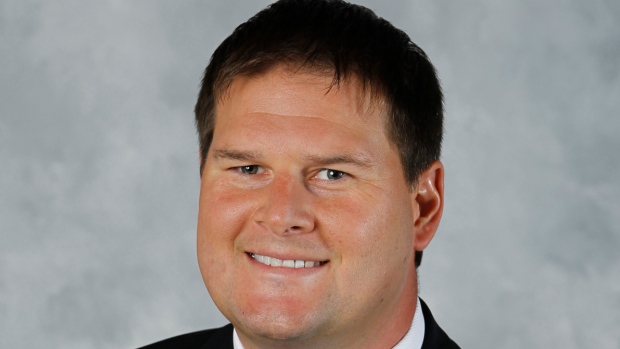 BUFFALO, N.Y. — Jason Botterill has no second thoughts over leaving the defending champion Pittsburgh Penguins while they are in the midst of yet another playoff run.
The lure of returning to the Buffalo Sabres, an organization with which Botterill ended his playing career, and opportunity to make his mark as a first-time general manager outweighed the close ties he established and two championship teams he helped build over the past 10 years in Pittsburgh.
"It's emotional, but at the end of the day, it's not a decision at all," Botterill said shortly after being hired on Thursday. "I am 100 per cent ecstatic about being here and being part of this organization right now and being back in Buffalo."
And, the now-former Penguins associate GM joked, he's still in line to win a third championship ring a day after the Penguins advanced to the Eastern Conference finals with a 2-0 win over Washington in Game 7 of their second-round series.
The Sabres are counting on the vast experience the 40-year-old Botterill gained in working his way up the Penguins ranks to rub off on a franchise in the midst of a six-season playoff drought and a team that owner Terry Pegula criticized for lacking structure and discipline.
Botterill takes over three weeks after GM Tim Murray and coach Dan Bylsma were fired in Buffalo's second front-office house-cleaning in 3 1/2 years.
In being groomed by both current Penguins GM Jim Rutherford and his predecessor, Ray Shero, Botterill oversaw a wide variety of responsibilities including contract negotiations, salary-cap management and player development.
The Penguins have referred to Botterill as the "key architect" of their 2009 and 2016 Stanley Cup-winning teams.
As GM of the Penguins AHL affiliate in Wilkes-Barre/Scranton, Botterill was particularly credited for hiring Mike Sullivan to coach the AHL team before the start of the 2015-16 season. Sullivan coached them to a championship.
"He's pretty much done everything you can do in hockey," Pegula said of Botterill. "He's been through the wars with the Pittsburgh organization. It just shows by his track record of what he's accomplished."
The Sabres ended their search process a week ago, delayed only by waiting for the Penguins to complete their playoff series. Buffalo interviewed at least seven candidates, including Penguins assistant GM Bill Guerin and Nashville's Paul Fenton.
Botterill was a candidate for the Sabres' job in 2014, when former team president Pat LaFontaine hired Murray.
He now takes over a team that stagnated under Murray. With a 33-37-12 record, Buffalo finished last in the Atlantic Division, 26th overall, and with two fewer wins than last season.
It's also a bit of a homecoming for the 40-year-old who grew up in Winnipeg. Botterill closed his playing career in the Sabres organization. He played 38 games with the Sabres from 2002-04 and retired after sustaining a concussion eight games into the 2004-05 season with Rochester, Buffalo's American Hockey League affiliate.
Botterill reflected on his time in Rochester as being influential because it led him to see the importance of player development.
Though the Sabres at the time were struggling after the franchise was purchased by Tom Golisano out of bankruptcy in 2003, their AHL team was stocked with young talent. The group included goalie Ryan Miller, forwards Thomas Vanek and Jason Pominville and defenceman Brian Campbell, all of whom would eventually become the core of a Sabres team that reached the East finals in both 2006 and '07.
In order to transform the Sabres, Botterill is placing an emphasis on rebuilding a Rochester team that has not won a playoff round since his final season with the Americans.
Buffalo's cupboard isn't entirely bare. Murray brought in several key assets, including centre Jack Eichel, who was selected with the No. 2 pick — one behind Edmonton's Connor McDavid — in the 2015 draft.
Buffalo's young core also includes two-way centre Ryan O'Reilly and defenceman Rasmus Ristolainen.
Botterill particularly mentioned Eichel and O'Reilly as reasons he's excited about the Sabres' potential.
"You look around the National Hockey League, people are craving for centermen like O'Reilly and Eichel," he said. "And the fact that we have them here, it's a good feeling."
Botterill's top priorities include hiring a coach as well as getting a handle on organizational needs to prepare for both the NHL and Vegas Golden Knights expansion drafts next month.
Botterill didn't go into detail of his plans on a coaching search other than to say he won't be pinned down on whether the candidate has previous NHL experience. He said he intends to take his time and meet with numerous candidates and have a coach in place in time before the draft on June 23.
Two potential candidates include current Penguins assistants Rick Tocchet and Jacques Martin.
___
More AP NHL: https://apnews.com/tag/NHLhockey