Sabres pay the price to get Lehner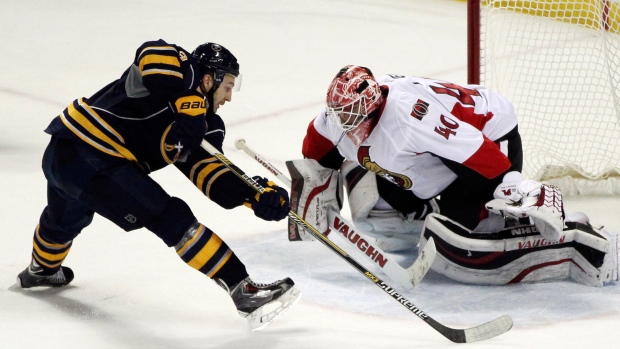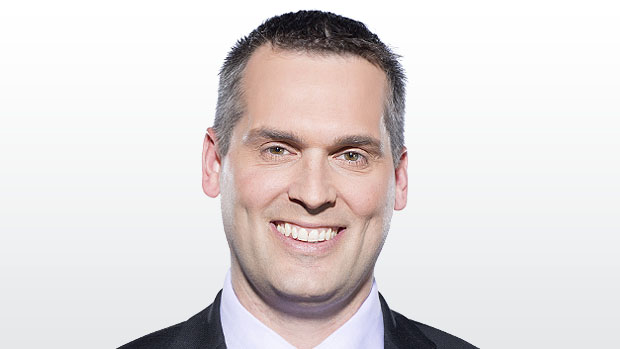 As the Buffalo Sabres embark on their climb out of the basement, they needed a number one goaltender to grow with them.
Numbers Game breaks down the Sabres' deal for Robin Lehner, whom Buffalo GM Tim Murray is familiar with from his time in Ottawa.
The Sabres Get: G Robin Lehner and C David Legwand
2014-2015 STATS
| PLAYER | GP | W | L | T | SV% | EV SV% | ADJ SV% |
| --- | --- | --- | --- | --- | --- | --- | --- |
| Robin Lehner | 25 | 9 | 12 | 3 | 0.905 | 0.909 | 0.909 |
2014-2015 STATS
| PLAYER | POS. | GP | G | A | PTS | SAT% | SAT%Rel | SPSV% | OZS% | ATOI |
| --- | --- | --- | --- | --- | --- | --- | --- | --- | --- | --- |
| David Legwand | C | 80 | 9 | 18 | 27 | 49.4 | -1.2 | 101.3 | 44.6 | 13:54 |
Lehner, 23, is a promising young goaltender, though one that has experienced some difficulties with more playing time, posting a .910 save percentage in 56 games over the past couple of seasons.
At 6-foot-5, Lehner's frame covers a lot of the net, and when he's on, he looks every bit a future number one goaltender. However, his focus isn't always where it needs to be. Using War-on-Ice's definitions for low-medium-high danger save percentages, Lehner ranked 52nd out of 53 goaltenders that played at least 1000 5-on-5 minutes last season when it came to low-danger shots. Those are the ones that he really should stop.
Lehner also hasn't played since suffering a concussion in February, after colliding with teammate Clarke MacArthur, but he's been cleared to return to action.
In Buffalo, Lehner has an opportunity to grow with a team that is ready to start the climb up after diving down the bottom of the standings. He's signed, at a cap hit of $2.25-million, for two more seasons, after which he'll still be a restricted free agent. This will give Lehner the chance to be a starter and if he can handle the role, then great, but if he can't, there isn't a financial downside for Buffalo.
Considering the Sabres aren't expected to be very good next season, it's a relatively low-pressure trial as a starting goaltender.
Legwand is a 34-year-old centre whose performance tailed off last season, but it wasn't altogether terrible either. Overall, he started more shifts in the defensive zone and had mediocre possession stats, yet he improved from 44.3% of shot attempts while playing for head coach Paul MacLean to 52.3% under Dave Cameron. Career-lows in points per game (0.34) and shots on goal per game (1.14), while playing a career-low 13:54 per game, could indicate that Legwand is set for a depth role at this stage of his career, but that's okay.
Legwand can manage as a third or even fourth-line centre and, if he plays better than he did last season, the Sabres might have a chance to recoup a draft pick by dealing him at the deadline. Legwand comes with a cap hit of $3-million, which is a tad pricy given his production, but with only one year left on his deal, the cost isn't likely to have a significant negative effect on the Sabres.
The Senators Get: A first-round pick
The 21st overall pick in the 2015 Draft now belongs to Ottawa and there are rumblings that the Senators would like to pair their two first-rounders (18th and 21st) in an effort to move up the draft board.
On its own, the 21st pick offers a 71.4% chance of landing a player that will play at least 100 NHL games, with a less than one-in-five chance to have that player turn into a top-six forward or top-four defenceman.
Ottawa was dealing from a position of relative strength in goal, with Craig Anderson and Andrew Hammond already signed, in addition to the Senators landing collegiate free agent Matt O'Connor, so they should have the depth to handle losing Lehner. Additionally, taking Legwand's $3-million off the books isn't a surprising move for the cost-conscious Sens.
Verdict: The Senators got what they wanted out of the deal - a first-round pick and some financial relief - and that's enough to get the nod over Buffalo. If Lehner turns out to be great, or even good, then the Sabres won't have any regrets, but paying a first-round pick and taking on salary seems like more than it would cost to acquire some of the other goaltenders that are known to be available this summer. Consider this the price of Sabres GM Tim Murray getting his guy.
Enhanced stats via www.war-on-ice.com.
(SAT% - shot attempt percentage; SAT%Rel - shot attempt percentage, relative to team when off the ice; SPSV% - combined on-ice shooting and save percentage; OZS% - percentage of faceoffs to start shift in the offensive zone vs. defensive zone)
Scott Cullen can be reached at scott.cullen@bellmedia.ca