Sabres sign GM Murray to extension
The Buffalo Sabres have signed the architect of their rebuilding plan, general manager Tim Murray, to a multiyear contract extension.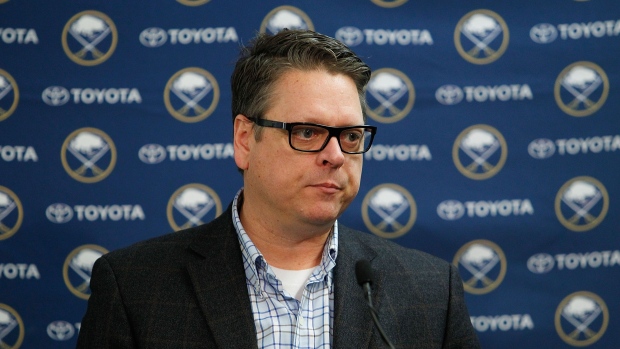 BUFFALO, N.Y. — At a time when the Buffalo Sabres are dealing with a series of season-opening injuries, general manager Tim Murray can at least take comfort in knowing he has earned some job security.
Entering the final year of his contract, Murray signed a multiyear extension Thursday about an hour before Buffalo opened the season hosting the Montreal Canadiens.
"I guess it's a vote of confidence when you can get a deal done and don't have to wait until June 30," Murray said during the first intermission. "I wasn't printing out any resumes or anything like that but, no, it feels good and it was a pretty simple process."
The contract extension comes at a time when Murray is completing a near top-to-bottom overhaul of the roster he began upon taking over in January, 2014.
In that time, Murray has purged much of the team's high-priced and aging talent and rebuilt the roster through the draft and trades.
The process hasn't been an easy one since Murray replaced Darcy Regier.
After finishing last in 2013-14 and 2014-15, the Sabres jumped to 23rd in the NHL standings last season with a 35-36-11 record.
Though expectations were high entering this season, they've since been tempered as a result of a rash of injuries.
Top-line centre Jack Eichel will miss at least a month after spraining his left ankle in practice on Wednesday. Buffalo also opened the season minus Murray's two top off-season additions: forward Kyle Okposo (knee) and defenceman Dmitry Kulikov (bruised backside).
Both are listed as day to day, with Okposo expected to play as early as Sunday, when the Sabres open a four-game road trip at Edmonton.
Okposo signed a six-year deal in free agency in July, while the Sabres acquired Kulikov in a trade with Florida in June.
Murray said he's going to remain patient and see if the team can jell minus Eichel, who led Buffalo with 24 goals and was tied for the Sabres lead with eight power-play goals and five game-winners.
"Jack is not a replaceable player, so we have to try this internally," Murray said. "We'll try some guys here and see how it goes. If it's clearly not going to work, then I'll have to get on the phone and make some calls."