Salah fit to play in Egypt opener vs. Uruguay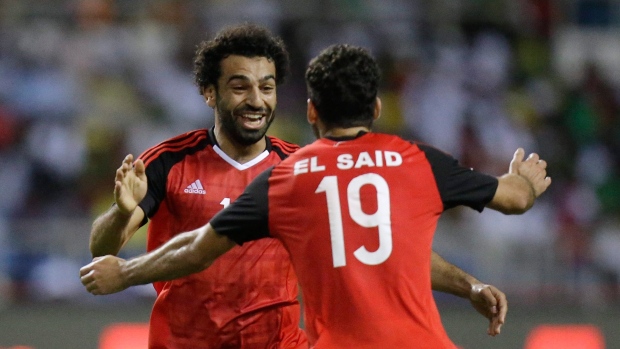 Egyptian soccer fans got some good news Thursday morning as manager Hector Cuper revealed star striker Mohamed Salah is very likely to be ready for their FIFA World Cup opener against Uruguay on Friday.
"I can almost 100 per cent say he will play, save for any unforeseen factors at the last minute," Cuper told ESPN and other reporters during a news conference.
The 25-year-old suffered a shoulder injury in the Champions League final against Real Madrid last month.
Salah broke out onto the scene this year, scoring 34 goals in 49 games in EPL play and 13 goals in 10 Champions League matches, leading Liverpool all the way to the final where they fell to Real Madrid.
Cuper went on to say that team doctors will let Salah decide whether he can play.
"We're trying to make him feel confident. The doctors are giving him the options to play or not. I know Salah very well, he's not fearful, we always know we're running a risk when playing a match, that's something we can't hide," he said.
"But if he does decide to play he'll have full guarantees on his physical condition and I'm sure he will be fine. And if it does turn out there's an issue at the last minute we'll consider it and see if it can be resolved."
Egypt's Group A schedule kicks off on Friday against Uruguay, followed by Russia on Tuesday and Saudi Arabia on June 25.