Sanchez bulks up for strong 2017 campaign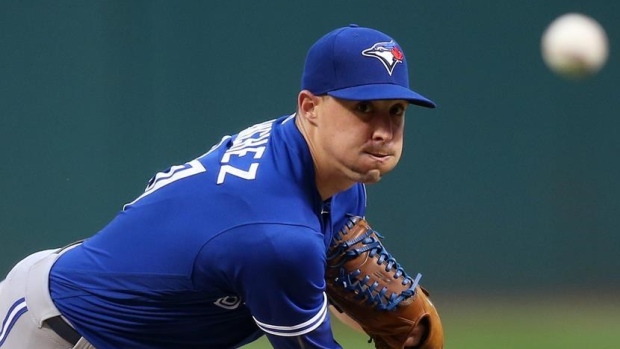 On a sunny Wednesday morning in Dunedin, Blue Jays pitchers and catchers were put through the paces in their first official workout of spring training. It was a mix of bullpen sessions and fielding drills for the six groups at the Bobby Mattick Training Center as players began the six-week process of getting themselves ready for the 2017 campaign.
For some, the process will be slower than for others. The Blue Jays' concern last season over emerging ace Aaron Sanchez's workload was well-documented. In the end, Sanchez threw 192.0 innings during the regular season, well past his career high in pro ball. The club limited his post-season appearances to one start per series. With games against the Rangers and Royals, the 24-year-old's inning count rose to 203.2.
"I felt like I left the regular season a little tired," Sanchez said on Wednesday. "But no concerns in terms of injury or such, so I'm ready to go."
"He's a big, strong kid, he worked really hard this winter," added manager John Gibbons. "We're going to monitor him in spring training and back him off a little bit."
The Blue Jays play their first Grapefruit League game on Feb. 25. Gibbons says Sanchez won't make his first start of the spring until a week and a half later, "the 8th or 9th" of March, according to the skipper.
But Gibbons says once the regular season starts, the reins will come off.
"I don't see any limitations. He ended up throwing a full year last year."
Sanchez says he's ready for a full workload.
"Last year, I showed limitations shouldn't be an issue this year. I put the work in, I'm excited to see how this year shakes out."
The 6'4" righty enters camp at roughly the same weight as at the start of 2016, but says he's put on about 15 pounds since the end of last season.
"This year, I came in at 220-221 (lbs.). My weight was anywhere from 212 to 205 last year. Towards the end of the year, with travel and playoffs, you seem to lose weight then."
One of the more intriguing off-season stories was the supposed strained relationship between one-time close friends Sanchez and fellow starter Marcus Stroman after it was discovered the two unfollowed each other on Twitter. Stroman admitted last month they weren't as close as they once were.
"You guys like to take things and blow it up. (Stroman) was busy doing his thing. He had his arbitration case he had to take care of, so we're at a different place in our life where he was doing his thing and I was doing my thing. Nothing changed. We're still teammates and it's all good."

RIGHT AT HOME
New Blue Jay J.P. Howell wasn't short on praise for his latest team. The left-handed reliever signed a one-year contract just last week after four seasons with the L.A. Dodgers
"I love it, man. I love the style of the team. A lot of swag, a lot of hard work, a lot of wins, and a big target on our chest. That's everything I love."
Howell, who played with the Blue Jays' AL East rivals in Tampa from 2006 through 2012, also professed his love for Toronto's baseball fans, now that he pitches for the home side.
"It gets rowdy. It's tough being an opponent in there. They're pretty cutthroat. They do their research...I mean, they say some personal things. They know their Google."