Saskatchewan's Silvernagle shares hometown connection with Schmirler the Curler
Sunday marks the 17th annual Sandra Schmirler Telethon day at the Scotties. Robyn Silvernagle, competing in her first Scotties Tournament of Hearts this week, shares a hometown connection with the legendary curler.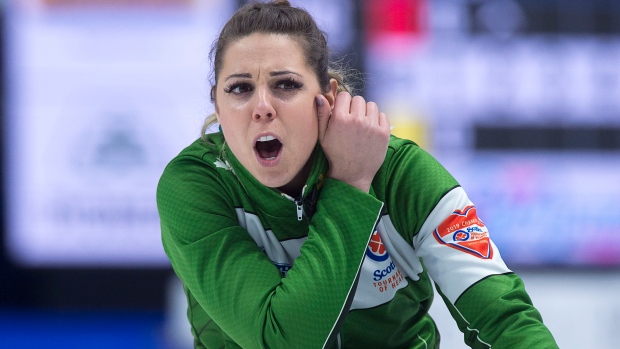 SYDNEY, N.S. - If you are a competitive curler growing up in Saskatchewan, there's a good chance you were inspired by the great Sandra Schmirler.
Robyn Silvernagle, competing in her first Scotties Tournament of Hearts this week for the prairie province, is no exception. The two skips share the same hometown in Saskatchewan, a place called Biggar just an hour west of Saskatoon.
Silvernagle has fond memories of one of the greatest curlers this country has ever seen.
"I actually remember being at my grandmas watching her at the Olympics and we watched her all the time," said Silvernagle after her opening loss to Jennifer Jones Saturday night. "My mom and her were good friends growing up, so we definitely kept a very close eye on her always and I definitely remember watching her a lot and idolizing her."
Their moms remain friends and Silvernagle remembers going over to their place to watch Sandra on television.
"Shirley, her Mom, and my Mom still keep in close contact even now. I remember going over to their place quite a bit and to Sandra's parents place. We definitely go over there for visits," she said.
The gold medal victory in Japan in 1998 is just one of Schmirler the Curler's hallmark moments. Don't forget those three Canadian championships and three world titles, or that unforgettable shot in the 1997 Olympic trials final against Shannon Kleibrink.
The list of accomplishments and memories is extensive, which made her passing in 2000 that much more heartbreaking for the people across Canada who looked up to her.
Sunday marks the 17th annual Sandra Schmirler Telethon day at the Scotties as fans are encouraged to call in and donate money to purchase life-saving equipment for babies born too soon. You can call 1-866-210-6011 if you wish to donate.
Schmirler's daughters, Sara and Jenna England, have been two of the main faces behind the telethon for the past few years.
"It's getting bigger and bigger every year. It's exciting to see where it's going to become," said Sara.
Sara competed last month at the Canadian junior championship in Prince Albert, Sask., and says she is touched to see how many people her mother has inspired over the years.
"Our mom has been gone for so long now and just to see her legacy and how important she is to people still exists," explained the 21-year-old. "People still remember who she is and all the stories that myself and my sister get to hear too. We didn't get to know her very much so being able to come to these events and hearing all the great things people have to say is just wonderful."
Silvernagle says her mom was the main influence for her initial interest in curling. However, when she saw Schmirler playing in prime time on television, Silvernagle knew she wanted to be there too.
"My mom was my main influence for curling. She was always at the rink and curling, so we were just brought there as kids," said Silvernagle. "I don't even really remember learning how to curl but seeing Sandra at that next level is something I've always was inspired to follow."
Silvernagle is playing in her first national championship this season after falling in the provincial final the past two seasons. The North Battleford rink brought Scotties veteran Stefanie Lawton into the fold this season.
Saskatchewan lost by a hair in their opener against Team Canada Saturday night as Jennifer Jones' last stone held on just enough to seal the 6-5 win.
"I mean it was our first game for three of us at a Scotties, so there was definitely some nerves and some jitters at the beginning and once we kind of settled in, then things went a lot better," said Silvernagle.
The Greatest of All-Time?
This week in Sydney, TSN will reveal the greatest Canadian curlers after a panel of 31 curling experts voted on the best lead, second, third, skip, team and top 10 curlers of all-time for both men and women.
Will Schmirler the Curler be No. 1? The answer is an easy one for Silvernagle.
"Yes, definitely. In my eyes she is," she said.
The greatest Canadian female skip will be revealed during the fifth end break of the afternoon draw on Thursday while the best team will be revealed at the same time on Friday. The top 10 Canadian women's curlers will be revealed on Saturday.
The men's results will be revealed during the Tim Hortons Brier in March.