Savill makes emotional return to Brier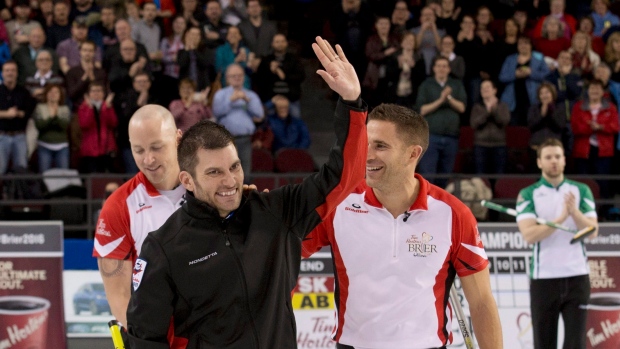 OTTAWA - It was something he had dreamed of ever since he knew the Tim Hortons Brier was coming to Ottawa.
And on Thursday night, Craig Savill's dream came true. In the eighth end, he took off his gripper, stepped into the hack and delivered a perfect guard for Team Ontario. That shot resulted in a standing ovation from the crowd and all the players on the neighbouring sheet.
It was against every rule for Savill to play for Ontario. He wasn't the official fifth man. But there were no rulesmakers there to stop him. They were too busy clapping with the rest of fans, a few no doubt with tears in their eyes.
This past summer, Savill, a popular curler who has won two world junior crowns, two Briers and two world championships, was diagnosed with Hodgkin's Lymphoma and he's been undergoing chemotherapy treatments that have put his curling career as well as much of his life, on hold.
"I kind of thought they might throw me in," Savill said of his brief appearance. "I haven't thrown a rock in months and wasn't really prepared."
Despite playing in eight Briers, his two shots for his longtime skip Glenn Howard were far from easy.
"I was shaking because I was so nervous to throw the rock and I was just saying don't fall," he said with a chuckle. "I felt a lot of love from the crowd and I was thinking this is a pretty special moment that I'm going to remember for a long time."
Howard said his team and Pat Simmons' Team Canada squad both agreed to the Savill substitution and were also thrilled when he stepped on to the ice.
"I got pretty emotional watching him come out," said Howard. "He held it together somehow. A lot of the players were pretty teared up."
While Savill never played a Brier in Ottawa, he did serve as a flag bearer for the opening ceremonies when the Canadian championship was held here in 1993.
"It meant the world to me," Savill said of finally getting the opportunity to throw in front of Ottawa's curling fans. "This is a place I've wanted to play in all my life."
Savill has been undergoing chemotherapy treatments for the past three months and has another three to go. He said the ovation he got from the fans will make those much easier to handle.