Scheidegger's epic journey to Scotties pays off
Casey Scheidegger and her rink from Lethbridge, Alberta, are relieved to be spending the week in Sydney, Nova Scotia, after an adventurous cross-country trip just to get to Friday's wild card game which they won over Winnipeg's Kerri Einarson to earn the final berth in the Scotties Tournament of Hearts, TSN's Ryan Horne writes from Sydney.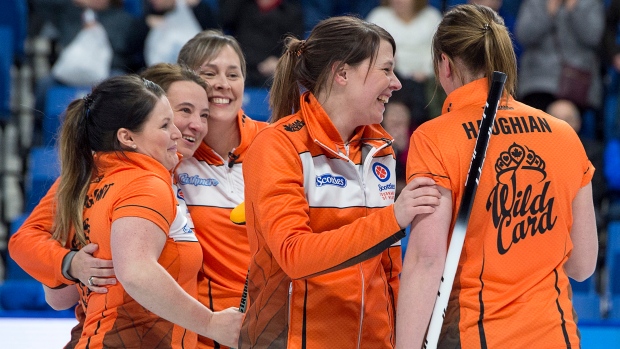 SYDNEY, N.S. – It's safe to say Casey Scheidegger and her rink from Lethbridge are relieved they get to spend the week in Sydney.
Team Scheidegger edged Winnipeg's Team Kerri Einarson 7-6 in a sloppy wild card game Friday night at Centre 200 to capture the final berth in the Scotties Tournament of Hearts following a wild journey just to get to the East Coast.
Scheidegger's flight out of Lethbridge, Alta., on Wednesday was cancelled, forcing the team to fly to Toronto where they spent the night because of the snow storm that rocked the city. Then on Thursday, they took a flight to Halifax before embarking on a 4.5-hour bus ride to Sydney.
After picking up her most important win of the season to qualify as Team Wild Card in the women's national curling championship, the skip was all smiles when asked about the frustrating series of events that transpired during their cross-country trip from Alberta to Nova Scotia.
"It was an adventure, it was fun," Scheidegger told the media following Friday's game. "The bus ride was great. We got to see a lot of Nova Scotia. It was Cape Breton, so it was awesome."
The tough travels are all in the rear-view mirror now as Scheidegger and company will compete in their second straight Scotties after a trying season to this point. Scheidegger and her team are 27-26 on the season and were unable to qualify for the playoffs in their provincial playdowns as defending Alberta champions.
Scheidegger said the victory Friday had the same feeling as winning a provincial crown.
"You could tell the girls were super emotional. It's like winning a provincial final. We have a lot less time to turn it around, but I'm hoping we could use that to our advantage and settle in quickly," said Scheidegger "We have that extra game on the ice, so I think that is going to be a bit of an advantage as well."
Einarson represented Team Wild Card last year as skip of a different rink and marched all the way to the final before losing to Winnipeg's Jennifer Jones.
The 31-year-old Scheidegger needed to make a clutch draw with her last throw in the 10th to secure the victory.
"That's sort of what we've struggled with all season; is making those big shots when we really needed them. We were feeling really good the whole game, but they stayed in it, they were making shots too," said Scheidegger. "All I wanted was a draw to the four-foot on my last shot. They gave that to me so I'm happy."
Scheidegger played in her first national championship last season in Penticton, B.C. Her team got off to a flying start at 7-1 before dropping three straight games in the championship pool to miss the playoffs by a hair.
Team Wild Card will be sporting bright orange jerseys this week, a style Scheidegger is ready to totally embrace.
"It's exciting," she said. "And we get to wear these beautiful jerseys the rest of the week, so we're excited. At one point [lead] Kristie [Moore] was smiling and I could see the reflection [of] the jacket on her teeth. I was like 'wow, these are really bright.' "
Scheidegger's crew will play their preliminary schedule in Pool A and kick off their tournament Saturday night against Team Yukon's Nicole Baldwin.