Scheifele the straw that stirs the drink in Winnipeg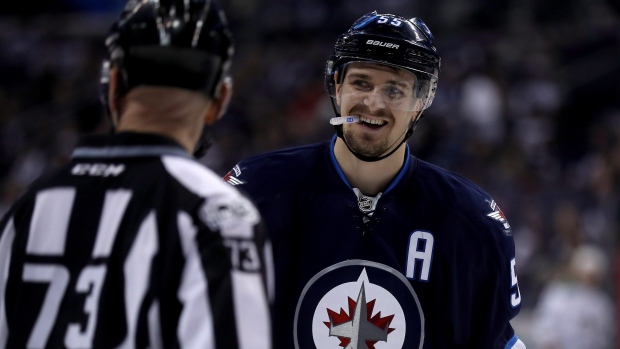 If you were to rank the league's most productive forward lines last year, the Winnipeg trio of Patrik Laine, Mark Scheifele, and Nikolaj Ehlers would surely rank near the top of that list.
This group of emerging forwards – in the few hundred minutes they did play together – was virtually unstoppable in the offensive zone. They averaged nearly five goals for every 60 minutes of 5-on-5 ice time and converting on almost one of every five shots on goal.
It's fair to wonder how much of that was real. But, consider the makeup of the line for a moment. Laine, I have argued for some time now, strikes me as the next superstar sniper – the rare guy able to sustain sky-high shooting percentages. Ehlers is no slouch either. Quick, agile, and versatile, the 21-year old can single handedly work through NHL defences with ease.
But the straw that stirs the drink in Winnipeg's top-six might just be Scheifele. The Jets are committed long-term to Scheifele – his eight-year deal runs through 2023-24. Scheifele can more or less do it all, and has shown that he can play with any combination of linemates in any type of deployment. He's evolved into the one player that head coach Paul Maurice can trust in any situation.
I mentioned that the Laine, Scheifele, and Ehlers line played a few hundred minutes. I should have said "only" a few hundred minutes. One of the issues that plagued the Jets in 2016-17 was that their forward pool wasn't as deep as they had envisioned. When things started to hit the skids in the middle of the year, Maurice shuffled and reshuffled the lines. During one of those shuffles, the vaunted Winnipeg trio was broken up to smooth out some of the talent across their top-nine.
I've wondered for some time whether breaking up that Jets top line was the right strategy. Scheifele has many talents, but perhaps the most notable is his ability to drive offence into the dangerous areas and find angles for shooters to test the opposing goaltender. And, by and large, he's the type of centre that's always going to make the right play in the offensive third.
Laine and Ehlers were either white-hot with Scheifele or ice-cold without him. Either way, the numbers speak for themselves – the duo scored 24 goals at 5-on-5 (collectively 2.9 goals per 60 minutes), and 12 goals away from him (1.3 goals per 60 minutes). Scheifele, too, was more productive with this group. Eleven of his 17 goals at 5-on-5 came with the Laine/Ehlers duo, even though he played less than half of his total 5-on-5 minutes with the former first-round picks.
I think it's a situation where playing styles seem to benefit one another. And, I think it helps guys like Laine and Ehlers that the team's best distributor seems to know where his bread is buttered, too. One of the things about Scheifele is that he works to drive the attack towards more skilled attackers in more dangerous areas – and away from defenders who are going to consistently shoot at low rates.
Building on this, I pulled out all of Scheifele's regular teammates (both forwards and defenders) to show what percentage of the shot share they were getting with or without him. Keep in mind that Scheifele's on-ice shooting percentage was 11.6 per cent – third best in the National Hockey League.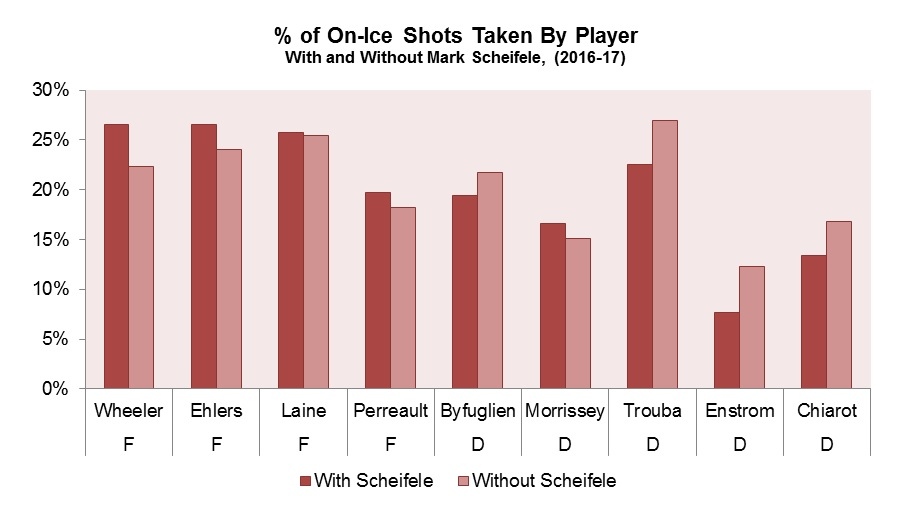 This is a fascinating divide. Every single forward saw a higher percentage of the shot share when playing with Scheifele, then saw that number eaten into when he was moved away from Scheifele. The reverse is true for defenders – Winnipeg blueliners were taking a substantially higher percentage of Jets' shots when they weren't playing with Scheifele, and were less involved when playing with Scheifele.
I would hazard to guess that this is one of the big reasons why the Jets only shot about 7 per cent in the minutes that Scheifele wasn't playing. When your defenders are taking an inordinately higher percentage of shots, your conversion rate is going to drop. And if you aren't offsetting that shooting percentage drop by increasing your shot volume, then you're in trouble. That's another reason why Winnipeg, despite having such great talent in their forward ranks, still finished near the middle of the pack in even strength goal-scoring last year.
Moreover, the goal for Winnipeg here should be to maximize shot-volume for Laine and puck-on-stick time for the creative Ehlers. The numbers suggest that Scheifele is the most capable Jets centre to do that. And if Scheifele benefits from the open ice created by Laine and Ehlers, then it's a perfect feedback loop – a three-man unit that should be extremely difficult to defend.
If Maurice can hammer out a reasonable second (Wheeler-Little-Perreault?) and third line behind this group, Winnipeg should be a lot tougher to defend. And in a Western Conference that's not nearly as powerful as it once was, it might be enough to push the Jets back into the playoffs.