Scheifele vs. Fleury: Duel in the Desert puts Vegas up 2-1
Mark Scheifele's playoff magic wasn't enough as the Vegas Golden Knights held off a late Winnipeg Jets rally to now sit two wins from reaching the Stanley Cup final in their inaugural season. As Frank Seravalli writes, Marc-Andre Fleury came up with two saves to secure victory that we'll be talking about for ages if Vegas can pull off the unthinkable.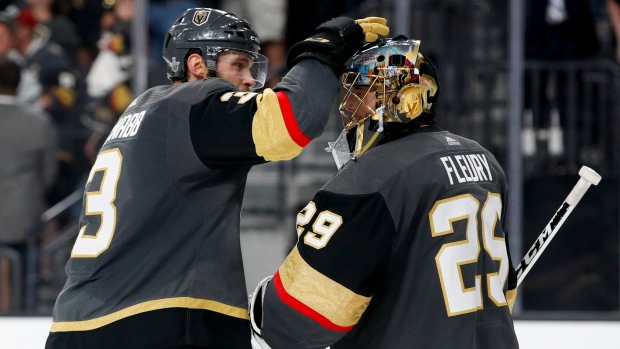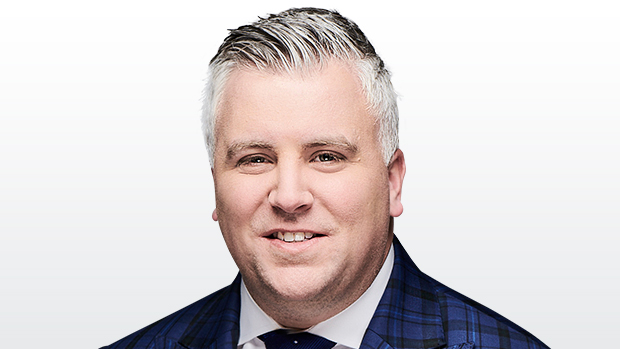 LAS VEGAS — Gerard Gallant was sweating on the bench.
The Golden Knights were under siege for the better part of 30 minutes, their lead on the Winnipeg Jets seemingly slipping through their hands like hot desert sand. The Jets' furious third period push made overtime feel inevitable.
Then Gallant got a glimpse of Marc-Andre Fleury in net.
"I'm yelling my head off," Gallant said. "I look down there and he's just having fun."
Fleury was smiling, as usual. He took his hand out of his glove and tickled a helmet less Blake Wheeler's ear during a scrum around his net – the one where Dustin Byfuglien plucked one Golden Knight out on each arm like he was casually opening a door.
The Flower shut the door in Game 3.
In an epic third period battle, the face of the Golden Knights stopped Mark Scheifele – the man with the golden touch – with two saves in succession that we'll be talking about for ages if Vegas somehow pulls off the unthinkable.
The saves, the initial in the slot and then a desperation dive to cover the resulting gaping cage, came against the man who earlier in the same night set a new Stanley Cup playoff record for goals (11) on the road in a single postseason.
There was no wiggle room. No margin for error for Fleury. One more goal for Scheifele and the story is about an all-time individual performance.
Fleury was better. He was simply brilliant.
"You get your looks and you want them to go in," Scheifele said. "But they had a pretty good goalie in net."
Gallant could only exhale when Jonathan Marchessault deposited an empty-netter to deliver a 4-2 win for the Golden Knights, who took a 2-1 series edge after the most entertaining game of this Western Conference final. Game 4 is Friday night in Vegas.
"I was having a little fun," Fleury said. "They were good chances [for Scheifele] and I was happy to get [saves], especially that second one. It hit my toe and came right back into the slot, so that wasn't ideal. He had a lot of time and some room to shoot so I just tried to get as much body in front of it and I got a piece."
Because Fleury got a piece, the expansion Golden Knights are somehow six wins from the Stanley Cup.
It's easy to see why Fleury was GM George McPhee's first player transaction, a handshake deal that we know now was consummated in Feb. 2017, before Fleury helped Pittsburgh to half its 16 wins last summer when Matt Murray went down.
But if you told Fleury in October that he'd be this close to his fourth ring, he said he would have laughed.
"Like anybody else in the room, I don't think anybody saw us here," Fleury said. "I'm really proud of this team and the way these guys have been working. We deserve to be here."
Even Fleury's gamesmanship was on point in Game 3, tickling Wheeler's ear. No word on if it was a wet Wheeler – but Brad Marchand wasn't on the ice.
"I did that? I didn't think," Fleury said. "I was just sitting there, he was sitting there. People were fighting and I thought I'd have a little smile by myself."
There was no one cooler on this 34-degree Vegas day.
"That's Fleury," Gallant said. "He made unbelievable saves. They were obviously important at a key time for us. He's been good for us all year, all playoffs. He's a guy that has fun out there."
Vegas dealt Winnipeg their first back-to-back losses in nine weeks, dating back to March 10-12. More importantly, the chips are now down for the young Jets for the first time this spring, as they never trailed in a series against the Minnesota Wild or Nashville Predators in the first two rounds.
"It's 2-1. There's a lot of series left," Jets captain Blake Wheeler said. "We'll be just fine."
The team that wins Game 3 in a tied conference final series has advanced to the Stanley Cup Final more than 81 per cent of the time in history.
"That's an important challenge," Jets coach Paul Maurice said. "We're going to have to be able to handle that. It would be rare that you lead the [playoffs] straight through. We want to make sure that we deal with our loss, don't carry it too heavily, and come up with our finest game of the postseason."
Game 3 was definitely not the Jets' finest, at least not in the first period. They were limited to just three shots on goal as the Golden Knights pounced early in their fortress that is T-Mobile Arena.
But then something clicked. Maurice described it as the Jets started "moving the way we wanted to" as they ratcheted up the pace.
"We put the pressure on them," Wheeler said. "We just felt short."
Scheifele first tied and then set the record with his 11th goal on the road in the playoffs. He has scored on 68 per cent of his shots away from Bell MTS Place (11-for-17). But his magic alone wasn't enough to lift the Jets, not with Fleury standing guard.
"We had some really good looks, there's no doubt about that," Maurice said. "He made some really, really good saves."
Contact Frank Seravalli on Twitter: @frank_seravalli​