Schultz's Week 12 picks: Cowboys will bounce back
TSN Football Expert Chris Schultz returns with his weekly NFL picks every Thursday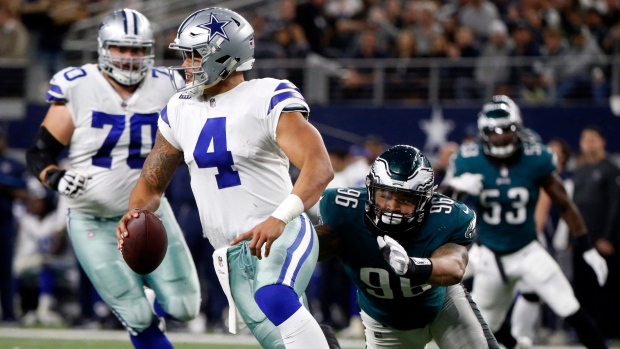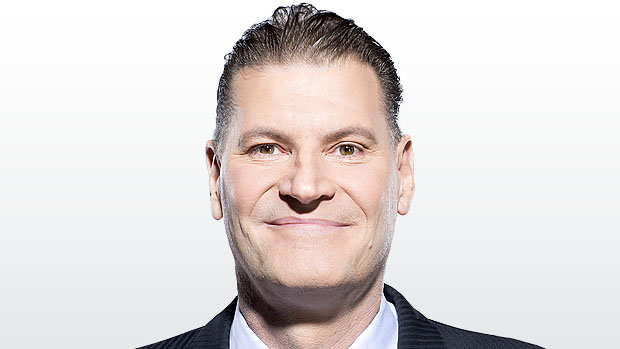 TSN Football Expert Chris Schultz returns with his weekly NFL picks every Thursday
Locks Of The Week
Minnesota (-3) @ Detroit
The Vikings are coming off their best game of the year after beating a really good Los Angeles Rams 24-7. Now Minnesota has to travel on a short week to face a division rival in Detroit on American Thanksgiving. The Vikings have one of the best defences in the NFL. They also have an underrated offence as quarterback Case Keenum has performed at a high level spreading the ball around to wide receivers Adam Thielen and Stefon Diggs. Detroit won the first meeting between these teams 14-7 back in Week 4 but Minnesota hasn't lost since then. I'll take the Vikings to extend their win streak to seven and cover the three-point spread as the betting favourites on the road.
Dallas (+2) vs. Los Angeles Chargers
The Cowboys season will be on the line when they host the Chargers on Thanksgiving. Dallas is coming off back-to-back losses and can't afford a sixth defeat with a tough remaining schedule the rest of the way. Left tackle Tyron Smith should be back and you can't overstate his importance in anchoring the left side of the offensive line. That is particularly true this week with defensive ends Joey Bosa and Melvin Ingram looking to get after Dak Prescott for Los Angeles. Meanwhile, running back Ezekiel Elliott has been missed by the Cowboys even though Alfred Morris has been pretty good. Dallas will look to establish the run game early in order to control the time of possession and keep the ball out of Phillip Rivers' hands. Rivers is a 14-year veteran and he won't be affected by a short week. The Cowboys have been outscored 64-16 in back-to-back losses to the Atlanta Falcons and Philadelphia Eagles so it will be important to end this slide now before things go from bad to worse. I'll take the Cowboys in what is essentially a pick'em game.
Jacksonville (-5) @ Arizona
The Cardinals have turned to former Jaguars first round pick Blaine Gabbert at the quarterback position. He will be in tough against his former team. Jacksonville leads the NFL with 40.0 sacks and will look to substantially add to that total in Arizona this weekend. I think the Jaguars might have the second-best defence in the NFL behind only Minnesota. The excitement of the Adrian Peterson trade has worn off for the Cardinals over the past couple of weeks. Peterson was held to just 26 yards on 14 carries in last week's 31-21 loss to the Houston Texans. If Jacksonville can keep Peterson in check then they could make this a very long game for Gabbert and the Cardinals offence. Meanwhile, the Jaguars will continue to lean heavily on rookie running back Leonard Fournette, who has led the league's top-ranked rushing attack with 740 rushing yards and six touchdowns this season. Fournette will have another heavy workload this week as Jacksonville attempts to keep the football out of Blake Bortles hands as much as possible. I'll take the Jaguars to win and cover on the strength of their run game and defence.
Carolina (-4.5) @ New York Jets
There is a theme developing here with my last couple of picks and it continues with another excellent defence in Carolina. The Panthers rank fifth in the NFL with only 18.0 points per game allowed this season. Meanwhile, Carolina's offence has turned things around since the Kelvin Benjamin trade, with Devin Funchess, Curtis Samuel and Russell Shepard all stepping up at the wide receiver position. That trio combined for 13 receptions, 177 yards and two scores in last week's 45-21 win over the Miami Dolphins. Tight end Ed Dickson has done an excellent job as well but the Panthers offence will be that much more dynamic when Greg Olsen returns this week. Olsen is truly the complete package at the position as a blocker, receiver and a leader both on and off the field. His presence will make Cam Newton that much more dangerous in the pocket. The Jets have overachieved with four wins in their first 10 games but I don't expect them to take down a Panthers team that is really hitting its stride heading in to Week 12. I'll take Carolina to win and cover on the road.
--
Cautiously Optimistic
Washington (-7.5) vs. New York Giants
It's about time that Kirk Cousins starts to get the recognition he deserves as a talented passer that has the ability to take over a game. Cousins has done an excellent job moving the football despite a bust season from Terrelle Pryor Sr. and significant injuries along the offensive line. Washington has six players with 20 or more catches this season. The Redskins are coming off a couple of tough losses to good teams in Minnesota and the New Orleans Saints, who they pushed to overtime before falling 34-31 last week. Meanwhile, the Giants are coming off just their second win of the season after beating the Kansas City Chiefs 12-9 in overtime. The fact that New York was able to take down Kansas City is impressive. However, the Giants won with four field goals and failed to score a touchdown. I'm not convinced New York can win again this week without being able to move the ball efficiently on offence this week. After a couple of one-score losses to two very good teams, Washington bounces back with a big win at home.
Cleveland (+8) @ Cincinnati
The 2017 Browns are 0-10 with six games left on the schedule. There is a lot of pressure on this Cleveland team to avoid a 0-16 season. Rookie quarterback DeShone Kizer has clearly looked overwhelmed at times and has thrown just five touchdown passes compared to 14 interceptions this season. I would like to see the Browns finally break through with a victory this week but I'm not sure they have what it takes to win in Cincinnati. For as bad as the Bengals have looked at times this year, they still have enough talent to come out on top at home in this one. Still, with so much pressure to avoid a winless season I think Cleveland keeps this game close. I'll take the Browns to cover the eight points on the road.
Buffalo (+10) @ Kansas City
Just when it seemed as though the Bills were on track to end their 17-year playoff drought they dropped three in a row to fall to 5-5 on the season. Last week's decision to turn to rookie fifth-round pick Nathan Peterman on the road for a crucial AFC matchup against the Los Angeles Chargers turned in to a disaster. Head coach Sean McDermott will turn back to Tyrod Taylor this week so it will be interesting to see if Buffalo bounces back. Meanwhile, Kansas City looked nothing like a Super Bowl contender in last week's overtime loss to the Giants. After averaging 32.0 points while opening the season with five straight wins, the Chiefs have averaged 19.0 points per game while going 1-4 over their last five games. Kansas City needs to bounce back with a much better effort at home this week while the Bills are playing for their season. I think the Chiefs win outright but the Taylor helps Buffalo keep it close and cover as a 10-point underdog.
Chicago (+13.5) @ Philadelphia
The Eagles own the NFL's best record heading in to Week 12 at 9-1. Head coach Doug Pederson deserves a ton of credit for Philadelphia's success but he isn't the only one that deserves a ton of credit. Defensive coordinator Jim Schwartz has overlooked a defence that ranks seventh in the league with an average of 18.8 points per game allowed this season. Schwartz has done a masterful job maximizing the talent at his disposal and that is another big reason why the Eagles are such a complete team. Philadelphia can't afford a letdown this week in a potential trap game before they head on the road for three in a row against the Seattle Seahawks, LA Rams and Giants. The Bears are 3-7 but have been a much more competitive team since turning to rookie Mitchell Trubisky at the quarterback position. Chicago will lean heavily on running backs Jordan Howard and Tarik Cohen with the hope that they can keep it close with a strong rushing attack and defence. The Eagles will continue to roll at home but I'll take the points with the Bears to keep it close as 13.5-point underdogs in Week 12.
New England (16.5) vs. Miami
Speaking of substantial point spreads for Week 12; New England is a 16.5-point favorite at home this week. After a slow start, the Patriots are hitting their stride coming off a 33-8 blowout win over the Oakland Raiders to extend their win streak to six. The scariest part about New England is that they might still have another level they can reach if they continue to improve. Meanwhile, the Dolphins put up just 17 points with five turnovers and 17 penalties in a 30-20 loss to the Tampa Bay Buccaneers last week. The Patriots have won each of the two games since their bye week by exactly 25 points. I'll take New England to extend that run and cover the 16.5 points at home versus Miami this week.
Tampa Bay (+9.5) @ Atlanta
This is a bit of a trap game for Atlanta as they return home for a divisional matchup on a short week following a 34-31 win over the Seattle Seahawks on Monday Night Football. The Falcons still have a lot of work to do at 6-4 as they are looking up at both New Orleans and Carolina in the NFC South. Atlanta will play both the Saints and Panthers again but they can't afford to overlook a Buccaneers team that is looking to play spoiler this week. The Falcons are just 2-2 at the Mercedes-Benz Stadium. Meanwhile, the Buccaneers are coming off back-to-back wins over the Jets and Dolphins so they will carry over some momentum in to this game. Atlanta should find a way to win this game straight up. However, I'll take the 9.5 points and bet on the Buccaneers to cover on the road.
Oakland (-5) vs. Denver
The Raiders might be the most disappointing team in the NFL this season. After all of the hype behind them heading in to the year, Oakland has been a major disappointment with a 4-6 record heading in to Week 12. Fortunately for the Raiders, the AFC Wild Card picture is wide open so they are just one game back of Buffalo for the final playoff spot with six games left on the schedule. Meanwhile, the Broncos limp in to Week 12 on the heels of six straight losses and will turn to last year's first round pick Paxton Lynch at the quarterback position. Lynch has all of the tools to succeed at the NFL level but he struggled when pressed in to action a year ago and he hasn't had much preparation heading in to this week's game. I'll take Oakland to bounce back in a must-win game at home to remain in the playoff hunt in the AFC.
Pittsburgh (-14) vs. Green Bay
The Steelers have strung together five straight wins to improve to 8-2 and they now control their own path to the top seed in the AFC. Pittsburgh plays only one more game against a team with a winning record and that game could very well determine the AFC winner against the Patriots in Week 15. First, the Steelers need to take care of their business this week against a Green Bay team that has looked nothing like it did at the beginning of the year before quarterback Aaron Rodgers was injured. The learning process continued for quarterback Brett Hundley last week as he had three interceptions and was sacked six times in a 23-0 loss to the Baltimore Ravens. Factor injuries to linebacker Clay Matthews and defensive tackle Kenny Clark and the Packers are severely limited heading in to this Sunday Night Football matchup. Meanwhile, Pittsburgh will have had plenty of time to prepare for this game following a 40-17 blowout win over the Tennessee Titans on Thursday Night Football in Week 11. The Steelers offence has the potential to be one of the most explosive in the NFL and we saw that in last week's victory. I expect more of the same this week against the Packers as Pittsburgh wins big at home in prime time.
Baltimore (-7) vs. Houston
Baltimore is coming off one of its most impressive performances of the season after shutting out the Packers on the road. A strong finish could mean the Ravens return to the playoffs as a Wild Card team in the AFC. Head coach Jim Harbaugh has done an excellent job so far this year and if the offence can turn things around then Baltimore could be a legitimate contender. Running back Alex Collins will continue to be a key performer on that side of the ball after averaging 5.0 yards per carry while rushing for 570 yards and a touchdown so far this season. The Ravens need Collins and Danny Woodhead to continue to make plays out of the backfield in order to take some of the pressure off of quarterback Joe Flacco and a wide receiver core that has underwhelmed to this point. The good news for Baltimore is that their defence should be able to shut down Tom Savage and the Houston offence at home in Week 12. The Ravens have already posted three shutout wins this season and it won't be a surprise if they shut down Savage this week. Flacco and company might not need to score too many points in order to win and cover at home.
--
Risky At Best
Indianapolis (+3) vs. Tennessee
The Titans fell to 6-4 following a brutal performance against the Steelers on Thursday Night Football last week. Quarterback Marcus Mariota threw four interceptions and didn't get much help as running backs Derrick Henry and DeMarco Murray combined for just 42 rushing yards on 15 carries. The Titans are expected to bounce back this week but there might be reason for caution as they have lost each of their last nine games at Lucas Oil Stadium. The Colts aren't a playoff contender at 3-7 but they still have a lot to play for this year. Quarterback Jacoby Brissett has been a pleasant surprise as the starter for Indianapolis in place of the injured Andrew Luck. He has a chance to prove he deserves to be a starting quarterback in the NFL over the final six games of the regular season. Luck is in Europe receiving treatment on his injured throwing shoulder so the Colts will also be evaluating Brissett's potential as a franchise quarterback. Indianapolis will be rested and prepared following a bye week and I won't be surprised if they at least keep this game close. I'll take the Colts to cover as home underdogs this week.
San Francisco (+6.5) vs. Seattle
The 49ers finally picked up their first win of the year over the Giants in Week 10. Now they have a chance to upset one of their NFC West rivals coming off their bye week. All of the pressure will be on the Seahawks heading in to this one as they are one game back of the Rams for top spot in the division following last week's loss to the Falcons. Quarterback Russell Wilson has been Seattle's best player by far this season. Wilson has completed 62.6 per cent of his pass attempts for 2,801 yards and 21 touchdowns compared to just seven interceptions. He also leads the Seahawks with 376 rushing yards and two rushing scores. With injuries adding up on defence, Wilson is going to need more help on offence if Seattle is going to be a playoff team. The Seahawks barely survived a tough test from San Francisco in their first meeting of the season with a 12-9 win at home back in Week 2. I'll take the 49ers to keep it close again versus an injury-riddled Seattle team at home in Week 12.
Los Angeles Rams (-2.5) vs. New Orleans
One of the best matchups on paper for Week 12 will have major implications in the NFC playoff picture. The Rams need to respond after being held to just seven points in last week's loss to Minnesota. Meanwhile, the Saints want to build on the momentum of last week's comeback win over Washington that stretched their win streak to eight in a row. New Orleans can't afford to slow down with the Panthers and Falcons right behind them in the loaded NFC South. However, I expect Los Angeles to bounce back after Jared Goff and company were humbled by the Vikings. The Rams have been a much better team at home this season, especially on the defensive side of the football. Los Angeles has allowed an average of 11.0 points per game at home compared to 25.0 points per game on the road. If the defence can step up and slow down Drew Brees and company then the offence won't have nearly as much pressure on it to score enough points to win. I'll take the Rams to bounce back to win and cover against a good Saints team at home.