Scotties playdowns scores/results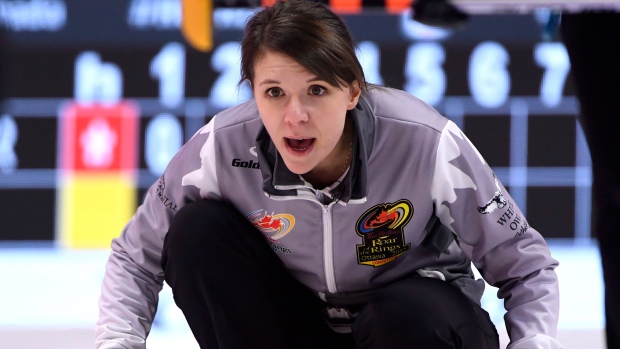 The 2018 Scotties Tournament of Hearts runs from Jan. 27-Feb. 4 in Penticton, British Columbia.
Last year's runner-up, Team Michelle Englot of Winnipeg, have already qualified after Rachel Homan's Ottawa rink – the 2017 Scotties champs – won the Roar of the Rings Olympic trials in early December. Their Olympic schedule conflicts with nationals so Englot will represent Canada at this year's Scotties.
The remaining teams were determined with the provincial and territorial playdowns in January.
This year's process is a little different as failure to win your playdown doesn't necessarily mean you're finished. The top two highest-ranked teams on the Canadian Team Ranking System who don't qualify by winning their province or territory will compete in a Wild Card game on the night before the start of the Canadian championship. Winner gets the last spot in the tournament.
Check out the scores/results of all the playdowns across Canada via Curling Zone.
British Columbia
Jan. 2-7 - Victoria Curling Club
CHAMPION: Kesa Van Osch
Alberta
Jan. 10-14 – Medicine Hat Curling Club
CHAMPION: Casey Scheidegger
Saskatchewan
Jan. 2-7 - Melfort Curling Club
CHAMPION: Sherry Anderson
Manitoba
Jan. 10-14 – Shamrock Centre, Killarney
CHAMPION: Jennifer Jones
Northern Ontario
Jan. 10-14 – Ildylwylde Golf & Country Club, Sudbury
CHAMPION: Tracy Fleury
Ontario
Jan. 10-14 – Whitby Curling Club
CHAMPION: Hollie Duncan
Quebec
Jan. 9-14 – Etchemin Curling Club, Saint-Romuald
CHAMPION: Emilia Gagne
New Brunswick
Jan. 3-7 – Curl Moncton
CHAMPION: Sylvie Robichaud
Nova Scotia
Jan. 8-14 – Dartmouth Curling Club
CHAMPION: Mary-Anne Arsenault
Prince Edward Island
Jan. 3-9 – Cornwall Curling Club
CHAMPION: Robyn MacPhee
Newfoundland and Labrador
Jan. 2-7 – RE/MAX Centre, St. John's
CHAMPION: Stacie Curtis
Yukon
Jan. 11-14 – Whitehorse Curling Club
CHAMPION: Chelsea Duncan
Northwest Territories
Jan. 3-8 – Inuvik Curling Club
CHAMPION: Kerry Galusha
Nunavut
Dec. 8-10 – Iqaluit Curling Rink
CHAMPION: Amie Shackelton