Scrivens day-to-day, Poulin likely to start SF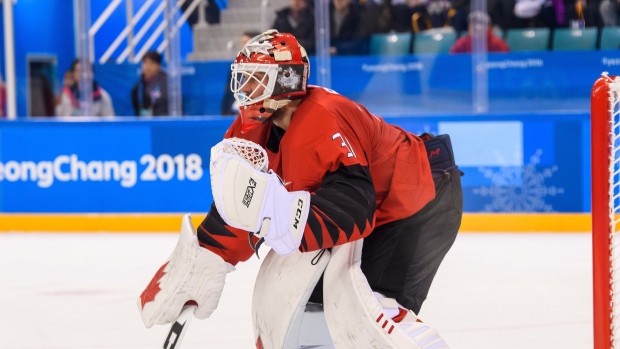 GANGNEUNG, Korea, Republic Of — Barring a speedy recovery by Ben Scrivens, it appears Team Canada will ride the skills of goaltender Kevin Poulin in its medal run at the Pyeongchang Olympics.
Canada plays Germany, a surprise package at the tournament, in one semifinal Friday while the Russian entry tackles the Czech Republic in the other. The winners face off for gold and the losers for bronze.
Scrivens did not practise Thursday after being flattened early in the second period of Canada's 1-0 quarter-final win over Finland the night before. He gave way to Poulin, who stopped all 15 shots he faced.
Canada GM Sean Burke said Scrivens was day-to-day.
"It was shoulder area, collar-bone area — to be honest, I think it's more shoulder," Burke said, ruling out a concussion. "I don't think it's anything to do with his head."
"I thought there was a small change he might be ready this morning but he wasn't," added coach Willie Desjardins. "So we'll get a read on it (Friday)."
Scrivens was collateral damage of a crushing check by Canadian centre Eric O'Dell, who sent Finnnish forward Veli-Matti Savinainen flying into the crease. Scrivens was forced to come off at 4:17 of the second period, with Poulin filling in and third-stringer Justin Peters leaving the stands to dress and take his spot on the bench.
Olympic rules do not allow for an injury replacement once the roster is frozen 24 hours before the tournament start. If Scrivens remained unable to play and one of the two remaining goalies were to go down, Burke said the organizers would provide a goaltender.
What does that mean, Burke was asked? "I don't know," he replied.
"You never want to jinx yourself but I don't think it's probably ever happened in the history of the games that I've heard of," he said of the emergency goalie rule. "Ben's not a guy that's out of this tournament for sure so I think we'll be back to having three guys available to us I would hope by (Friday)."
Canada seems in good hands with Poulin, a 27-year-old from Montreal with ice water in his veins.
He appeared in 50 games for the Islanders from 2010 to September 2015 when he was claimed off waivers by Tampa. In November that year he was traded to Calgary and played 29 games with the Flame's minor-league affiliate Stockton Heat.
He was briefly with Astana Barys in the KHL in 2016-17 before shifting to Zagreb Medvescak, a Croatian club that plays in the Austrian league, and then his current club EHC Kloten in Switzerland.
Burke, a former goaltender and two-time Olympian himself, calls Poulin "probably one of the better stories" of the team. In between stops in Russia and Croatia, Poulin played one game for the Laval Predateurs of Quebec's rough-and-tumble semi-pro LNAH in 2016-17.
"We really liked him in the summertime then he didn't have a team to play for," said Burke. "So we didn't know whether we were going to get to use him again.
"Luckily he got back playing ... He's earned being here and he's obviously been a big part of it for us."
Poulin plays down his LNAH stay, saying it was just a place to practise while he waited on overseas offers.
"As a goalie, it's hard to practise alone on the ice," he said dryly.
Poulin, who started in the preliminary-round win over South Korea, has yet to give up a goal on 34 shots here. After coming in cold Wednesday, he handled a tough shot off the bat "and he didn't look nervous at all," said Burke.
"So that settled our team right down," he added. "That's sort of what he's provided for us in every game he's played."
Peters was also impressed by the unflappable Poulin.
"For him to be mentally ready coming off the bench like that speaks volumes for his focus, his professionalism, the way he's prepared every day here," he said.
Follow @NeilMDavidson on Twitter