Sedins close careers on classy, thoughtful note
The faces of hockey in Western Canada for much of the 21st century announced Monday they will retire at the end of their 17th season this weekend, TSN Senior Hockey Reporter Frank Seravalli writes.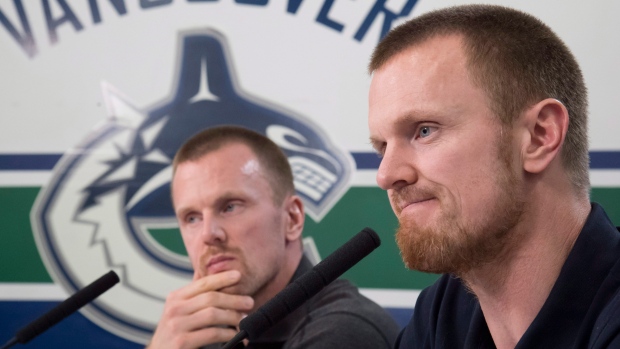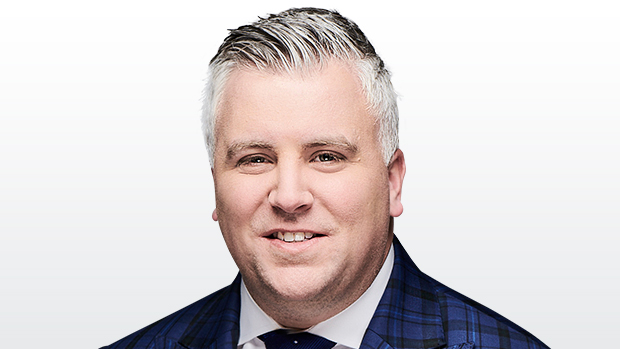 In the end, the departure for Henrik and Daniel Sedin was destined to go down like this - understated, classy and thoughtful.
There would be no year-long goodbye tour or months of feting and fanfare. That wouldn't be their style.
Just an open letter to Vancouver Canucks fans, with the hockey world hanging on every word.
The Sedin twins, statistically the best brother duo in the history of the NHL and the faces of hockey in Western Canada for much of the 21st century, announced on Monday they will retire at the end of their 17th season this weekend. Their final games in Canucks uniforms will be on Saturday night in Edmonton.
"Being part of the Canucks family for 18 [years] has been the best part of our lives," the Sedins wrote in a joint letter. "But it's time to focus on our families and life after hockey. It's time to help with homework every night. It's time to be at every birthday party and to stand in the cold at every hockey rink, soccer game and riding lesson on weekends. It's time to be at home for dinner every night."
The Canucks will now have two voids to fill in their lineup.
Since 2000, one year after then-GM Brian Burke orchestrated the trade to select the twins at No. 2 and 3 overall, the Sedins have been the models of consistency in Vancouver.
Some 1,360 regular-season games will have passed by Saturday and the Canucks only played seven of them without at least one Sedin in the lineup.
They have combined for 631 goals, 1,475 assists and 2,106 points – the only brothers in NHL annals with at least 1,000 points each – in addition to 47 playoff wins, seven hat tricks, six All-Star Game appearances and six end-of-season All-Star selections.
As much as Daniel and Henrik were thought of as one combined entity, they were individually successful and stood on their own two feet.
Henrik won the Hart and Art Ross trophies in 2009-10 with his 112-point season. Daniel matched Henrik with the Art Ross and Ted Lindsay the following season with his own 104-point campaign.
Henrik was often dishing, while Daniel did the finishing. They were the yin to each other's yang, seemingly always level-headed amid the maelstrom that was the Vancouver market during much of their tenure.
It's easy to forget now, but the Sedins weren't a slam dunk to achieve this level of success when they first arrived. The list of doubters was longer than supporters after their first three NHL seasons, when they were pushed around in the big-boy Western Conference and neither brother cracked 40 points.
The 2004-05 lockout robbed them of their 24-year-old seasons, but they returned to the NHL from a season home with MoDo in Ornskoldsvik, Sweden, as different, more physically mature players ready to take the league by storm. They burst into bona fide stars, producing one of the few golden eras in Canucks history.
Ultimately, the Sedins and Canucks fell one game short bringing that first Stanley Cup to Vancouver in 2011, at the height of their pinnacle in the NHL. They will close with just seven playoff series wins in 17 seasons – three of them coming in that 2011 run that enveloped the city and province – which is an underwhelming total for what they brought to the table.
Not much of that can be pinned on the Sedins. They are winners, no doubt, as their trophy case will show with 2006 Olympic and 2013 World Championship gold medals.
Even when the questions were tough, the Sedins were there answering - almost always the first to stand up to address reporters after crushing losses. Henrik and Daniel were as accountable as they were consistent – and they finished first and second in Canucks scoring for 10 consecutive seasons.
Each played more than 1,300 regular season games - both brothers were in the Canucks lineup for all 82 games in six different seasons. They will finish within 30 points of each other's career marks, each pocketing an equal $74.1 million – not one dollar more than the other.
Both Sedins have a chance to finish their careers making an improvement on last year's disappointing season, despite playing nearly three fewer minutes per game. But with the Canucks' roster growing younger and a third straight spring without a playoff berth sprung, they made the decision to step away. Together.
"This feels right for all of us," the Sedins wrote. "It's time to let the next generation of young players lead the Canucks."
The only shame is that the Sedins did not announce their decision earlier, to give each NHL stop on the tour a chance to say thank you, like so many of the other greats have done. Henrik and Daniel earned that opportunity.
That just wouldn't be their style, one uniquely their own, intertwined with each other and a city – now forever.
Contact Frank Seravalli on Twitter: @frank_seravalli​