Former teammate Selanne reaches out to struggling Ryan
With only one goal in eight games, the start of the season has been a struggle for Senators' misfiring sniper Bobby Ryan, however an NHL legend texted him some words of encouragement.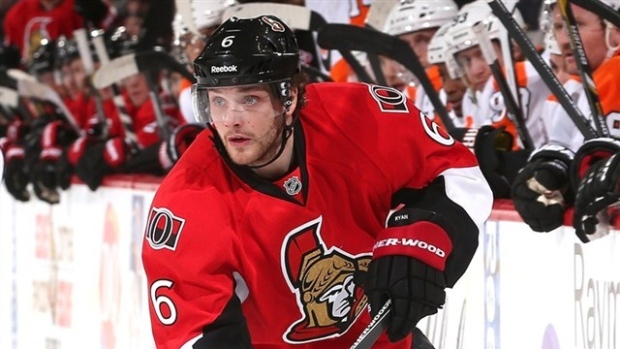 A text came into Bobby Ryan's phone last week from an NHL legend.
"Just slap the side of that bottle a little bit," it read.
While the message is confusing to an outsider, Ryan knew exactly what it meant.
The text was from Teemu Selanne, who was a mentor for Ryan when the two played together for the Anaheim Ducks. Selanne - who ended his NHL career with 684 goals - used to tell Ryan that goal scoring in the NHL was not unlike dealing with a popular condiment.
"Teemu said it best when he called goal scoring a ketchup bottle. You just got to get one and it will start flowing," Ryan explained on Monday.
"We played so long together and it's nice to see that he's still following me," said Ryan. "He's probably gone through this (slump) - probably not to the same extent as I have the past 40 games or so. But he's a guy that's been through it and a Hall of Famer. It always means a lot."
Ryan has not gotten off to the offensive start he would have liked to open the 2015-16 campaign. He's scored only one goal - and that was an empty-net marker in Columbus on October 14.
All eyes were on Ryan coming into training camp this season because he managed only one goal in the final 20 games of the 2014-15 regular season. The 28-year-old admits that he's trying to stay in a positive mental frame during the longest goal slump of his NHL career.
"When you are confident, you are seeing corners and holes to beat a goalie. But right now I'm seeing the middle of a big chest," he says. "I'm seemingly finding the middle of the net more often than I should be."
If there is an encouraging sign, it's that Ryan has played his two best games of the season in Ottawa's last two contests. On Saturday night against Arizona, he registered the primary assist on the Senators only goal on the evening and was named a game star in the building after creating a number of offensive chances.
"I had 11 shots on Saturday. I probably haven't had 11 shots in the last 30 games combined," Ryan said with a laugh. "I told myself if there is any way to get out of this it's just to continuously get the puck at the net. And hope for a squeaky one and then you get on a roll with your confidence. I felt like I was there, I just couldn't get one to go. But I'm confident I'm going in the right direction right now."