Senators appear in no rush to re-sign Zack Smith
The Ottawa Senators appear to be taking a patient approach when it comes to negotiating a new contract with Zach Smith after his 25-goal campaign.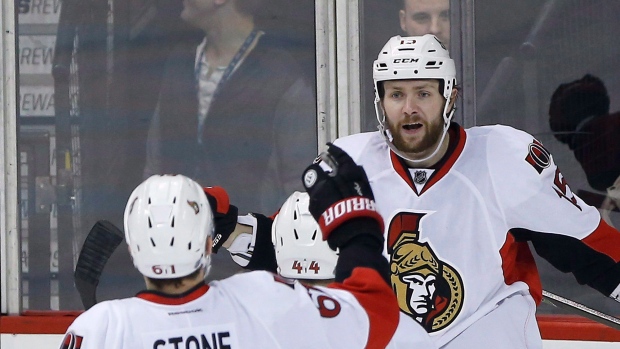 In many cases, a player headed to unrestricted free agency coming off a career-best season would be cause for concern for an NHL front office.
However, the Ottawa Senators appear to be taking a patient approach when it comes to negotiating with Zack Smith after his 25-goal campaign. There haven't been any meaningful contract talks in several weeks and there does not appear to be anything on the horizon either.
"I think that's how you could describe it as right now – as preliminary," Smith told TSN.ca on Friday.
The two sides had surface negotiations during the summer, but the Senators front office told Smith's agent Allain Roy that they had more pressing matters to deal with at the time.
"We had preliminary talks with the agent when the summer started. After July 1st I told him, 'Give us time to get Hoffman done' and then we did talk afterwards," general manager Pierre Dorion told TSN 1200 this week.
Smith is in the final year of a four-year contract that carries an annual cap hit of $1.88 million – though he will be paid $2.35 million in real money this season. The 28-year-old is scheduled to become an unrestricted free agent on July 1, 2017.
The Senators are reluctant to throw a massive contract at Smith, who is coming off a career-best 25-goal campaign in 2015-16. They clearly want to let this season play out for a couple of months to see if that season was a sign of things to come or an aberration. For example, Smith led the entire NHL with a 20.7 per cent shooting percentage last year – a number that is bound to come down this season.
"We've talked many scenarios, but let's not rush into anything here," explained Dorion. "We'd love to sign Zack, but everyone is replaceable. But somebody like Zack is certainly somebody we'd like to keep in our organization."
For his part, Smith says he's not looking to hit a financial home run based off his one season of offensive productivity. Instead, he's well aware of the pressure that can be associated with a role player who suddenly is paid to produce goals and points.
"You want what everyone else wants – a fair contract. You don't want something that's over your head that people are going to attack you for if things aren't going well," added Smith. "At the end of the day, you have your comparables and you just want what's fair."
While the Senators are taking a patient route with Smith, they are putting him in a position to succeed offensively to start this season. With the injury to Clarke MacArthur in training camp, Smith has started the season playing on the left wing with two elite offensive players in Derick Brassard and Bobby Ryan.
"We like Zack in our lineup. He brings a big body presence. He's going to get a really good chance to play here with two really good players," said Dorion.
Smith says he'll let his agent Allain Roy handle any of the negotiations during the course of the season, as he's trying not to think about an uncertain future now that the season has started.
"I try not to think about it. But to be honest, going into the summer, it was kind of hard to imagine going into a year without having my contract extended because I've never been in that situation," Smith said. "But once camp started, it was in the back of my mind and I haven't really thought about it."
After being selected in the third round by the Senators in the 2008 NHL Draft, Smith has spent his entire career with the organization and would like to stay in Ottawa if possible.
"I love it here. It's been pretty awesome to play with one team as long as I have and I want to keep that going," he added. "I'm a guy who likes the familiar so it's nice to be a part of a city where I've met a lot of people and made a lot of friends. It's a Canadian market and you can't ask for much more than that.