Senators believe time is now
By obtaining Derick Brassard, a centreman who turns 29 in September, the Ottawa Senators are sending a clear message to their fan base that they expect to win right now, writes TSN's Ian Mendes.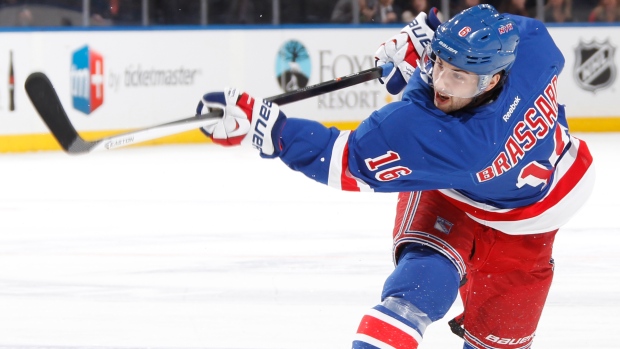 One of the first phone calls Pierre Dorion received when he took over as general manager of the Ottawa Senators in early April was from Jeff Gorton.
His counterpart with the New York Rangers wanted to congratulate him on landing the position in Ottawa. During the conversation, Gorton mentioned how both he and Dorion were in a similar situation, having taken over the general manager's job from two icons in Glen Sather and Bryan Murray, respectively.
At that point, Dorion had an interesting proposal for Gorton.
"Glen and Bryan have never made a deal. How about you and I make a deal?" Dorion asked.
They tossed some names back and forth and at that moment, the seeds for the Mika Zibanejad-for-Derick Brassard trade were planted.
With the idea of executing a trade still on their minds, the two men met in person at the NHL Draft in Buffalo at the end of June. Long after everybody had cleared out of the First Niagara Center following the seventh round of the draft on the Saturday afternoon, Dorion and Gorton stayed and chatted inside an empty New York Rangers team suite. The 40-minute conversation centered on Brassard, but according to Dorion, "At that point in time, the asking price was significantly higher."
And so patience became the operative word for Dorion as he zeroed in on Brassard. The longer he waited, the lower the asking price seemed to be for Brassard. He was in constant contact with Gorton last week and was close to pulling off the trade, but wanted the weekend to mull it over one final time. Incidentally, Brassard was owed a $2 million bonus on Friday – so it was financially advantageous to the Senators to wait until that date had passed to execute the trade.
Dorion, however, insisted the bonus money was not a factor in the decision to wait until Monday to make the trade official.
"The money didn't have a thing to do with it," Dorion told TSN 1200. "I'm happy we saved two million because it allows us to do more. But it was more of a hockey deal than anything."
The Senators showed patience in landing Brassard, but it sounds like that word is slowly being phased out of their vocabulary. By obtaining a centreman who turns 29 in September, the Senators are sending a clear message to their fan base that they expect to win right now.
"I wouldn't have taken this job if I didn't think we could be a contender right now. I hear people saying your team is young and will be good in two or three years, but that's not my thinking at all. Why can't we be good now?" asks Dorion.
The simple answer to that question, of course, is that the Senators have not been very good for the past several seasons. They've missed the playoffs in two of the last three years – only making it in 2014-15 by engineering one of the greatest late-season runs in recent memory. So to suddenly expect this team to transform from playoff bubble team into Stanley Cup contender seems like a stretch for the upcoming season.
But there is something deeper at play with Ottawa's accelerated plan to become a Stanley Cup contender as early as this season. The new mantra of 'Win Now' just happens to coincide with Erik Karlsson's contract situation with the Senators. The superstar defenseman is under contract for three more seasons with a very team-friendly $6.5 million cap hit. Before that contract expires, the Senators need to prove to Karlsson that they can win and compete for a Stanley Cup – otherwise, he might be willing to take his services elsewhere in the summer of 2019.
The Senators don't want to waste the prime years of a generational talent and as such, they've tried to surround him with players they think will help them win right now. The problem, however, is that when Karlsson's contract does expire in three years, several pieces of the Senators current core will be over the age of 30. And at that point, perhaps Mika Zibanejad will be a better player than Derick Brassard. But that's the gamble the Senators are willing to make in order to become a contender right now.
And even the newest member of the team is buying into the philosophy, after having extended conversations with Dorion and head coach Guy Boucher.
"I think the message from management is pretty clear – our time is now," Brassard said on TSN 1200. "I do think this team is mature now and we have to win next season."
You don't have players like Dion Phaneuf (31 years old, $7 M cap hit), Bobby Ryan (29 years old, $7.25 M cap hit), Clarke MacArthur (31 years old, $4.65 M cap hit) and Brassard (almost 29 years old, $5 M cap hit) and preach patience and a re-build.
That patience and re-build talk was rampant in the summer of 2011 when the Senators were also in the midst of a stretch of missing the post-season two times in three years. They loaded up on first round draft picks, having three of them in Mika Zibanejad, Stefan Noesen and Matt Puempel. As we sit here today, only Puempel is still with the organization – albeit on a two-way contract. Zibaenjad and Noesen have been moved out in order to bring in players to help make the team better in the short-term in Brassard and Bobby Ryan.
Dorion insisted that he never grew frustrated with Zibanejad over the past couple of seasons, even though the young centre had long stretches of inconsistency. In Dorion's mind, in order to land a centreman of Brassard's calibre, he needed to offer up a significant piece of his own.
"I've never lost faith in Mika. This is more about what we got in return," explained Dorion. "We're not going to get Derick Brassard for a 7th round pick in the next three years. You've got to give up something."
But by trading Zibanejad, Dorion has ultimately signalled to the rest of the hockey world that the Senators believe they've taken a significant step forward.
"We've been young and hungry. We've been the pesky Sens. Why can't we challenge some of the better teams? I think we're really going to surprise some people when the season rolls around," says Dorion.