True to themselves, Sens looking more like team of destiny
The Ottawa Senators broke out with four goals in a first period onslaught that knocked Marc-Andre Fleury out of the game and cruised to a 5-1 win over the Pittsburgh Penguins on Wednesday night. The win gives Ottawa a 2-1 series lead in the East Final.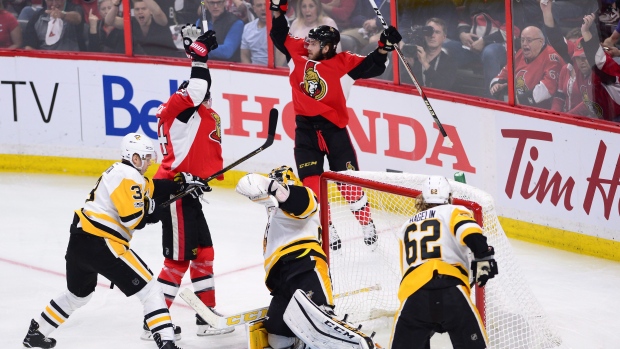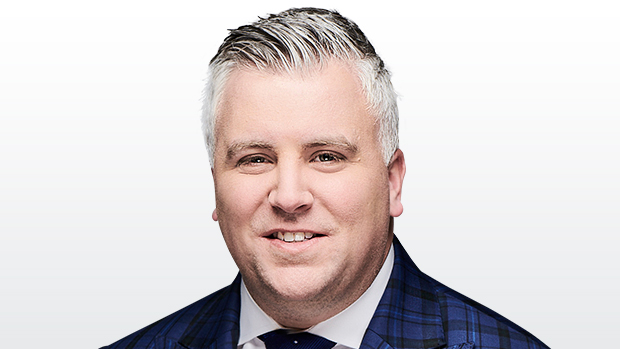 OTTAWA — Turns out, for the Ottawa Senators, 1-3-1 does indeed equal five.
As in one goal in the first minute, three in a two-minute span shortly thereafter, and one more in the second period.
After two games of prescription-strength Ambien on ice, the Senators spent Wednesday morning answering wave upon wave of questions about their "boring" style - as dictated by head coach Guy Boucher's militant trapping system.
They laughed.
The team's own Twitter account even poked fun at the boring old Senators, but not until they were up 4-0 on the defending Stanley Cup champions on Wednesday night.
"Whether it's boring or not, at this point of the year, we're not trying to sell tickets. We're just trying to come out with wins," Bobby Ryan said. "You've got to go with what works."
It may be boring, it may suck the skill out of a series oozing with star power, and it may even throw hockey back to the stone ages at a premier focal point in the playoffs.
But don't confuse boring with not being for real.
The Senators are now two wins away from the Stanley Cup final and looking more like a team of destiny with each roaring moment.
For a team that has been knocked at every turn and written off before this series even began, there shouldn't be a shadow of a doubt now that Ottawa is a team capable of carrying Lord Stanley home.
"You hear it a little bit. Nowadays, it's impossible to be oblivious to what's being said and what's going on," Mike Hoffman said. "It's just our system. If people don't respect it, that's their own opinion. If we played a run-and-gun game that maybe people would rather watch, then we probably wouldn't be here."
Determined to take a more aggressive approach in Game 3, Ottawa victimized the Pittsburgh's battered defence corps from puck drop, chasing Marc-Andre Fleury with four goals in the first 13 minutes en route to a 5-1 thrashing at Canadian Tire Centre.
The Senators are 10-1 all-time when leading a best-of-seven series by a 2-1 margin, including each of their first two round wins in these Stanley Cup playoffs.
"We were just alive," Boucher said. "Our fans love the way we play and they love the enthusiasm our players are displaying."
In the rout, the Senators not only earned a 2-1 series edge, but created a crease conundrum for the Penguins.
Does Penguins' head coach Mike Sullivan turn to last year's Stanley Cup champion Matt Murray for Game 4 on Friday night, or stick with Fleury? Murray, 22, mopped up with one goal allowed on 20 shots in his first game action since April 6.
Sullivan said he would "sleep on" his goaltending decision.
Meanwhile, the Senators will sleep soundly knowing that they finally exploited the one obvious vulnerability of the Penguins. Pittsburgh was forced to dress seven defencemen, unsure how game-time decision Trevor Daley would perform after missing time with another injury, and with no one to quarterback the power play with Justin Schultz and Kris Letang out.
If they are able to escape into the Final, the Penguins' wounds will predictably become another knock against the Senators. They've already been discounted because they beat the Bruins and Rangers, two teams who aren't confused with world beaters, even though they don't choose the route.
Ottawa's success from their bet on substance over style may not be repeatable; it may not carry over to next season or even long-term. But this isn't about next season. It's about an eight-week run for glory.
Because when the victors look back on their names engraved on the chalice, no one will remember them for what they looked like, only that they were the last team standing.
"We don't really care either way," Kyle Turris said.
What is refreshing is that in a modern-day sports world where millionaire inmates run the asylum, Boucher has earned buy-in and trust from every player. As Dion Phaneuf said post-game, the Sens recognized that this is the structure "we have to play." That means admitting they aren't the most skilled team. They are true to themselves. They finished with the fewest regular season goals of any of the 16 playoff qualifiers.
No player freelances. That is incredibly rare in today's sports culture. The Sens, mind you, are facing an opponent whose stars seemingly played to get their previous coach fired last season.
"At this level, you do what the coach says," Hoffman said. "We're workers here. We don't decide which system is put in place, we just go out there and execute and do our job."
The payoff, then, is a night like Wednesday. A raucous, white-towel waving crowd chronicling a total team effort. Ten different skaters registered at least one point. Craig Anderson has now stopped 80 of 83 shots in the series. Captain Erik Karlsson collected an assist and was on the ice for four of the five goals the Sens scored after being held without a point in the first two.
And then there was heart-and-soul defenceman Marc Methot, who didn't score a goal all season long, netting his second of the postseason against the team that nearly cost him a finger just a few months ago.
The Senators are only dreaming about one finger now to show to the rest of the league - the one where they can wear a Stanley Cup ring.
"We're going to go back and expect another one-goal game," Hoffman said, while the rest of the hockey world groaned. "We use our assets and that's what works."
Contact Frank Seravalli on Twitter: @frank_seravalli