Senators new COO has a major challenge on his hands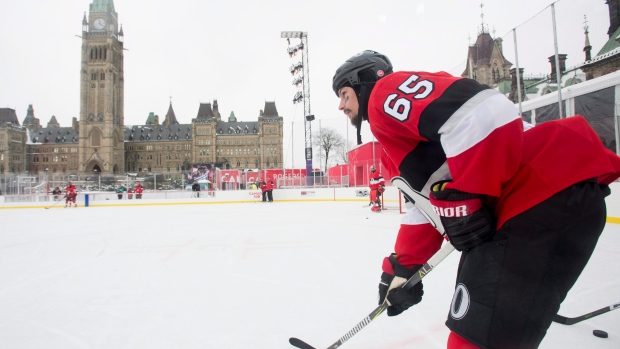 On Thursday, Nicolas Ruszkowski will start his new job as the chief operating officer of the Ottawa Senators.
The long-time communications specialist – who has plenty of experience in crisis management – is stepping into one of the biggest challenges of his professional career.
How does he re-establish a bond and trust with a fan base that feels completely alienated?
Whether they want to admit it or not, the Ottawa Senators have reached a stratosphere of negativity that only a handful of organizations in North America have managed to achieve in the past decade. The Miami Marlins, Cleveland Browns and New York Knicks also come to mind as teams that have become unfortunate punchlines for the rest of the sports world.
That's the rarified air the Senators now occupy. Some of this is self-inflicted; some of this has been completely out of their control. But one thing is undeniable: There is a massive, dark cloud hanging over the franchise and it doesn't feel like there is any sunshine in the forecast for the foreseeable future.
Last spring, the Senators fought against the perception they were a boring team as they made a deep run into the Stanley Cup playoffs. This spring, after missing the playoffs altogether, they've suddenly become a can't-miss soap opera, with plot lines and story twists worthy of the back pages of tabloids.
The organization would probably love nothing more than to revert to its milquetoast persona, which included heavy debates over the entertainment value of Guy Boucher's system.
Instead, Senators fans are resigned to their fate these days – caught in a never-ending cycle of bad news that only seems to get more bizarre with each passing day.
It started with an off-the-record comment from franchise icon Daniel Alfredsson, who allegedly said he would like to see an ownership change in Ottawa. A few days after that, a line of Senators baby clothing was recalled because of a choking hazard.
Earlier this month, assistant general manager Randy Lee pleaded not guilty to a harassment charge against a 19-year-old shuttle bus driver in Buffalo, with a court case set for next month. Many fans were irate that the club did not suspend Lee to conduct their own internal investigation into the matter.
But the legal drama did not end there, as now a court document has revealed that Melinda Karlsson, the wife of Senators captain Erik Karlsson, has filed for an order of protection against the girlfriend of teammate Mike Hoffman, claiming she orchestrated a campaign of menacing online abuse against the Karlsson family. It's an explosive story that has cast doubt on the playing futures of Hoffman – and possibly Karlsson – in Ottawa.
Not even the most cynical and jaded Ottawa hockey fan would have had those squares on a Negative Senators Bingo card.
It's like the hockey gods have decided to even things out and do a reverse Hamburglar run to this team. How else to explain what feels like an inexplicable series of events happening to just one franchise? There is an inescapable feeling of 'Okay, that story was bad, but what's coming next?' that has permeated the air here in Ottawa.
Add these storylines to an already bubbling pot of controversy and you have the most dysfunctional situation in the National Hockey League. The owner of the team seems reluctant to meet with the mayor, which has seemingly put the LeBreton Flats arena project in jeopardy. At this point, Senators fans can't even use a future downtown arena as a distraction from the current mess.
The club's season ticket renewal campaign must be struggling mightily against this torrent of negativity, which could mean to even more empty seats inside Canadian Tire Centre next season. Remember, the organization had to tarp off 1,500 seats a year after going to the Eastern Conference final because of attendance issues.
How bad will it be now that they are coming off arguably their worst season in franchise history and are experiencing such a turbulent off-season? What if they have to jettison star players like Hoffman and Karlsson this off-season? What if Matt Duchene doesn't want to re-sign with the team this summer, instead opting to see how things play out next season? Mark Stone is also just one year away from unrestricted free agency; would he want to sign here long-term if things look so unstable?
Considering the Avalanche hold the Senators' first-round pick in 2019, this has the makings of another difficult year on the horizon. The saddest part of all of this is that nobody can definitively say that the organization has reached rock bottom.
It will take all of Ruszkowski's public relations sorcery to try and win back the fans in this climate. If he can do it within the next 18 months, he probably deserves a spot in the Ottawa Sports Hall of Fame.