Senators' rebuild on the horizon, but will Karlsson be part of it?
Speaking to about 300 Ottawa Senators season ticket-holders Tuesday night, team owner Eugene Melnyk and general manager Pierre Dorion answered no-holds barred questions for almost 90 minutes, providing insight into the team's game plan for the off-season, including the future of star defenceman Erik Karlsson, Ian Mendes writes.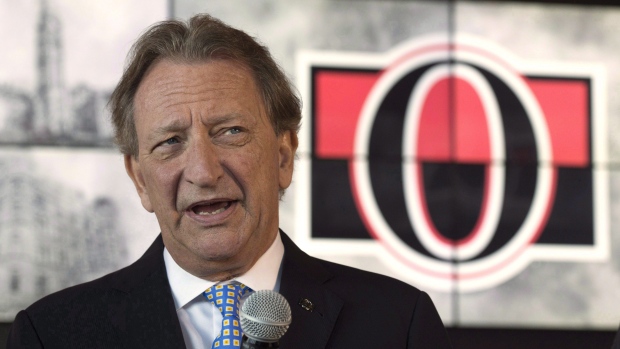 Eugene Melnyk spoke publicly in Ottawa for the first time Tuesday night since his controversial comments prior to the Senators outdoor game in December.
And this time, the Senators owner was much more careful and deliberate with his words.
Speaking to approximately 300 season ticket-holders in a town hall-style meeting, Melnyk and general manager Pierre Dorion answered no-holds barred questions for almost 90 minutes in a basement ballroom at the Canadian Tire Centre.
In December, Melnyk ignited a powder keg of emotions in Ottawa when he suggested that moving the team to another city was a possibility if attendance issues persisted. Since then, he has been largely absent from the media scene, with the exception of a brief media tour he conducted in Toronto at the end of January.
On Tuesday, he was asked if he regretted making those explosive comments in December.
"What was reflected in the press wasn't what I said," stated Melnyk, who urged the fans to go back to YouTube and re-watch his comments from December. "But if it makes everybody feel better, I do apologize for the mischaracterization."
The format for Tuesday's town hall session allowed fans to ask either Melnyk or Dorion any questions they wanted. The questions could be submitted electronically in advance, but some fans were permitted to direct their questions to the pair using a microphone in the crowd. About a dozen media members were present in the back row of the room, but were not permitted to ask questions or record audio or video of the event.
For the past several weeks, the Senators' game plan for the off-season has been shrouded in mystery. Melnyk issued a statement in February that seemed to indicate the club was moving towards a re-build – especially after jettisoning veterans such as Derick Brassard, Dion Phaneuf and Nate Thompson around the trade deadline. During Tuesday's session, Melnyk seemed to give fans a glimpse into what the plan looks like.
"We're not going to win the Stanley Cup next year," admitted Melnyk. "Three to five years – that's the objective."
Admitting that his team may not be a contender next season meant a lot of the questions were focused on the future of Erik Karlsson, who is scheduled to become an unrestricted free agent on July 1, 2019. And on that front, there appeared to be some mixed messages, as the club admits Karlsson could be the one who dictates how the process will play out.
More than one-third of the questions that were asked by the fans had some connection to Karlsson and his future. At one point, a season ticket-holder asked Dorion point-blank, "Can we get an assurance that you are not going to trade Erik Karlsson at the draft?"
The Senators general manager leaned forward in his seat and confidently said, "Yes."
The room erupted in applause.
However, there were also some signs that coming to terms with Karlsson may be easier said than done for a Senators team that will likely be operating under an internal budget. Melnyk admitted if they got into a situation where Karlsson got into his free agency window and it became a bidding war, his team may not be the one to offer the most money to the superstar defenceman.
"If it's a question of dollars, there are teams who can outgun us," Melnyk said. "The cap gives us a fighting chance. There's only so far you can go – but we're going to go as far as we can."
Dorion told the crowd that he plans to offer an eight-year contract extension to Karlsson on July 1 of this year – the earliest possible date in which he can officially open negotiations. The general manager said that he has a terrific professional working relationship with Karlsson and the two had a 30-minute conversation in his office on Monday during the exit interviews – the longest session he had with any player. But as the two sides move closer to Karlsson testing unrestricted free agency, Dorion admits some of the leverage has swung into the player's camp.
"At the end of the day, it will be his choice. If we offer him a fair contract and he doesn't want to sign here, then we have to look at other options," Dorion said. "The ball will be in his court."
Dorion was non-committal about the future of head coach Guy Boucher, who still has another year left on his contract. He was asked if he was at all concerned about Boucher's pattern of having a terrible season after reaching the conference final was repeating itself in Ottawa – like it did for him in his first NHL coaching stint in Tampa Bay.
"History can repeat itself and that's why we're in the process of reviewing our coaching staff from top to bottom. It's important to not make any harsh decisions," Dorion stated.
There was a feeling that Tuesday's session could be filled with anger and tension, but for the most part the crowd was polite and open to most of the messages that were being delivered. They applauded loudly when Melnyk announced it was his intention to slash the parking prices by 40 per cent for next season – although it was unclear if that was going to be a blanket reduction for all parking spaces at the Canadian Tire Centre or just directed at season ticket-holders.
The owner also admitted that covering several rows of seats in the upper bowl this season with black tarp was a blunder. The Senators became a punchline for their handling of their issue of empty seats inside their home arena and the crowd responded with applause when Melnyk said those seats would be available again next season.
"We're bringing it back. It was a mistake that was made and it's on me," Melnyk admitted.
There were also cheers in the crowd when one woman stood up and pronounced that the recent #MelnykOut campaign wasn't an accurate reflection of how all fans felt towards the owner. There were even some laughs inside the room at one point when Melnyk joked that the Toronto Maple Leafs would be "blown out" by the Boston Bruins in five games in the opening round of the playoffs.
But questions about Melnyk's ability to own and operate the team were prevalent, as one fan pointedly asked him if he had any intention of selling the team. Rumours about Melnyk's ownership have been floating around for several months but, once again, he denied that a change in ownership is something on the horizon.
"No, I don't consider it," Melnyk said flatly. "There is no price. If something is not for sale, then it's not for sale."
The tension towards the owner was evident on one occasion, as Dorion was trying to explain how the organization has been able to retain most of its pending free agents over the years.
"How many UFAs have left here?" Dorion asked aloud.
"What about Alfredsson?" retorted one fan.
"That was different, He wanted to go to Detroit," interjected Melnyk. Moments later, the room was filled with a chorus of boos, as the wound of the long-time captain's departure has clearly not healed for many season ticket-holders.
Still, that was the only palpable moment of negativity or anger inside the room – a far cry from the pitchfork and torches that some were expecting to see with an event of this magnitude.
The Senators will host two more town hall meetings on Wednesday – as they added another evening session because they reached capacity so quickly.
As he ended the town hall meeting on Tuesday, Melnyk simply said, "I really appreciate the feedback."
For a man who appeared to be brash and outspoken in his last media session during the outdoor game in December, this was about as laid-back and subdued as Melnyk has ever been in front of a microphone.
Whether this was just a blip on the radar – or a step in the right direction – remains to be seen.