Senators' Ryan deletes public Twitter account
Ottawa Senators winger surprised by the attention given to his exit from social media platform.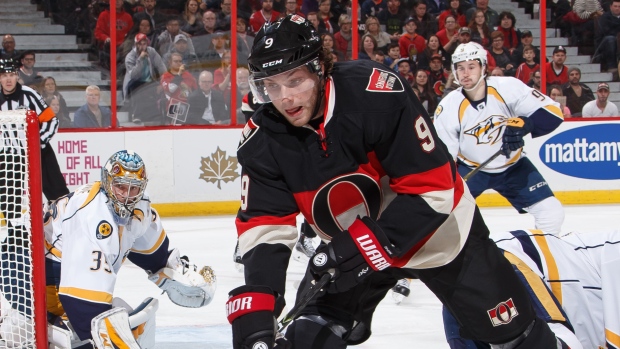 Bobby Ryan had toyed with the idea for months, but at 10 p.m. on Monday night, he finally made the decision to delete his Twitter account.
"I had been thinking about it and my wife said, 'You're talking about it enough, so you should just do it.'"
With a single click of a button, Ryan said goodbye to more than a quarter-million Twitter followers on Monday evening.
Ryan was amazed that his subtle move was noticed by so many people within a few hours.
"It's amazing how quickly it travels, I guess. But I was just done with it. I was on it long enough," Ryan told TSN.ca on Tuesday morning. "I went to post a picture of our daughter for friends and family and I thought, I don't need 250,000 people to see it."
Ryan has toyed with the idea of scaling back his social media presence in the past. Prior to the 2015-16 season, he vowed to tweet less often after a disappointing end to the previous campaign.
But now Ryan has deleted his verified public account completely. The Senators forward has been known to be an engaging and entertaining social media user, but Ryan was starting to feel bogged down by the negative aspects of Twitter.
He says there wasn't one particular thread or interaction that caused him to quit – even though there was a negatively slanted discussion on Sens Twitter happening Monday night about the team's six-game winning streak in Ryan's absence.
"People ask about the negativity thing, but you can filter that as much as you want. I try not to engage because I'm never going to win an argument with a guy in his basement, so why bother?" Ryan explained. "You get nowhere with it. At a certain point, you can get it out of your life and not worry about it."
However, Ryan told TSN.ca that he's not quitting Twitter entirely. He enjoys reading news and updates on the social media platform, so now he's resurfaced with an anonymous account that will allow him reap the benefits of Twitter without having to deal with any of the negativity.
"I quit Twitter and started over. Now I'm an eggshell so nobody can find me," laughed Ryan. "I just want to keep it for friends and family so I can post pictures and really enjoy it."
Ryan – who is set to return on Tuesday night after missing almost a month with a broken finger – says he will miss some of the positive interactions with fans and followers on Twitter.
"It's a shame because I've had so many great connections with fans on there," he said. "Some have actually become friends through the direct messaging and that's the downside of it."
Ryan did playfully admit that he'll enjoy being anonymous on Twitter, saying that he actually has experience in that area.
"I got Instagram in the summer. I chirped [Ryan] Dzingel on his account all summer long and he had no clue who it was until he moved into my basement and I told him it was me," laughed Ryan. "And he told me, 'Hey, I was losing sleep over those comments.'"
And with a pause, Ryan added, "So I guess I'll be that guy now."