Senators' Stone keeping his focus on this season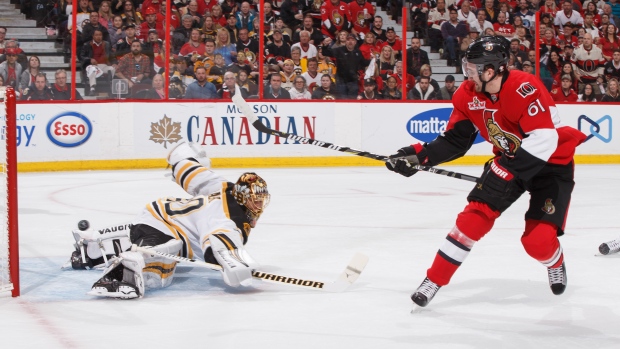 Ottawa Senators forward Mark Stone narrowly avoided arbitration last week, signing a one-year, $7.35 million deal just before his hearing.
Stone, who asked for $9 million in arbitration, said Tuesday he was pleased to settle before the hearing.
"I was really happy," Stone said. "We kind of got down to the nitty gritty in the last five to 10 minutes building up [the arbitration hearing]. Happy I didn't have to go in and now we can get the season underway the way I want to."
Stone has scored 20 or more goals in each of the past four seasons with the Senators. He signed a three-year, $10.5 million contract with the team in 2015 before hitting restricted free agency.
"It's different," Stone said of his latest contract negotiation. "Something I've never been through, obviously. First time I'd ever been through a situation like that, but it was fine. Both sides really worked hard to get something done and we were able to do it."
Stone's new contract makes him Ottawa's highest paid player for this season, but he will be eligible to leave the team as an unrestricted free agent next summer. Because he signed a one-year contract, Stone can't begin negotiating an extension until January 1.
He said Tuesday, however, he's keeping his focus on the ice as he enters yet another contract year.
"I'm just focused right now – got the contract out of the way – I just want to play hockey," Stone said. "It takes up a lot of time in your summer, a lot of phone calls, a lot of hours, talking with your representatives, so I'm not even thinking about it right now. I'm just excited to get underway and help this team win more hockey games."
The 26-year-old skated Tuesday with teammates as he hit the ice for the ice time since June. Defenceman Erik Karlsson, who tied Stone for the team lead in points last season, was among the players present.
Karlsson has been the subject of trade rumours dating back to January, but remains with the Senators. Despite the speculation floating around the team and their poor finish last season, Stone sees reason for optimism in Ottawa.
"We know there's going to be change, there was change," Stone said. "We're going to have to change not just personnel but the way we play [and] the way we approach things. Last year was just not good enough, can't really say anything different, so we're going to have to come in from Day 1 and try to build our group to get better. That's the only way you can do it.
"You look at teams [like] Colorado, you look at teams that were the bottom feeder, the way the league is now anybody can come in and compete for a playoff spot and we're going to be one of those teams."
With his future up in the air, Stone said he's not looking at his long-term future with the team, and instead focusing on the present.
"Right now, I'm not looking towards that. I mean, we have one month until camp opens. We have to build for the now. That's the way it is. If you can't build anything now, you're not going to be able to build anything for the future. I think the guys that are in that locker room on Day 1 are going to want to be there and want to build something.
"You don't want to go through years like we did last year, so we're all pros and we want to build something going forward. That starts Day 1 in training camp."