Senators' Tkachuk has eyes on the NHL this season
The Ottawa Senators might have three options for what they can do with Brady Tkachuk next season, but if you ask the teenager about where he wants to play this fall, he has only one destination in mind. TSN's Ian Mendes spoke to the newly signed forward on TSN 1200 on Monday and explains that the NHL is Tkachuk's biggest goal.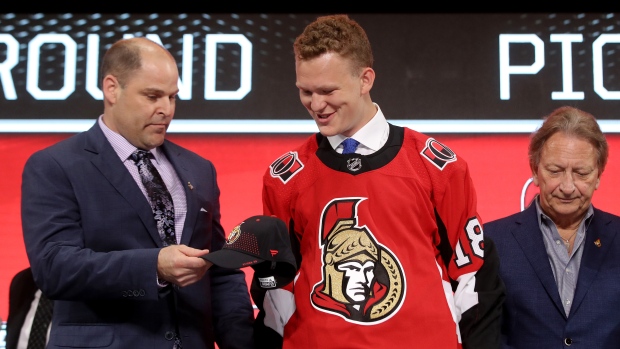 The Ottawa Senators might have three options for what they can do with Brady Tkachuk next season, but if you ask the teenager about where he wants to play this fall, he has only one destination in mind.
"I think it's with Ottawa and in the NHL," Tkachuk told TSN 1200 radio on Monday afternoon. "For me it's a dream of mine to play there. I think I'm physically ready and mentally ready for the grind that comes with the NHL. I think I'm definitely ready and that would be the best place."
On Monday, the Senators announced they had agreed to terms on a three-year entry-level contract with Tkachuk, who opted to leave Boston University after his freshman campaign. The soon-to-be 19-year-old admits that the decision to leave the NCAA was one that he wrestled with for several weeks.
"BU was such a great spot to me, so it was hard to leave," Tkachuk admitted. "But it had to happen eventually. It's a dream of mine to be in the NHL and I thought this was the right time."
While it may be Tkachuck's dream to play in the NHL this season, the Senators do have two other options for where the young power forward can play this season. They can loan him to the London Knights of the Ontario Hockey League, who own his junior rights. They could also assign him to the Belleville Senators of the American Hockey League, if they feel like playing professional hockey against older competition would be beneficial for his development.
"At the end of the day, it's where the management thinks is best for me," admitted Tkachuk. "But I'm going to try my best to be on Ottawa for the whole year."
Many observers believe the most likely route for the Senators to take is to give Tkachuk a nine-game trial to start the season in the NHL. If he doesn't thrive in that scenario, they could opt to send him down to London, where he could play a significant role with a powerhouse team. If that unfolds, it would be a foregone conclusion that Tkachuk would be loaned to USA Hockey to participate in the World Junior championship in December.
Tkachuk spent the weekend back home in the St. Louis area, where he was able to take in the Friday and Saturday sessions at the PGA Championship at the Bellerive Golf Club. He was in the Tiger Woods' gallery while the golfing legend was making a charge up the leaderboard and described the hysteria around Woods as "crazy."
But the main reason for his return to St. Louis was to connect with his family for a final consultation with his father Keith – who scored 538 goals in a brilliant NHL career – and brother Matthew, who is a member of the Calgary Flames.
"I just wanted to be together with my family and get their perspective on it," Tkachuk explained. "They wanted me to pick what I wanted and what was best for me. My thought process was, 'Where can I make an impact in the short term – and I also want to have a long career.' "
Tkachuk would love to follow in the footsteps of Matthew, who made an immediate impact with a 48-point season with the Flames as a teenager in 2016-17. He says that he's been picking his older brother's brain to see what has allowed him to become a legitimate top-six forward in his first two seasons in the league.
"It's been nice to live with him this summer. I've learned so much about his experience. I'm definitely going to try and ask him about what he learned to make the team his first year," Tkachuk added.
If there is a silver lining for Tkachuk, it's that it appears as though the Senators are on the verge of a rebuild – or at the very least a movement towards a younger roster this season. Over the past few months, they have jettisoned veteran players such as Derick Brassard, Nate Thompson, Dion Phaneuf and Alex Burrows, which should theoretically open up some roster spots for younger skaters.
Head coach Guy Boucher appears to be on board with the youth movement as well for the 2018-19 campaign. In one of his only media sessions over the past few months, Boucher said he was excited about integrating some of Ottawa's young prospects into his lineup on a nightly basis.
"I'm looking forward to, if we can, have a young guy on every line," Boucher said in late June. "It depends on how they do, but I would love to have the greatest number of young guys make our team."
That puts Tkachuk in the mix with some other forward prospects including Logan Brown, Colin White, Alex Formenton, Filip Chlapik and Drake Batherson – all of whom could theoretically have a chance to crack the opening night roster.
Tkachuk admits it would be special if he could start the season with Brown as his centreman – considering the two grew up playing Triple-A hockey together in the St. Louis minor hockey system.
"It would be unbelievable," Tkachuk said of the chance to play with Brown on opening night. "We were best friends growing up."