Sens embrace us-against-the-world mentality
Ottawa players ignoring the outside noise and preseason predictions to focus on winning hockey games, Ian Mendes writes.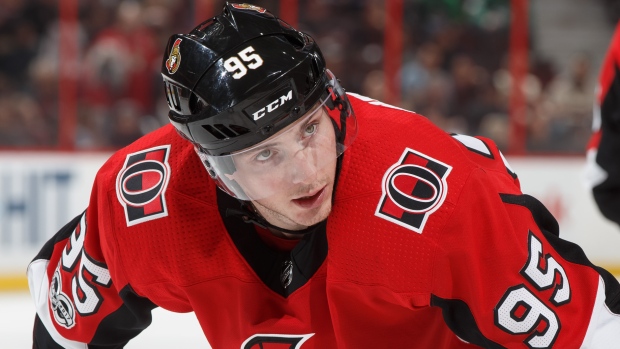 Matt Duchene had a strong message for critics who think the Ottawa Senators will be an underdog team that will be content to just hang around in games this season.
The Senators No. 1 centre was wrapping up his media session with a small group of reporters Thursday morning when he was asked if seeing fellow basement-dwelling teams from last season like Vancouver and Montreal play well on opening night gave him an added dose of confidence that his team could compete with more talented opponents this season.
"We're not looking to hang with anybody. We're looking to beat people," Duchene said flatly. "It's too close of a league to just want to 'hang in there.' That's BS. We're not looking to just hang in there. We're looking to go after teams and we're looking to win."
The Senators all seem to be reading out of the same playbook as they approach their home opener against the Chicago Blackhawks.
Duchene opened his media session by saying, "We're not paying attention to the outside noise. It's about what's in here."
That seems to be a consistent message from virtually everybody inside the dressing room — whether you speak with them on the record or off.
Besides, the Senators are probably well served to not pay attention to the media these days. Most preseason prognostications have them pegged for the basement of the Eastern Conference.
The players seem to be avoiding talk radio, TV panels and columns being written about them as a swirl of negativity lingers around the team.
"I don't think anyone in this room has read any articles that have been written about our potential – myself included," goalie Craig Anderson said. "We don't know what the future holds for us – but you can speculate on that. [Finishing] 25th, 30th, whatever – it's just all experts speculating. You're never as good as the media says and you're never as bad. So it's better off not reading it."
Head coach Guy Boucher used a weather-related analogy to describe to his players why the criticism and negativity from the local and national media shouldn't have any bearing on how the team performs on the ice.
"If it rains and you're inside, it shouldn't have any impact on how you act inside," Boucher said.
Even the most optimistic Senators fan would have to admit that it would take a miraculous turn of events — think the Hamburglar run from 2015 — to propel this team into the playoffs. The Senators appear poised to miss the playoffs in consecutive seasons for the first time since 1996 when they were still in their expansion infancy.
The expectations in this market are the lowest they've been in more than 20 years. And while they won't be actively listening to talk radio or reading columns about themselves, some inside the dressing room believe they can use the external negativity to their benefit — creating a little bit of an 'us-against-the-world' mentality.
"I think you're dead-on man. You use that as a rallying point, you really have to," alternate captain Mark Borowiecki told TSN.ca. "If you listen to that BS, it really sucks the life out of you. It's on us to keep that chip on our shoulder. We can use some of that outside negative energy and negativity to our benefit."