Sens look to deal goalie before draft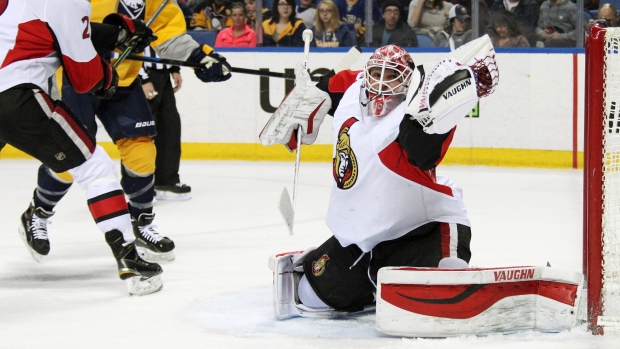 The NHL's off-season is upon us and teams are already looking to re-shape their rosters for a more successful 2015-16 season. Keep up to date on the latest trade/free agent speculation and rumours from around the league.
Crowded Net
Ottawa Senators general manager Bryan Murray is reportedly gauging the market for goaltenders Craig Anderson and Robin Lehner.
According to Bruce Garrioch of the Ottawa Sun, Murray is looking to trade one of the two netminders ahead of the June 26-27 NHL Draft.
With Andrew Hammond's roster spot locked, the Senators are looking to move one of their two goaltenders who opened the 2014-15 season with the team.
Garrioch reports the Senators have set the same asking price for both goaltenders – a top six forward and a draft pick.
Lehner, 23, is reportedly drawing interest from the Edmonton Oilers and Calgary Flames, amongst others. While, the veteran Anderson could draw interest from San Jose and St. Louis, according to the Sun.
Anderson is under contract through the 2018-19 season, while Lehner will hit restricted free agency in 2018.
Sharp Turn?
With Patrick Sharp expected to be on the trade market this summer due to the cap situation of Chicago Blackhawks, potential destinations for the star are beginning to emerge.
Speaking to TSN Radio 690 Montreal on Tuesday, TSN Hockey Insider Pierre LeBrun cited the Washington Capitals as a team to watch.
"I think the Washington Capitals are a team that I see as a fit for him – among the many – but I think they would like to add a top-six player there and a guy that's won," LeBrun said. "We know what the Caps' issues are, right? So that would be an interesting fit for me."
Sharp carries a cap hit of $5.9 million in both of the remaining seasons on his contract. LeBrun also notes the Blackhawks could turn to 20-year-old Teuvo Teravainen to replace the 33-year-old Sharp in the team's top six.
On the Block Again
Ryan O'Reilly appears to be on the trade block once again.
TSN Hockey Insider Bob McKenzie told TSN Radio 1040 Vancouver Tuesday the Colorado Avalanche are testing the market for the centre, who is set to become an unrestricted free agent in 2016.
McKenzie says the odds are in favour of O'Reilly being traded, though a potential deal could hinge on a new contract.
"I think it's more likely O'Reilly will be traded at some point here he'll be traded," McKenzie said. "But at the same time, it will depend on what the deal is and the financial negotiations that go on with any contract."
McKenzie cautioned, however, a trade is not imminent ahead of the draft.
"If I were a betting man, I'd say Ryan O'Reilly is more likely to be traded, but it's not a 100 percent slam dunk that it will happen before the draft or at all," McKenzie concluded.
O'Reilly scored 17 goals and added 38 assists while appearing in all 82 games with the Avalanche last season.
The 24-year-old signed a two-year, $12 million contract with the Avalanche last summer.