Sens need to give up on this season
It's time for everybody in Ottawa – the owner, general manager, the players, fans and media – to take a deep breath and make an honest assessment about the state of the franchise, Ian Mendes writes.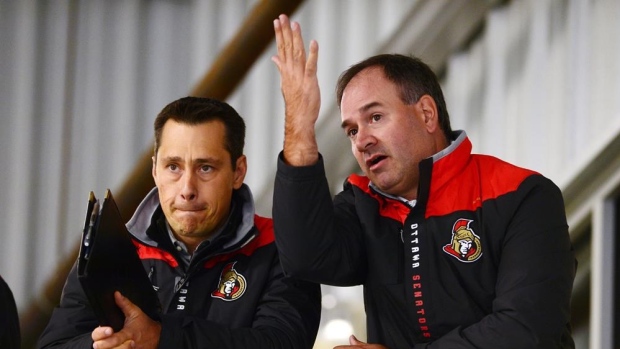 One month ago, I couldn't have imagined typing these words.
But as I sit here today, I'm 100 per cent convinced the Ottawa Senators need to give up on this season and start thinking about the future.
On Nov. 12, the Senators were flying back home from Sweden with four points in their back pockets after consecutive wins over the Colorado Avalanche.
The team was sitting firmly in a playoff spot and general manager Pierre Dorion had just landed centre Matt Duchene – a piece he felt certain was going to provide an immediate boost to his team.
The Senators had picked up points in 13 of their first 16 games and had aspirations of being mentioned in the same breath as Tampa Bay, Pittsburgh and other elite teams in the NHL's penthouse.
Instead, the team has fallen of a cliff in the past 30 days – an inexplicable nosedive that no one could have seen coming. The Senators are now mentioned in the same breath as Buffalo and Arizona – coincidentally, two basement-dwelling teams that have beaten Ottawa during this slide.
Sens fans keep asking themselves if this team has hit rock bottom and they somehow manage to keep lowering the bar.
Surely rock bottom had to be losing on home ice to Arizona, who is dead-last in the NHL. Or nothing could have been more humiliating than an uninspired 5-0 loss in Winnipeg. But just six days later, the Sens were able to match that identical score in a 5-0 drubbing at the hands of the San Jose Sharks, who fired 50 shots on Craig Anderson.
And last night's 3-2 loss in Buffalo – against the only team lower than them in the Eastern Conference standings – had to be the lowest point of the season, right?
But the outdoor game against the Montreal Canadiens is looming and that has all the elements to be a disaster-in-waiting.
The Sens have won just once in the past 13 games and even that victory – a 6-5 thrill-a-minute win over the Islanders – was hardly a blueprint for success under a coach like Guy Boucher.
Last season, the Senators played their system to a tee and could hang with any team in the NHL on any given night. They had the ability to punch above their weight, a characteristic that has completely escaped them.
And so now, a difficult choice has to be made by Dorion and owner Eugene Melnyk: Do we keep pushing forward with this group or do we start blowing this thing up?
This freefall is eerily similar to what the Senators experienced in the year following their trip to the Stanley Cup Final in 2007. That club went into a complete nosedive and only qualified for the playoffs by virtue of having built up an incredible cushion in the early part of the season.
But what we learned in that window 10 years ago is that the Senators spent too many seasons convincing themselves they were a legitimate Stanley Cup contender. By the time they realized the window had closed, it was 2011 and the team had wasted a couple of seasons in the middle of the pack.
This time around, management and ownership need to stop thinking, "But we were one goal away from going to the Cup final last spring." Yes, there are some very nice pieces with this group, but there is no universe in which a legitimate Stanley Cup contender loses 12 of 13 games at any point in a season.
The Senators could convince themselves that they could squeak into the playoffs because they play in the weak Atlantic Division and go on an extended run. But if the goal is to build a legitimate Stanley Cup contender, the philosophy can't be predicated on, "Let's get into the playoffs and see what happens."
The elite teams in the NHL don't operate that way. All of the previous Stanley Cup winners in the post-lockout era were absolute powerhouses in the regular season. Perhaps the lone exception was the 2012 Los Angeles Kings, who won the Stanley Cup as an eighth seed. But since they followed that up with another Stanley Cup two years later, it's hard to really suggest the Kings fluked their way into a championship.
The Senators pattern of one good season, one bad season, has become far too predictable. All of these previous Stanley Cup champions – Chicago, Pittsburgh, Los Angeles and Boston – have had extended windows where they were considered an elite team for anywhere from three to five years.
Ottawa has been trying to build that for the past couple of seasons, but has fallen short. Dorion's attempt to build a Stanley Cup contender in Erik Karlsson's window is commendable. If nothing else, you have to tip your hat to the general manger for trying to make some bold moves in that direction.
But when you're sitting in 29th place overall in the NHL – and possibly without a first or second-round pick in the upcoming draft – something has gone horribly wrong.
The Senators need to make sure they don't chase their tail here and make another bold move to try and win now. It's time for everybody in Ottawa – the owner, general manager, the players, fans and media – to take a deep breath and make an honest assessment about the state of the franchise.
When you hear about a rebuild, you automatically assume that means jettisoning your franchise player in Karlsson. But when Ottawa underwent their rebuild in 2011, they identified a couple of key pieces in Daniel Alfredsson and Jason Spezza as players they wanted to hang onto and build around.
This time, Dorion and Melnyk will have to identify who belongs to their core. Is Karlsson willing to be patient during a two or three-year rebuilding process like Alfredsson and Spezza were in 2011? Once they get the answer to that question, they can proceed with everything else. I still believe their best option – even in a re-build – is to have Karlsson as part of the mix. Mark Stone, Thomas Chabot might seem like other untouchable players, but again, that's a decision left to Dorion and Melnyk.
This roster is front-loaded with talent that could easily fetch some high-end prospects or draft picks. There are no guarantees on a timeline for a rebuild, but there's no reason to think this team couldn't be on the right track by 2020.
A proper rebuild, however, requires two elements from a fan base and ownership: patience and trust. Both parties have to have those two characteristics. If they do, it helps lay the foundation for a smooth transition.
I believe this market is mature enough to handle a proper rebuild if the ownership/hockey operations department laid out a clear plan. This doesn't have to be done in a swirl of negativity and anger.
There is a marketing slogan in the sports world that says teams can sell one of two things to their fan base: winning or hope. If the Senators chose to stick with this same plan moving forward, they will be trying to sell their fan base on the hope of winning.
And as we've learned over the past decade, that's not a recipe for sustained success in the NHL.