Sens' rebuild plan is public, but will Stone and Duchene buy in?
Having the two star forwards flee for greener pastures before the trade deadline would be a damning indictment of the franchise's plan, TSN's Ian Mendes writes.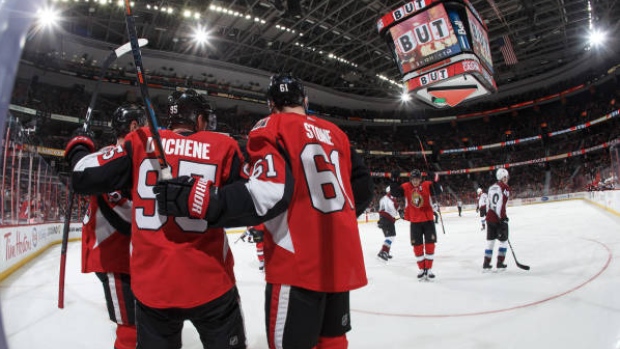 OTTAWA – It has been almost exactly a year – to the day – since the Ottawa Senators first planted the seed for a complete rebuild in the nation's capital.
In a Feb. 9, 2018 press release, the Senators quietly announced a three-year contract extension for general manager Pierre Dorion and hinted that significant changes were on the horizon.
"Today's announcement reflects a renewed commitment to scouting, drafting and development. It may require changes to our lineup. Rest assured, we will only tolerate pain with an endgame in mind: building an organization that wins – at all levels – year in and year out," the statement read.
That press release was widely criticized for being disseminated after 6 p.m. on a Friday, which is often the time organizations try and bury bad news. As a result, the message was met with significant skepticism in this market.
Fast-forward 12 months and yet another curiously timed statement from the club – this one coming in the middle of a Senators-Maple Leafs game on Wednesday night – is once again being met with ample cynicism by Ottawa fans.
This time, the club relayed the message owner Eugene Melnyk delivered to a group of sponsors at an event at the Hockey Hall of Fame in Toronto on Tuesday night.
"The Senators will be all-in again for a five-year run of unparalleled success – where the team will plan to spend close to the NHL's salary cap every year from 2021 to 2025," the statement read. "[Melnyk] reiterated that the Senators' current rebuild is a blueprint on how to bring the Stanley Cup home to its rightful place in Ottawa."
Some Ottawa fans are insulted the club chose to make such a significant announcement in the backyard of its most hated rival. Would any other sports organization in North America make a bold proclamation about its future plans in the downtown core of a rival city?
As Daniel Alfredsson once said about his team's chances of coming back in a playoff series against Pittsburgh, "Probably not."
But the manner in which Wednesday's news was distributed fell completely in line with Melnyk's strategy over the past year.
Melnyk hasn't done an extensive media interview with any outlet since his infamous media session on Parliament Hill prior to the outdoor game in Ottawa in December of 2017.
For a man who used to have the reputation of never having met a microphone he didn't love, he's now enveloped himself in a cone of silence, playing the media game on his terms.
He believes his words at the outdoor game were misconstrued and sensationalized by news outlets. As a result, his distrust for the local media is palpable. So instead of doing traditional media interviews to announce plans for the rebuild, the Sens owner has chosen more unconventional ways to try and get his message across to fans.
There were town hall meetings last spring, in which reporters were allowed to attend one session but were prohibited from recording any audio or video of the event. In September, the club released a video featuring Melnyk and defenceman Mark Borowiecki that was supposed to kick-start the rebuild, but instead, the video was widely panned by critics for its poor timing and awkward feel.
Every few months there is a new piece added to the Senators rebuilding puzzle – and yet Ottawa fans feel like they're still not getting the full picture. If transparency and trust are two pillars on which organizations build credibility with their fan base, it still feels like the Senators are operating in the shadows.
Whether or not the fans buy into the rebuild will hinge largely on the decisions coming in the next two weeks on Mark Stone and Matt Duchene. If both of them flee for greener pastures before the trade deadline, it's a damning indictment of the Sens rebuilding plan.
There is an argument to be made that trading both Duchene and Stone could be advantageous to a full rebuild. After all, when the Senators are in the middle of this new projected window of contention – in the year 2023 – Duchene and Stone will both be north of 30 years old and theoretically on the decline. Trading them now could haul the club a bunch of assets – first-round picks and prospects – who could be entering their prime four years down the line.
But as recently as Tuesday, Dorion made it clear that it's his intention to sign both Duchene and Stone to be major parts of the rebuilding process in Ottawa. The club has seen such a large exodus of star players in recent years that it's almost a necessity they hang on to at least one of them to show some degree of stability.
There is no amount of PR spin that can justify both these players being traded in the next two weeks.
Stone, in particular, can carry a significant amount of weight moving forward. Sens fans almost universally adore Stone, whose productivity, leadership and character make him one of the most popular players to ever wear an Ottawa jersey.
So if Stone is willing to buy into this plan that the team will be a contender by 2021, a lot of Senators fans will follow suit. Stone has an inherent trust factor with this fan base; a belief that he has a built-in moral compass that will undoubtedly point him in the right direction. And if that's to re-sign with Ottawa, a majority of fans will follow suit.
But if Stone feels like something is amiss in Ottawa, it should be a red flag for everybody.
Press releases and statements are all well and fine, but at the end of the day, words carry very little weight around here.
The actions of Duchene – and Stone in particular – will direct Senators fans as to whether or not they should embrace the rebuilding plan as laid out by the club on Wednesday night.