Sens' Ryan gives late mom magical Mother's Day gift in Game 1 OT win
Hours before maybe the most difficult holiday of his young life, Bobby Ryan delivered a magical Mother's Day present for his late mom, who passed away unexpectedly last July after a brief battle with cancer, with the overtime winner in Game 1 of the Eastern Conference final.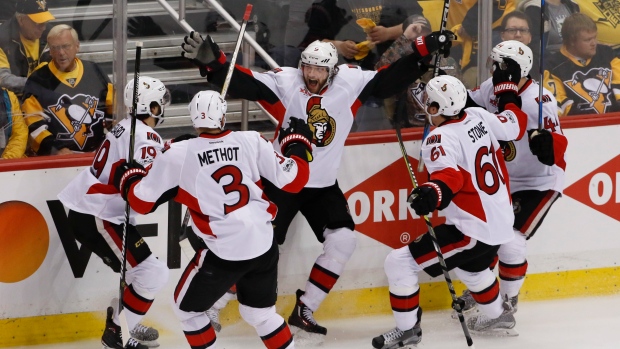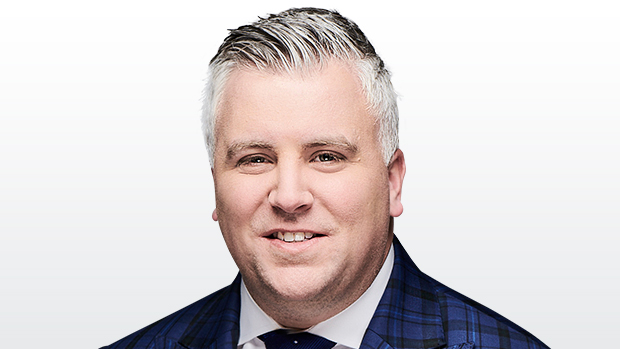 PITTSBURGH — If you listened close enough, you could almost hear it, omnipresent above the groans and grumbling of yellow-clad Penguin fans as they filed out.
No question about it, the voice cheering loudest for Bobby Ryan's overtime winner came from above.
Hours before maybe the most difficult holiday of his young life, Ryan delivered a magical Mother's Day present for his late mom, who passed away unexpectedly last July after a brief battle with cancer.
Melody Stevenson was surely beaming with pride as her son raced around Olli Maatta and shovelled a backhand over Marc-Andre Fleury's shoulder to become the first Ottawa Senator to ever score two overtime goals in one postseason. Ryan saved it for the biggest stage of his career, his first appearance in an Eastern Conference final.
Senators 2, Penguins 1.
"It felt great, obviously, to come through," Ryan said. "An important and crucial moment, I guess."
To know Ryan's story is to understand his struggle this season.
By all accounts, those close to Ryan and the Senators say his coping with his mother's death would help explain his toughest year as a professional hockey player as much as the injuries that caused him to miss 19 games.
It's not hard to see why. Ryan's mom wasn't just his mom, she was his everything - the single mother who worked two different jobs so Ryan could play competitive hockey while his father was in jail for assaulting her.
As much as the Senators say Ryan played well, there is no working your way through that. At one point during the season, Senators coach Guy Boucher sat Ryan for a January game for disciplinary reasons.
"He had a lot of things to manage," Boucher said Saturday night. "Bobby had a tough year also on a personal level, and there's nothing you can do about that. Some years are tougher than others in that respect."
Ryan, 30, called these playoffs a shot at "redemption."
"It's a refresh, I think, for me. I think it was a complete restart," Ryan said post-game. "I just knew at some point those pucks that I had been chasing all year long in front of the net, they were going to come."
They've come now, fast and furious. The fingerprints of Ryan's Redemption Tour are all over the Senators' surprising playoff run. His re-emergence has become the undercurrent carrying Ottawa to a 1-0 edge in the best-of-seven Eastern Conference final over the Penguins.
Ryan's heroics, coupled with a near flawless start from Craig Anderson and perfect penalty killing, have the defending Stanley Cup champion Penguins in an unfamiliar position. Pittsburgh trails in a series for the first time since last year's Eastern Conference final against Tampa Bay. They went on to win that series, of course, en route to their first Stanley Cup since 2009, but the Senators dictated play on Saturday night.
Ryan was at the centre of it all, hardly recognizable from his regular season form. He is active, engaged, physical, creative.
He not only netted the overtime winner, but Ryan found - who else? - Jean-Gabriel Pageau in the slot with a blind backhand pass from behind the net for a first period goal, a deceptive look that he's now pulled off twice in two rounds.
For Ryan, it was his career-best 11th point - including five goals and six assists - in 13 playoff games. He netted just 25 points in 62 regular season games, easily the lowest production of his NHL career.
Almost all of Ryan's points these playoffs have been meaningful for the Sens. In the first round, Ryan scored two game-winning goals - including the Game 3 overtime winner in Boston - and assisted on Clarke MacArthur's overtime series clincher. He followed that up in the second round by assisting on Erik Karlsson's series-winning goal in Game 6 against the New York Rangers.
He is earning all of his $7.25 million in these playoffs, when it matters most.
"To be honest with you, the regular season feels like a long time ago," Dion Phaneuf said. "I think Bobby's done a great job for us. It's great to see him get that one tonight. I think he's done a lot more than score goals. He's blocked shots, he's physical, and he's got real good skill."
In addition to his off-ice struggle and injuries, Ryan joked it took him until "Game 82" to finally figure out Boucher's system. He said there were "growing pains" and he struggled with the "learning curve." His teammates are genuinely happy for his success. Only they know his struggles behind closed doors.
"Whether he had a tough year or not individually, we still played well as a team and I think he took a lot of pride in that and was a big part of that," Karlsson said. "His mindset was great all year. It was even better coming in here. I think he's really starting to find his groove."
In July, days after her passing, Ryan penned an emotional letter to his mom on The Player's Tribune. In there, he wrote:
"One of the biggest reasons I am where I am today is because you put me in a position to succeed," Ryan wrote to his mom. "And not only succeed, but succeed on my own."
He is succeeding on his own. It will be impossible for him to be made completely whole again after a loss like that, but on the ice at least, Ryan is getting closer with each passing playoff game.
His mom is undoubtedly proud.
"I think that you just want to redeem yourself," Ryan said of his season. "You let yourself down. You let your teammates down and everybody around you. Now I'm getting to, I guess, redeem myself a little bit. That's all I'm trying to do."
Contact Frank Seravalli on Twitter: @frank_seravalli