Sens say Smith was placed on waivers for 'performance reasons'
Veteran winger admits he was frustrated by decision but understands the business side of hockey, TSN's Ian Mendes writes.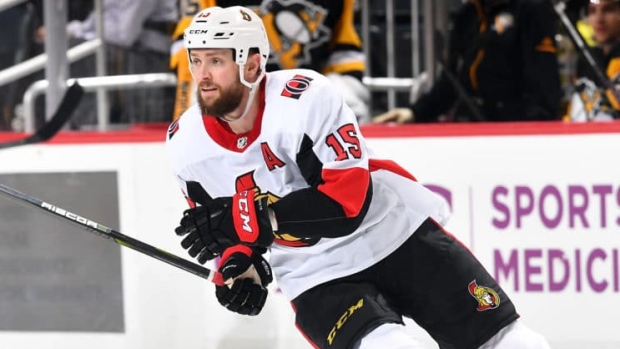 Zack Smith woke up Wednesday morning unsure about his hockey future after being placed on waivers by the Ottawa Senators.
With that on his mind, Smith got an ominous early-morning wake-up call.
"To recap my yesterday, it started off at 6 a.m. with my dog getting sprayed by a skunk and then jumping in bed with us," Smith said Thursday with a laugh. "That was a good start to the day. I was like, 'This is going to be a good one.'"
But a few hours after his house was filled that unpleasant odour, Smith could finally breathe a sigh of relief. The veteran winger learned that he cleared waivers and would be remaining a member of the Senators.
For many, however, the move didn't pass the smell test. It reeked of a pure salary dump, considering Smith is owed almost $10 million over the next three years. In a Thursday morning interview with TSN's Brent Wallace, Senators general manager Pierre Dorion said Smith was placed on waivers this week simply as a product of his underachieving campaign a year ago.
"It was probably the toughest discussion I have ever had with a player. Zack is a high-character person, he is a heart and soul of that dressing room," Dorion told TSN. "But at the same time, this was performance related. We knew that if we let the team know we are not going to accept what happened last year – including how Zack played – that hopefully the message would be passed to the room."
Smith says he spoke to both Dorion and head coach Guy Boucher on Thursday and they expressed a desire for the veteran forward to return to a role of prominence this season.
"Talking to the coaches and Pierre today, it's not that they don't want me here. It's that I need to play up to my contract and what I'm making here. I know that I have to be better and that's on me at this point," Smith said. "Can I make sense of it? He says it's performance based and I'm going to go on that. From this point forward, it's on me. I told him in the exit meetings if I'm back next season, I promise I'll be better."
Smith is the longest-serving member of the team, having appeared in 542 games for the club. He made it clear Thursday that he completely understands the business side of the operations and that loyalty doesn't always remain at the top of the list for general managers.
"This is my eleventh year with the organization and I just kind of wished that meant a little more. But they did nothing wrong. Pierre did everything within his rights to do," said Smith.
When asked at one point during his 11-minute session with the media if he needed this wake-up call, Smith said that likely wasn't necessary.
"I don't think I needed it, but if the management thinks this is what I needed, then that's their decision," he said. "There's nothing either side can do at this point. The decision was made and I'm still here today."
Boucher made it clear that he was more than pleased with Smith's performance in camp. When asked if he was part of the group sending a message to Smith for his subpar play, Boucher simply responded by saying, "Not from me. I'm following the plan I've had since day one."
The timing of the waiver claim was certainly curious, as Smith went from centering what appeared to be the club's second line in practice on Monday with Mark Stone and Brady Tkachuk to being offered around to the other 30 teams for free.
Smith's jersey was not hanging in his stall on Tuesday morning, leading many teammates to wonder if their teammate was under the weather. It wasn't on anybody's radar that he could potentially be placed on waivers.
When he arrived at the rink Tuesday morning, Smith was pulled aside by Dorion and personally notified that he was being placed on waivers. Boucher then summoned a couple of key veteran players – including Stone, Matt Duchene and Mark Borowiecki – into his office to personally break the news to them.
Smith admits the timing seemed a little awkward, with training camp almost finished.
"To come in and play two exhibition games and then be told I'm being put on waivers for performance issues is tough," Smith admitted. "Because I had put last year behind me and talking to the coaches, they did too. So it was frustrating."
Smith returned home on Tuesday and spent most of the next two days with his wife, Brittany, and their newborn daughter. He says he was "choked up" by the fact that his phone was flooded with supportive messages from teammates and other players around the league.
"I ran the course on the emotions. It was disbelief at first, then denial and anger. It kind of flooded through me at once [and] it was kind of hard to grasp," Smith said. "No one wants to go through that situation. You question your worth and ability to play hockey."
Smith's agent, Allain Roy, told TSN Hockey Insider Darren Dreger that as far as he is concerned, the matter is now closed. He expects his client will be a productive member of the Senators in 2018-19.
"Zack Smith understands better than anyone that it's a privilege to play in the NHL," Roy said. "He knows he owes his teammates, the fans and the organization a better season. No more media comments on this. We are done with this game of tennis and ready to get back to the business of hockey as of tonight."