Sens shut down Phaneuf and MacArthur
Dion Phaneuf and Clarke MacArthur have both been shut down for the final six games of the season by the Ottawa Senators. Phanuef, acquired by the Senators earlier this season, suffered a hairline fracture in his right foot while blocking a shot on March 12. MacArthur has not played since Oct. 14 due to a concussion.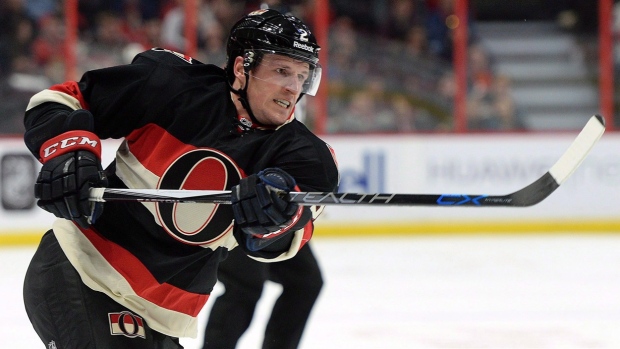 OTTAWA - Clarke MacArthur is willing to wait until next year to get back into the Ottawa Senators' lineup.
The Senators announced Monday that MacArthur and defenceman Dion Phaneuf are being shut down for the remainder of the season. MacArthur is cleared to play in the Senators' six remaining games, but the forward said it's in his best interest to sit them out.
MacArthur has missed all but four games this season due to a concussion suffered Oct. 14. After months of brutal side effects, MacArthur was finally able to return to the ice in February and recently received medical clearance after being symptom free.
With the Senators on the verge of being eliminated from the playoffs, however, the risks far outweigh the benefits.
"This point where we are in the standings it just doesn't make any sense," said MacArthur. "We went back and forth with it a little bit, but it just doesn't make any sense to come back and if something were to happen these last few games to risk it for next season.
"I feel good. I've been out there the last two months. Obviously my game speed isn't going to be there, but I've got a lot of exhibition and time to figure that out next year. At the end of the day that's the decision and I think it's the smart one."
MacArthur, Senators management and team doctors believe the extra six months of recovery will be the best course of action in the long term not only professionally, but personally.
The 30-year-old admitted he ignored symptoms following a hit during the Senators' last pre-season game. Rather than take time off returned to the lineup and the next collision proved catastrophic.
"I honestly, deep down I feel like it was a fluke what happened this year," he said. "I don't want to be labelled as a guy with head problems and I'm certainly not going to play that way when I come back. I should have just taken the time when I knew something was wrong and I didn't and I won't make that mistake again."
MacArthur hopes others can learn from him and not feel pressure to play through symptoms, but he said the competitive nature of the game and its players sometimes makes it difficult.
"That's the regret that I have," MacArthur said. "That's the thing I've been dealing with all year. The frustration is if I just sit that out I'm more than positive I take a week or two weeks off there and I'm back playing for the rest of the year and helping the team, so that was a selfish thing. Not in the sense that I was trying to hurt the team, but selfish thinking about myself and wanting to play and it just came back to bite me."
Phaneuf is suffering from a small tear in his oblique and a hairline fracture in his right foot.
He told media he was hurt blocking a shot during a game March 12. While initial X-rays showed no fracture, the foot continued to swell and cause discomfort. In the meantime he then suffered an oblique injury March 22, and a CT this past Saturday confirmed the fracture in his foot.
"It's disappointing," said Phaneuf. "I love to play. I was planning on coming back and looking forward to getting back, but when they found the crack in my foot. I've got to get healthy and be able to train and have a good summer of training."
Neither injury will require surgery.
Notes: Zack Smith was named the Senators nominee for the Masterton Trophy. Smith is having a career year with 21 goals and 32 points through 75 games. Smith missed nearly four months last season due to a wrist injury and this year was moved from centre to wing and has flourished.